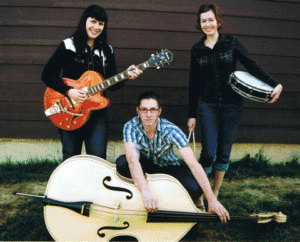 The Droptops
The Droptops are an excellent trio from Maryland. They play traditionnal (authentic as some like to call it) rockabilly influenced by Sun Records. So far the Droptops have released one excellent album (reviewed here) on Wild Hare Records, which should be a reference good enough to convince you to get it.While your order is on its way, you can learn more about this fine girls and boy by reading the interview they kindly agreed to answer
A big "thank you" to Elizabeth who collected the answers of her two partners.
by Fred "Virgil" Turgis
Would you please introduce the band?
John plays upright bass and sings and Christine plays drums and I play guitar.
How young were you when you became interested in music, and what was the origin of this interest?
All three band members have been interested in music since they were very young. In high school we all played in school music groups. John played trombone in the jazz ensemble and concert band, Christine played flute in the concert band and orchestra, and I played violin in the orchestra. I was introduced to music by my parents. My father plays classical piano, and my mother is a fan of 50s rock and roll and the Rolling Stones. John became really interested in music at the age of 7 or 8 while learning trumpet and piano. John says, "We had a piano in the house that no one used, so I started playing. As I focused on different instruments, I listened to different kinds of music featuring the kinds of things I was playing. That's when I discovered jazz, listening to Louis Armstrong, Tommy Dorsey, Benny Goodman, all the standards."
And then how did you get into Rockabilly?
John always liked Elvis, The Stray Cats, and Bill Haley when he was young. They were a different sound from most stuff that was played on the radio. In high school he found out that there were bands playing that style of music, and a following of people that liked it. I was into Chuck Berry and some other early rock and roll artists like Little Richard through her mom pretty much since birth, and all three of us were in the punk scene in our teens and through that community got introduced to bands like the Reverend Horton Heat and classics like Johnny Cash.
What did appeal you in that specific music?
We like the sheer enthusiasm of the music and the excellent musicianship of many rockabilly artists. Rockabilly is both interesting musically and fun. John adds that he always liked the fact that you could make good music without having to be overly-proficient at your chosen instrument. It's a lot of fun when you don't have to concentrate on whether or not you're the best at what you play.
Are the Droptops your first band?
John and Christine were members of DC punk band the Drednoks, and I was a member of Connecticut punk band the Snatch before we got together to start the Droptops.
Tell us more about you please. When did the Droptops form and how did you meet together?
All three of us have been friends for years. Christine and I met in middle school, and we became friends with John a few years later in high school. After returning to the DC area after college in 2001, we decided to get together along with another friend, Brooks, to put together a rockabilly band. We played as a four piece (with John on vocals and rhythm guitar, Elizabeth on lead guitar, Christine on bass guitar, and Brooks on drums) for a couple of years. In 2003 John and Christine switched instruments, Brooks left the band, and we formed the current version of the Droptops.
Your first album, on Wild Hare, is made of 10 originals. Rockabilly is a very codified type of music. How much of a problem is it to "respect" the genre when you write a song? I mean did you ever think "Na that sounds too modern" or "Hum it's too close to That's Allright"
We do think about whether our songs sound too much like other band's songs, particularly famous songs, when we write. This can be hard, especially if you've spent the day listening to rockabilly! On more than one occasion I have written what I thought was a great song only to realize afterward that it was exactly like some song I was listening to earlier. When we write we don't worry too much about sticking to the "rockabilly" genre. Most of our stuff is probably more like 50s rock and roll than rockabilly anyway. We do probably try to stay away from writing material that sounds too modern. Our main goal in writing songs is to try to write songs that tap into our strengths as a band.
Let's talk about your influences…
We are all enamored with the Sun Records sound. I worship Chuck Berry as my guitar idol and my other guitar influences include the great Chicago blues artists like Muddy Waters and Buddy Guy. As a bass player, John really likes Marshall Lytle of the Comets for sure because that's what got him into playing upright bass. Eddie Cochran, Johnny Cash, Hank Williams, everything we listen to influences us somehow.
And what are you listening at home?
I listen to a lot of Chicago style blues, jazz from the 1940s to today, and 50s rhythm and blues and rock and roll artists. Christine listens to a lot of 50s rhythm and blues, rock and roll, and doo-wop; anything with a solid beat and energetic delivery. John listens to most of his music in the car: Hank Thompson, Jackie Wilson, Louis Jordan, The Ramones, Gene Krupa, Bob Wills, Charlie Feathers. That's what's in his car right now.
What are your projects? Do you have plans for a second release?
We recently recorded two songs as part of a tribute to Buddy Holly. We are waiting to see if and when they will be released. We are also working on material for a second full length album, and John's other band, The Garnet Hearts, are working on another record as well.
One last word?
We have such a great time playing this type of music. Nothing could be more fun than playing in a rock and roll band!