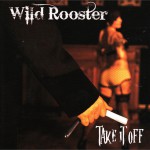 Wild Roosters – Take It Off
Part Records – 693.001 [2011]
Sweet Revenge / Tennessee Zip / Demon Riders / Fancy Dan / Forever Ted / Ride On Rebels / The Only One / Take It Off / Sisters In Crime / Tore Up / Motorbike / Won't Waste My Time / Raw Deal / Southern Rose
Despite a very distasteful cover (front and back) I really enjoyed Wild Roosters' latest effort. These Swedish guys are on the scene for quite some time having played with Snakebite, Crossfire or Wild Bob Burgos. As you can easily guess with this pedigree, they play Teddy Boys rock'n'roll with a sound close to Cavan's Our Own Way Of Rocking. They have good originals and also give a breath of fresh air to well chosen covers (including Burgos'Ride On Rebels). You'll find the usual anthems about bikes (Motorbike, Demon Riders), girls and Teds with the soon to be a stage classic "Forever Ted". They sure won't change the face of Rock'n'roll, but you're guaranteed to have a good time.
Fred "Virgil" Turgis
Share the post "Wild Roosters"