Second single from "Blast Off" written by Larson Paine & Bobby Paine and produced by Dave Edmunds.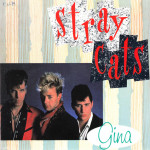 Though it seems specifically written for the Stray Cats by the Paine Brothers this song had a long journey before ending on the band's fith album.
It was first recorded in 1981 by Chuck E. Weiss on his debut album (the Other Side of Town) and by Eddie and the Subtitles, a punk rock band from Orange County on their album « Skeletons in the Closet » (produced by Bobby Paine).
Then, three years later in 1984, Josie Cotton recorded it for her second album "From the Hip" also produced by Bobby and Larson Paine. Eventually, the Stray Cats finally covered it in 1989 for "Blast Off" and slightly adapted the lyrics. They accentuated the Buddy Holly feel with Slim Jim adding a tom to his drumkit to emulate a Jerry Allison pattern.
It remained a favorite of their live set, being sometime performed acoustically.
"Gina" was released on vinyl and cd single with Two of A kind on b-side and a live cut of Stray Cat Strut for the maxi version. It also included a poster.
Thanks to Jari Reinikka for the info about the Chuck E. Weiss' version.