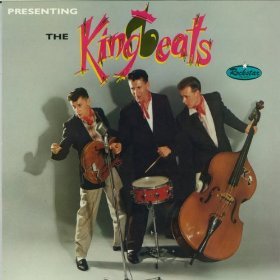 Kingbeats (the) – Presenting the Kingbeats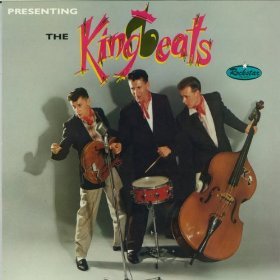 Rockstar Records – RSR-LP 1013 [1987]
I Can See It In Your Eyes – Howw Can You Be Mean To Me – That Morning Train – Boppin'' n' Blowin' – As Fast As I Can – Teenage Partner – Where The Rio De Rosa Flows – Keep Lookin' – You Ain't That Smart – Uh Babe – I Got The Bug – Crawdad Hole – When The Sun Goes Down – Hey Good Lookin' – Honey Don't – Treat Me Right
The Kingbeats formed in 1984 in Portsmouth and were Lennie Harris (lead vocals and double bass), Paul Owen Dawkins (guitar and harp), and Graham Fordham on drums. Originally a drummer, Harris had switched to bass to form his own band. In 1985 Fordham left the band to be replaced by Peter Crowley.
They played as a backing band for 50's artists like Narvel Felts and Frankie Ford. Then in 1987, they recorded their debut (and sole) lp for Rockstar records.
Their nine self-penned songs were quite original, and you don't feel like listening to always the same song or a quick rewriting of a fifties tune. And if it wasn't enough, they put enough personality in their covers – even the most famous like Honey Don't – to make them sound like their own songs.
The overall sound is very good, with an excellent guitar player and a powerful rhythm section to the fore with the drums and the slap bass perfectly blending.
As you can guess, the sound is mostly traditional Rockabilly. Still, one will also find some frantic rocker (You Aint That Smart) and desperate Rockabilly (Keep Lookin carries the same tension as Gene Maltais' Raging See.) There's even a touch of Neo-Rockabilly here and there. But they also add diversity with some hillbilly (Hey Good Lookin') and a dash of blues (Boppin' and Blowin a harmonica-led instrumental or When The Sun Goes Down.)
Presenting the Kingbeats is one of those albums that needs to be rediscovered.
They disbanded sometime in the late '80s, and Paul Owen went on to form the Rough Diamonds. Sadly he passed away in 2018.
Fred 'Virgil' Turgis