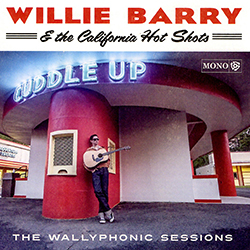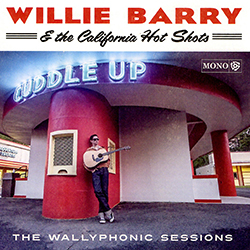 Willie Barry & the California Hot Shots – The Wallyphonic Sessions
Self Released [2020]
Hillbilly Fever – What Am I Worth – Mean Mama Boogie – Who Shot Sam – One Wheel Draggin – A Night For Love – Kiss Me Sweet – You Better Treat Your Man Right – Three's a Crowd – Ain't Nobody's Business But My Own – One Minute To One – Island of Love – Last Town I Painted – Milkshake Mademoiselle – Don't Go Baby – Sweet Sweet Girl
Willie Barry is the singer of the Rock-A-Sonics, an excellent band from the Washington, DC area. Last year he crossed the country and went to Wally Hersom's Wallyphonic Studios in Pasadena, California. There, he recorded his debut solo album with the cream of the crop of the Californian rockabilly scene, namely Ashley Kingman and Deke Dickerson on guitars, Dave Berzanski on steel guitar, Carl Sonny Leyland on piano, Wally Hersom on bass, and Dave Stuckey on drums. How can you go wrong with such a team behind you? Well, Barry indeed didn't, and these 16 tracks are one of the very best slices of rockabilly/boppin' hillbilly I've heard in ages.
The young singer is gifted with an excellent, subtle, and confident voice. He can easily switch from Ricky Nelson's softness to Jerry Lee Lewis's wildness, with some early Geoge Jones and Johnny Horton in between. Not surprisingly, the band does a terrific job. Special mention to Carl Leyland, who seems on fire, playing his best Rockabilly/Rock'n'Roll piano.
The songs, all covers, cover the whole gamut of the genre. Hillbilly Bop, Rockabilly, Rock'n'Roll, whatever the style, the young boy seems perfectly at ease. Icing on the cake, there's a superb duet with Dani Haberman (Crown City Bombers) on Nobody's Business But My Own, initially done by Kay Starr and Tennessee Ernie Ford and another one with Leyland on Milkshake Mademoiselle.
As usual, Hersom does a terrific job capturing the live sound and the emergency of the performance.
I couldn't recommend this album enough.
Fred "Virgil" Turgis