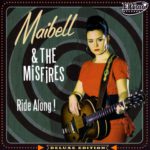 Maibell and The Misfires – Ride Along!
El Toro ETCD6042
You're Gonna Miss Him – Do The Stomp – In My Heart – Misery And Heartache – Sweet Love – So Far Away – Without You – Why Do I Love You? – Maybe Just A Little – This Ain't Going Nowhere – My Kinda Man – Why Oh Why? – Ride Along – Never Been In Love Like This
This quartet comes from Finland and features very well known name on the scene that have played with Mr Breathless, Hi-Fly Rangers, Hayden Thompson Paul Roman, Jussi Syren…
They play fifties rockabilly mixed with a very modern approach with 80's influences in between which mean that they aren't afraid to add a good dose of pop ala Smiths in their music. The result is a slap bass driven melodic album (entirely self penned by the band) that sounds very radio friendly and it could easily find its way to the top of the charts like Imelda May did. I must say that it is too polished and lacks a bit of excitement for me. And sometime the rockabilly roots can only be traced by the presence of the doublebass, the other elements being very (and for my own taste too much) poppy.
Fred "Virgil" Turgis