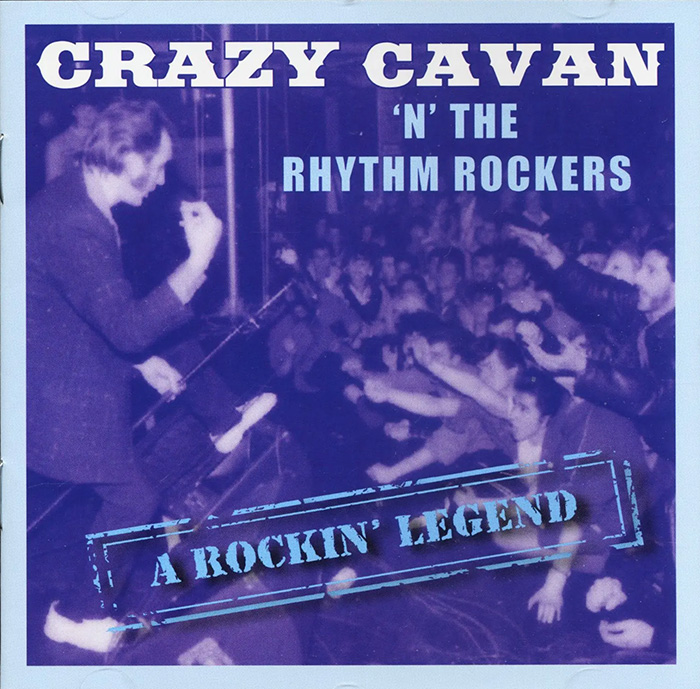 Crazy Cavan and the Rhythm Rockers – A Rockin' Legend
Crazy Rhythm CRCD18 [2022]
Do What I Do – Granny Keeps Rockin' – Ask My Next Door Neighbour – Leavin' On A Down Town Train – Baby Please Come Home – Please Help Me I'm Fallin'- Sitting On Top Of The World – Tom Dooley – That's Why I Love Her – My First Love – Roll On Silvery Moon – Raining In My Heart – All The Time – Rock Around With Ollie Vee – Teddy Boy Boogie – Teddy Boy R'N'R – Jools Holland Interview With Cavan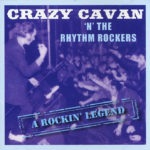 I still can't believe that Cavan Grogan passed away three years ago in 2020. Crazy Cavan and the Rhythm Rockers were part of my musical landscape for so long that I thought he was immortal.
The man may be dead, but his music lives on. Lyndon Needs, his partner in Rock'n'roll during all the years, gathered this compilation of rare and unissued material from the band. It covers the whole career and every incarnation of the Rhythm Rockers. Hence you'll find demos, alternate takes, and songs completed by the band after the ultimate passing of their leader, skiffle session, Cavan alone or with his son. No need to go into a song-by-song detailed review: if you're a fan, you know you want it (and chances are you probably already have it).
Thanks to Lyndon Needs for this gift. Cavan was a Rockabilly king during his lifetime; he's now a legend, a rocking one, that is.
---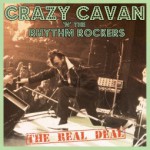 Crazy Cavan and the Rhythm Rockers – The Real Deal
Crazy Rhythm CRCD16 [2015]
My Baby's Been Cheating Again – Rattlesnake Daddy – Don't Blame It On Me – Smokey Joe's – Drapes 'n' Drainpipes – Something Wrong With You – Zing Zing – Drive-In-Movie – What Will I Tell My Heart – Hush Your Mouth – No Kissing At The Hop – Wo Ho-Ho-Ho – Little Miss Misguided – How Do You Do Me? – La La La – You Done Me Wrong Domino
Crazy Cavan and the Rhythm Rockers are still here, still crazy and still ready to rock! Their latest album named "the Real Deal" demonstrates that they still feel like a bunch of new kids ready to embark for their first tour and cut their debut album.
This 16-track album contains mostly covers (only three originals here) and sounds like a tribute to black Rock'n'rollers in general (Thurston Harris, Art Neville, Huey Piano Smith, Phil Flowers) and Fats Domino in particular with no less than five songs from his catalogue In addition of the guitar and some slap bass, Lyndon Needs add a welsome pumping and rockin' piano to these tracks. The originals are in the same vein with Little Miss Misguided sounding similar to Little Richard and the album closes with You Done Me Wrong Domino.
A couple of rockabilly numbers complete the set list for it wouldn't be a Cavan album without that hiccupy vocals that made his trademark.
---

Crazy Cavan and the Rhythm Rockers – Rollin'n'rockin
Crazy Rhythm CRCD15 [2012]
Man At The Crazy House – Diddley Diddley Daddy – You Must Be Crazy – She's My Baby – Wild Woman – Crazy World – Put The Shoes On Willie – Tear Drop Valley – You Devil Doll – Run Diddley Daddy – Next Time You're Leavin' * Rollin 'n' Rockin' – Pretty Susie Sunshine – The Great Grandfather – I Just Like Rock 'n' Roll – Crazy Fuckin' Rocker.
Cavan and the boys don't show any sign of weariness nor any envy to retire. Quite the reverse! They even seem to have found a second youth. Four years after "Let's F***** Rock!" and in the wake of their 40th anniversary they return with a brand new studio album simply called "Rollin'n'Rockin". More than just a title, it's a profession of faith for the Welsh combo.
"Rollin'n'Rockin" present 16 new cuts, including seven covers and nine originals (seven by Cavan and two by Lyndon Needs). The sound of the album is rather raw and quite close to its predescessor which suits the band and their brand of rockabilly fine especially on the wilder tunes like I Just Like Rock'n'roll and Crazy Fuckin' Rocker. It also works fine on the more bluesy songs, and this album have plenty with no less than four tunes lifted from Bo Diddley's repertoire and one Cavan original (Next Time You're Leaving) that seems to come straight from the Chess catalogue. In addition to this you'll find two country influenced numbers (Wild Woman, Teardrop Valley).
Cavan's albums range from very good to excellent and that one certainly falls in that second category.
---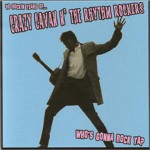 Crazy Cavan and the Rhythm Rockers – Who's gonna Rock ya?
Crazy Rhythm CRCD 014  [2010]
CD 1
1 . WILDEST CAT IN TOWN (1974) – 2. TEDDY BOY ROCK 'N' ROLL (1974) – 3. MY LITTLE TEDDY GIRL (1974) – 4. ROCKABILLY STAR (1974) – 5. BOP LITTLE BABY (1975) – 6. TEDDY BOY BOOGIE (1975) – 7. SHE'S THE ONE TO BLAME (1975) – 8. SADIE (1975) – 9. HARD ROCK CAFE (1975) – 10. GET YOURSELF A BAND (1976) – 11. KNOCK KNOCK (1976) – 12. WAITIN' FOR MY BABY (1976) – 13 BOPPIN' N' SHAKIN' (1977) – 14. OLD BLACK JOE (1977) – 15.MY OWN WAY OF ROCKIN' (1977) – 16 . MY LITTLE SISTER'S GOTTA MOTORBIKE (1977) – 17.TENNESSEE BORDER (1977) – 18.ROCKABILLY RULES OK! (1979) – 19. FLIGHT TO THE USA (1979) – 20. TROUBLE TROUBLE (1979) – 21. BOTH WHEELS LEFT THE GROUND (1979) – 22.ARE YOU STILL CRAZY (1981) – 23. PUT A LIGHT IN THE WINDOW (1981) – 24. JUMP N' JIVE (1982) – 25. ISLE OF CAPRI (1982) – 26. ALLIGATOR SHOES (1982)
CD2
1. ROLLIN' THROUGH THE NIGHT (1984) – 2. JEEZY PEEZY (1984) – 3. SHE STOOD ME UP (1984) – 4, YOU ARE MY SUNSHINE (1989) – 5. IT'S WILD , IT'S WEIRD , IT'S CRAZY (1996) – 6. EVIL HEART (1996) – 7. TEDDY BOY FLICK KNIFE ROCK N' ROLL (2001) – 8. LIZZY BETH (2001) – 9. RHYTHM ROCKIN' BLUES (2001) – 10. TEDDY BOY BLUES (2008) – 11.WHO THE F*** DO YOU THINK YOU'RE TALKIN' TO ? (2008) – 12. TRAIN I RIDE (2008) – 13. SHE'S ALRIGHT (2008) – 14. BYE BYE BO DIDDLEY (2008) – 15. REBEL TED (1983) – 16. THE ROCKIN' ALCOHOLIC (1983) – 17. ALABAMMY GAL (1983) – 18. TAKIN' CARE OF MY HOME (1983) – 19.ROLLIN' THROUGH THE NIGHT (1983) – 20. LOVE RAN OUT ON YOU (1983) – 21. JEEZY PEEZY (1983) – 22. SHE STOOD ME UP (1983) – 23. SHE'S MY LOVIN' BABY (1983) – 24. DON'T MESS WITH MY DAY OFF(1983) – 25. BYE BYE BABY BLUE (1983) – 26. WHO'S GONNA ROCK YA? (1985)
The name says it all! 40 years of Rockabilly loyalty, who can claim that?
Crazy Cavan & the Rhythm Rockers have decided to celebrate this anniversary with best of that comes in a nice two cd set. I'm personnaly happy no one asked me to do the selection. Their albums containing very few fillers I would have ended with a 130 song best-of… Anyway, the band did a wonderful job and you'll find the hits and the crowd favorites (Teddy Boy Boogie, Old Black Joe, My Little Sister's Gotta Motorbike, Rollin' Through The Night, Are You Still Crazy…). This songs are the perfect introduction to the world of Cavan. But the fan who owns the albums is not forgotten, far from that. The package includes for the first time on cd the very sought after first ep and icing on the cake you'll find 11 demos dating from 1983 and one from 1985. Two songs are totally new (Rebel Ted written with and for a fan) and Alabammy Gal a typical Cavan ballad that strangely never was recorded for an album. Nine others are demos for the Rollin' Through The Night album. Here, you hear Cavan and Lyndon Needs playing rockabilly stripped down to its bare essential. It's raw, it's crude, it's rockabilly like it should always be. I can only agree with John Kennedy author of the liner notes when he says "these songs are as good as anything the band have ever recorded". In the same vein "Who's Gonna Rock Ya" is another demo dating from 1985 for a song later recorded for "It's Wild, It's Weird, It's Crazy".
It comes with a 64 page booklet, with a full story of the band told by those who made it with a lot of rare and unseen photos that is worth the price of the set alone.
So, I guess you understood that, whereas you're an old or a new fan, this record is totally essential, so join the fun and celebrate this anniversary. Need I ask who's gonna rock ya?
---

Crazy Cavan and the Rhythm Rockers – C'Mon Let's F***in Rock
Crazy Rhythm CRCD 013 [2008]
Groovy At The Movie – Teddy Boy Blues – Bing Bong Boogie – No Angie Baby – Be My Honey Baby – Train I Ride – Who The Fuck Do Ya Think You're Talking To? – Bye Bye Bo Diddley – This Heart's On Fire – Tailor Made – Cool As My Baby – She's All Right – Peek-A-Boo – Don't Knock What You Don't Understand
Eight years (an eternity) after the release of Rhythm Rockin' Blues, Cavan & The Rhythm Rockers return with one of their best album ever. Talking about return, "Let's Fuckin' Rock" also sees Graham Price, bass player on Our Own Way Of Rockin' in 1977, back in the band.
It's amazing how fresh they sound after four decades and many young band should learn a thing or two from this guys. The least you can say is that this band has aged well and helped by a fantastic vintage sound they deliver a killer album containing 14 new tracks, 11 penned by Cavan, one by Lyndon Needs and one by Graham Price. You'll find Sun influenced rockabilly ala Mystery Train (Be My Honey Babe featuring Cavan's son Joe on slap bass), Train I Ride a mean rockin' blues in a Shakin' All Over/Brand New Cadillac vein, a well deserved tribute to Bo Diddley with Bye Bye Bo Diddley (though I found it disturbing to imagine Terry Walley as The Duchess:-), instant Cavan classics (Groovy At The Movie and Teddy Boy Blues). In addition to his usual wild guitar solos, Lyndon plays slap bass on numerous tunes, including Who The F**k Do ya Think You're Talkin' To? which is sure to please Charlie Feathers fans and Cool As My Baby that reminds me a bit of Boppin' Bonnie (Eddie Bond has always been a favorite of the band).
The sole cover is Don't Knock What You Don't Understand in a Johnny Cash way, which sees Cavan delivering no less than one of his best vocal performance.
C'mon let's fu***in buy it!
---

Crazy Cavan and the Rhythm Rockers – Cool and Crazy Rockabilly
Crazy Rhythm CRCD 010 [1981 – reissue 2003]
1.Lonesome baby blues 2.Standing in your window 3.Are you still crazy 4.I'll be there 5.Hey good looking 6.She's a crazy child 7.Big black Cadillac 8.Train of love 9.I forgot to tell my baby 10.Crazy stomp 11.Johnny's gone walking 12.Teenage heart 13.Betty Lou's got a new pair of shoes 14.Boogie woogie country girl 15.Big black Cadillac (Big Beat remix) 16.Are you still crazy (piano version) (Big Beat remix) 17.Train of love (Big Beat remix) 18.She's a crazy child (Big Beat remix) 19.Hey good looking (Big Beat remix) 20.Crazy little teddy girl (Big Beat remix) 21.Put a light in the window (Big Beat remix) 22.Boogie woogie country girl (Big Beat remix) 23.I forgot to tell my baby (Big Beat remix) 24.Crazy stomp (Big Beat remix) 25.Johnny's gone walking (Big Beat remix) 26.Lonesome baby blues (Big Beat remix) 27.Betty Lou's got a new pair of shoes (lost remix) 28.Teenage heart (lost remix) 29.I'll be there (lost remix)
Cool and Crazy is the band's obscure masterpiece. Due to circumstances too long to explain here (but fully described in the liner notes), this album was published in two different versions and two different mixes, one on Polarvox, a Finnish label (Cavan had a gold record with Still Crazy there), another, the most well known on the French Big Beat label.
The Polarvox sides are simply amazing, and really deserve to be rediscovered which is now possible with this cd but both versions are included, so you can make your own idea.
The opening track, "Lonesome Baby Blues" quickly sets the mood. You're bound to listen to a great album. I've always been crazy over their slow and mid tempo (Sadie, Dolores etc.), so I enjoyed a lot their cover of Hoyt Jackson's Standing At Your Window and their own Johnny's Gone Walking, a gentle song which deals with teenage romance in a Chuck Berry way  (Johnny's gone walkin' with Sadie Lou / Billy gone home with Pam / Gotta get me a steady gal / I'm just a lonely man / They all went walkin' side by side  / Jenny gone courtin' with Sam / Gotta get me a steady gal / I'm just a lonely man / I just seen Jimmy with Mary Lou / Walkin' in the pale moonlight / He walked up to her front door / And then he kissed her goodnight). It's probably one of my favorite Cavan song ever.  In a similar mood you also have I Forgot to Tell My Baby, man, how I love when Cavan croons.
Are You Still Crazy is a wild piece of Rock'n'roll and appears here without the piano part (which was dubbed later for Big Beat). I'll Be There is Cavan at its rockabilly best and features a nice acoustic guitar solo. Hank Williams' Hey Good Looking is given Cavan's treatment and is another great moment from Lyndon Needs. Back to acoustic rockabilly with She's A Crazy Child. The crazy beat of Big Black Cadillac and Crazy Stomp are examples of the tight rhythm section of the Rhythm Rockers. Train Of Love is a classic rockabilly using a train shuffle similar to Mystery Train with Lyndon Needs in full Scotty Moore mode. Still in the Sun Records mood, Teenage Heart is a Johnny Cash inspired song and another proof of Cavan's talent as a lyricist. Big Joe's Turner's Boogie Woogie Country Girl closes the set in beauty
The Big Beat mixes are slightly different. It's not that easy to tell what exactly changes, maybe the rhythm section is more to the front. If you're familiar with Cavan imagine the same album but one with the sound of Crazy Rhythm and the other more like Rollin' Through the Night. It also features two songs that weren't on the original release Crazy Little Teddy Girl (the name says it all) and a cover of the Four Lads' Put A Light In The Window that finds Cavan and the guy in a Shakin' Stevens way.
An absolute must have.
Available here.
---

Crazy Cavan and the Rhythm Rockers – Rockability
Crazy Rhythm CRCD 008 –  [1977 – reissue 2002]
Get yourself a band – Stompin' shoes – Sweet baby Jean – Knock knock – Waitin' for my baby – Feelin' blue – That's what made me cry – Hey pretty baby – Sweet little pretty thing – Delores – Nobody else like you – Gonna leave this town – Get yourself a band (reprise)
Rockability is the band's second album and the first one for Charly.
Contrary to Crazy Rhythm, an album full of youthful excitement, it shows more maturity and a band that wants to use the studio at his full capacity. It also benefits of a more comfortable budget and the knowledge of producer John Schroeder who previously worked with Status Quo.
Like the previous one (Crazy Rhythm), all songs are originals, nine by Cavan and three by guitarist Lyndon Needs.
The warm and round sound of the bass intro of the country-ish Get Yourself A Band opens and closes the set ("a thousand miles away from home, playing in the band, doing all the smoke filled bars up and down the land").
In between you find a pretty good mix of rock'n'roll (Stompin' Shoes, Knock Knock), rockabilly (Nobody Else Like You, That's What Made Me Cry) and of course their country tinged ballads, sad (Feelin' Blue) or gentle ( Sweat Baby Jean, Sweet Little Pretty Thing and Delores both featuring Cavan at his hiccuppy best).
Superb from start to finish.
---

Crazy Cavan and the Rhythm Rockers – The Way It Was
Crazy Rhythm CRCD 012  [2006]
Teddy Boy Rock 'n' Roll – Caterpillar – One Hand Loose – Rock 'n' Roll Ruby – Down On The Farm – That's Alright Mama – Half Hearted Love – Love My Baby – Midnight Shift – Bop Pretty Baby – Teddy Boy Boogie – I'm Comin' Home – Rockin' By Myself – Big Blon' Baby – It's All Your Fault – Baby Let's Play House – Boogie Woogie Country Girl – The Monkey & The Baboon – Pins & Needles – Sweet 'n' Easy – Whatcha Gonna Do
Hey you, young rock'n'roller who's reading this, you don't know how lucky you are! You can go out, see a live band (in any style : rockabilly, neo-rockabilly, psychobilly etc.) and you have access to a lot of reissues and obscure songs via labels like Bear Family, Ace and others. And of course, you have the internet But things weren't always like this. Back in the 70's, rock'n'roll was dead and it seemed that everyone wanted to play 15 minutes songs about knights and unicorns. And suddenly, coming from nowhere (actually the Wales) came 5 Teds who were firmly decided to bring rock'n'roll at the place it deserved: the top. They were among the first to play Blue Suede Shoes, That's Allright or I'm Comin' Home again, long before Brian Setzer even buys an Imperial Rockabillies compilation. This 21 songs cd presents Crazy Cavan's recordings from 1970 to 1973, before the release of their first album. Even in their formative years, their style is already here. A mix between country tunes, rockabilly (Ray Campi's Caterpillar, Elvis's That's Allright, Feathers' One Hand Loose) and blues here and there, with that distinctive bass guitar and drums played on the snare's rim. A recipe that made its proof, isn't it? Another thing that made The Rhythm Rockers so unique when they appeared was their aptitude to write solid originals, you find a bunch of early rendition of their soon-to-be classics (Teddy Boy Boogie, Bop Pretty Baby and the anthem Teddy Boy Rock'n'Roll). Within the years, Cavan and his boys, kept the same direction and stayed true to their music and produced many classic albums (Crazy Rhythm, Rockability, Rollin' Through The Night til the recent Let's Fuckin Rock) and this one is as great and is one unique chance to see the roots of the band but maybe more destined to hardcore fans who already own their previous records. If you're a newcomer to the world of Crazy Cavan try the forementioned albums or "Live At Pickets Lock".
Fred "Virgil" Turgis