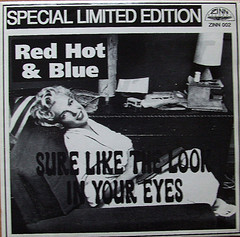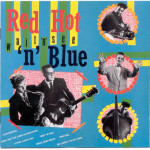 Red Hot'n'Blue – Wait'n'See
Northwood Records / Be Be's (reissue) [1985, reissue 1998]
Sure like the look in your eyes – Yes, I'm gonna love you – Clicketty clack – Aw c'mon baby – Long way home – Bad girl – Postman's blues – Move baby move – Wait 'n' see – She got back on that train – Take a walk up the apple tree – It's my lucky day – So lonely on my own – Hey gringo – Sure like the look in your eyes (live) – She got back on that train (live)
Finally after their apparition on the Big Noise From Northwood compilation, Red Hot'n'Blue released a full album. And what album!
With the addition of Kevin Ellis on sax, the band (Mouse on vocals, Ashley Kingman on guitar, and the twins Andy and Dave Bourne on bass and drums), helped by producer Boz Boorer (Polecats) shows a rare cohesion and maturity for a debut album.
With a majority of self penned tunes (only two covers) they go from boogie blues (Sure Like The Look In Your Eyes) to rockabilly (Clicketty Clack, Move Baby Move) without forgetting jump blues (It's My Lucky Day, Bad Girl), jazzy ballad (So Lonely On My Own produced by Peter Davenport of Stargazer's fame), latin instrumental with a Django Reinhardt feel (Hey Gringo) and rockin' blues in the best Chess Records tradition (Postman Blues with blues harp and the Diddley tinged Take A Walk Up The Apple Tree). All this (and much more) make of Wait'n'See one of the best and most influential album of the 80's.
The cd version offers two live cuts of Sure Like The Look In Your Eyes and She Got Back On That Train. One can find a very jazzy version of Caldonia from the same session son the now hard to find compilation album "The Northwood Story vol 1".
---

Red Hot'n'Blue – Hey There Man!
Zinn 001 [1991]
Hey There Man – Jumpin' Around – You Know I Love You So – If You Think I Don't Need You – Baby You've Been To School – Give Me Back My Wig – Hi Fi Baby – Rock With Me – Big Sandy – Little Girl From Memphis – Can't Keep Me Waiting – Come Over My House
Shortly after their reformation in the early 90's Red Hot'n'Blue recorded this 12 track album and released it on their own Zinn label.
They reformed in the original quartet minus sax and decided to drop out all the jump/jive stuff from their set and focus more on the rockabilly/rockin' blues side of their music. The whole album has a strong Chess/Chuck berry flair in it (at the same time Ashley Kingman was playing with the Blue Rhythm Boys) in the same vein of "Sure Like The Look In Your Eyes". Some guest appears on harmonica, sax , steel guitar (Lee Jeffriess) and piano (Paul Ansell). Half of the songs are originals and the rest come from Hound Dog Taylor, Bobby Roberts, Teddy McRae, Elvis,). Excellent from start to finish.
---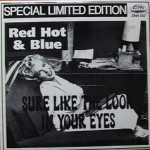 Red Hot'n'Blue – Sure Like The Look In Your Eyes
Sure Like The Look In Your Eyes b/w Clickaty Clack [1992]
Zinn 002
This 45 is hotter than the girl on the cover. In December 1992, Red Hot'n'Blue were back in studio to recut two songs from their debut album. This new versions are awesome and the song became a hit at every records hops around the world.
Limited edition of 1000.
---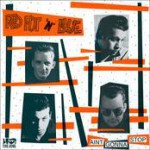 Red Hot'n'Blue – Ain't Gonna Stop
Time Bomb TB11 [1993]
Going Away – Funny Kinda Feeling – My Brand Of Blues – Uptown Cat – Blues Stop Knocking – I Wanna Go Back Home – You're The One – Find Out Whats Happening – One Thing I Ain't Got – Every Saturday Night – Caroline – Ain't Gonna Stop – You're The One #2 – My Babe – Sure Like The Look In Your Eyes
The initial reformation was supposed to last only 6 months, but due to the amazing response from the audiences all over the world Red Hot'n'Blue dedided to carry on.
They recorded Aint Gonna Stop for Time Bomb a Japan label, a land where the band was highly popular. It finds Red Hot'n'Blue returning to a wider variety of styles including rockabilly (Ain't Gonna Stop, Funny Kinda Feeling, Uptown Cat), rock'n'roll love song (You're the One), rockin' blues (a recut of Sure Like the Look in your Eyes that became a dancefloor filler), Chicago blues (Willie Dixon's My Babe and the Elmore James inspired Caroline) and country-ish numbers like Going Away.
Compared to their previous releases the production is cleaner but also a bit thiner at places, but it remains a very good album with strong songwriting.
Just after the recording, Ashley Kingman left the band to move to the USA and join Big Sandy and the Fly Rite Boys, hence the title, Ain't Gonna Stop, given by the three remaining members.
---

Red Hot'n'Blue – Bo Diddley Medley
Bo Diddley Medley b/w I'm Moving Away [1994]
Fury 005
Two tracks taken from "Havin' A Ball". Limited edition.
---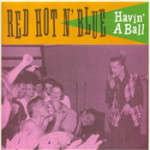 Red Hot'n'Blue – Havin' A Ball
Fury FCD3033 [1994]
Havin' a ball – I'll be long gone – Here in London town – Just for a day – Get back on that train (94) – Let me know – I'm moving away – Only one – Bo Diddley medley – I've never seen (such a thing like you before) – Next time I'm gonna do it right – Beggin' time – Nothing to lose – Laughing and joking – Love me – Little girl from Memphis
Fourth album recorded with Pascal Guimbard (Sprites, Wild Ones) who replaced Ashley. The sound is less bluesy (though you find an excellent Bo Diddley medley) and more Rock'n'roll with a strong inspriration from late 50's / early 60's Elvis Presley and Gene Vincent. You'll also find a bit of country (Beggin' Time, Just For A Day, Let Me Know) and a dash of Neo-rockabilly.
---

Red Hot'n'Blue – Still Jumpin' Around
Jappin' & Rockin' JRCD34 [1998]
Things Are Gonna Be Different – Who – There's No Need To Tell Me – Kiss Me Baby – Sinful Woman – Hold On To What You've Got – What Did You Say? – Gimme Some Lovin' – Me And You Are Through – Phone Call – I'm In A Daze – I Had A Real Good Time – Still Jumpin' Around – Big Sandy ('98)
Fifth and latest album to date from this rock'n'roll quartet. Mark Harman (Restless) has replaced Pascal Guimbard on lead guitar which gives the band a more neo-rockabilly sound with some songs logically sounding like the Space Cadets.
It's a good album, not as essential as their earliest recordings, especially the ones featuring Kingman, but it features good originals.
---

Red Hot'n'Blue – Northwood EP
Crazy Love [2000]
Sure Like The Look In Your Eyes – I Wanna Tell You That I Love You Baby – Sad In My Heart – It's My Lucky Day – Sure Like The Look In Your Eyes
The songs of this EP result from a late session recorded in 1986. The twins, Andy and Dave Bourne had left the band. The new line-up was Paul Diffin (doublebass), Ashley (guitar), Stuart Simpson from the Slingshots (drums), Mouse and Kevin Ellis (sax) , a session piano player plus Boz Boorer who played guitar on Sad in my heart.
It's My Lucky Day dates from the Big Noise From Northwood sessions produced by Peter Davenport (Stargazers).
The songs are good but definitely lack the rockin' edge that made band so great.
---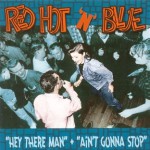 Red Hot'n'Blue – Ain't Gonna Stop/Hey There Man
Rarity records [2003]
Going Away – Funny Kinda Feeling – My Brand Of Blues – Uptown Cat – Blues Stop Knocking – I Wanna Go Back Home – You're The One – Find Out Whats Happening – One Thing I Ain't Got – Every Saturday Night – Caroline – Ain't Gonna Stop – You're The One #2 – My Babe – Sure Like The Look In Your Eyes
Hey There Man – Jumping Around – You Know I Love You So – If You Think I Don't Need You – Baby You've Been To School – Give Me Back My Wig – Hi-Fi Baby – C'Mon And Rock With Me – Big Sandy – Little Girl From Memphis – Can't Keep Me Waiting – Move Baby Move – Clicketty Clack – Baby You've Been To School #2 – Yes I'm Gonna Love You – Come Over My House
Two cd set gathering the second and third album of the band, including four bonus tracks recorded in 1991 during the Hey There Man sessions.
Fred "Virgil" Turgis
Enregistrer