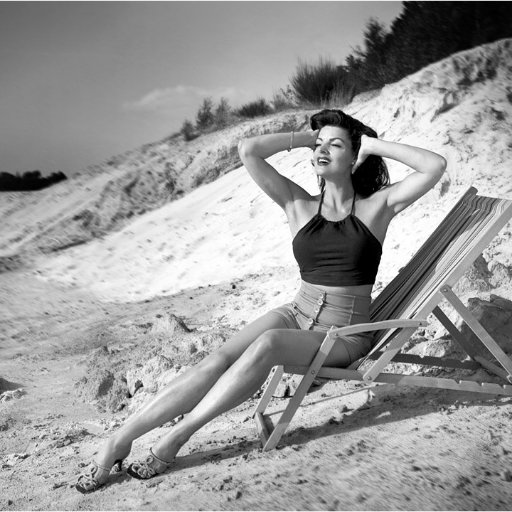 Sue Moreno – One Track Mind
Western Star Records – WSRC 037
One Track Mind / The Fire Is Burnin' / Too Late / Time is Wastin' / Gone Gone Gone / Don't Hurt Me Baby / Gonna Get Back Home Some How / What About Tomorrow? / Record Hop / Your Good Girl's Gonna Go Bad / Cinderella Story / Walkin' With Angels / Time is A-Wastin.
When rockabilly girl Sue Moreno meets the boys of Jack Rabbit Slim, the result is sure to be hot. Contrary to many of her counterparts, Sue doesn't try to sound mean and plays more on the seductive side of things which is a good and refreshing thing (when you can afford to do it, and she can). She never screams or else, but instead use her warm voice to whisper in your ears.
She penned the Fire is Burnin' a fine rockaballad with a slight country tinge. Still on the country side are "What About Twomorrow" with a melody that reminds a bit of Buck Owens' Street Of Backersfield. She also gives a great rendition of Tammy Wynette's Your Good Girl's Gonna Go Bad.
Jack Rabbit Slim's frontman Bob Butfoy provided eight songs tailor made for the singer, going from rockabilly to latin-with-a-Johnny-Burnette-feeling (Don't Hurt Me) and even a country gospel (Walkin' With Angels). In addition to Jack Rabbit Slim, you'll find the talent of Jim Knowler (Keytones) on backing vocals as well as producer Alan Wilson playing guitar on Elvis'Gonna Get Back Home Somehow.
In my opinion the sole low point is their cover of Gone Gone Gone that borrows more to Robert Plant/Allison Kraus version than the Everly Brothers original. But it's not enough to waste the overall feeling of this excellent album.
Fred "Virgil" Turgis