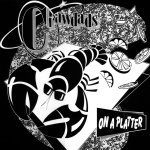 The Crawdads – On a platter
Raucous Records – RAUC017 [1995]
Bad Motor Running – Thinkin' Of You – Three Hearts Later – Two Left Feet – Jolene – Running From Home – Stop Playing WIth My Love – Long Black Shiny Car – Lend Me Your Comb – Sweet Smell Of Evil – Moonlight Kisses – Evil Thinkin' Woman – Honey Could You Lend Me Some Dough – How Can You Be Mean To Me
The Crawdads formed around 1984 with Paul Murphy on guitar and Dean Kennedy on vocals. They were associated with the Northwood label and had songs on the James Dean Of the Dole Queue sampler. A decade or so later they resurfaced with "On A Platter" their firt long play, under the guidance of Chris Cummings of the Riverside Trio fame (also on Northwood). It's a perfect balance between rural hillbilly bop/rockabilly with, among others, influences from Carl Perkins recorded in a trio format and tunes with a harder sound that see the trio augmented with a drummer. Cummings also lays steel on one tune. Superb playing and production and good choice of covers. Too bad it's only been released on vinyl..
Fred "Virgil" Turgis
---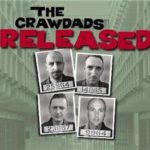 The Crawdads – Released
Raucous Records RAUCD199[2005]
Little Lil ~ Lucky In Love ~ Narcotic ~ One Long Road ~ One and Only ~ Gypsy Woman ~ Strange Boulevard ~ I Can't Lose ~ Midnight Rendezvous ~ The Answer Is Yes ~ Feed The Flame ~ Beating In My Heart ~ Run For My Money ~ Pocket Full Of Rainbows
Ten years later, the second album from this British rockabilly quartet.