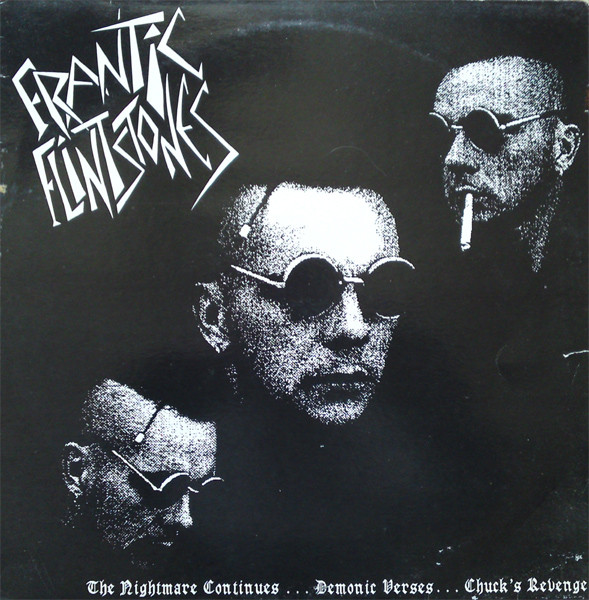 Frantic Flintstones – Bedrock!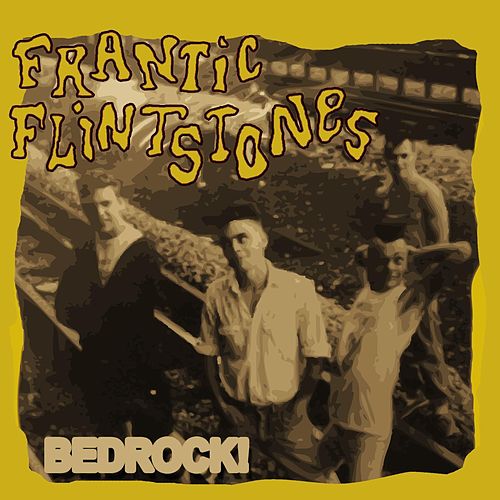 Raucous Records RAUC002 [1987]
Bedrock – Hot Head Baby – Let's Go Somewhere – Sugar Daddy
Released in 1987, Bedrock is the first-ever effort on wax by the Frantic Flintstones. All the ingredients are already in place: demented vocals from Chuck Harvey, furious slap bass by Gary Day, and simple but effective guitar. Three fast-paced Psychobilly tune and a slower one, Sugar Daddy, to conclude.
One thousand five hundred copies were pressed; 1000 with a printed sleeve and 500 with a white sleeve.
---

Frantic Flintstones – A Nightmare on Nervous
Nervous Records NERCD034 [1988]
Hellfire – Monte Carlo or Bust – 44 – Please Cool Baby – Oh Baby oh Yeah – Alley Cat King – Gone Gone Well Gone – Red Chevy – Ring ring ringin' – What the Hell – Sugar Daddy – Frantic Flintstones – Safe Surf – Shake Your Honey Maker – Old Jack Joe – Jack the Ripper – Whisky Bottle Baby
Released in 1988, A Nightmare On Nervous marks the debut of a prolific career. In a certain aspect you can compare it to an early Johnny Cash album. By that I mean that this guy turn their weak points into a strength. With a guitarist far from being a virtuoso, they build their songs around Chuck's distinctive voice and a solid rhythm section that features Gary Day on bass. Sometimes the system shows its limits. Songs like "Suggar Daddy" and "Monte Carlo and bust", though good, could easily be one minute shorter. But this album is full of classics approaching different styles : early psychobilly (Alley Cat King, What The Hell), neo-rockabilly (44, Red Chevy) and even a wild rockin' blues (Billy Fury's Since You've Been Gone renamed here Gone Gone Well Gone). The cd version features 5 bonus tracks recorded later with Gasty on bass : two covers played the Flintstones way "Shake Your Honey Maker" and "Old Black Joe", "Safe Surf" a semi instrumental (Safe surf repeated a dozen times doesn't count as lyrics, does it?) variation around "Hang 10", "Jack The Ripper" is not Screaming Lord Sutch's but another version of "Necro Blues", and an excellent original "Whisky Bottle Baby" previously known in a live version on the "Live & Rockin'" album.
---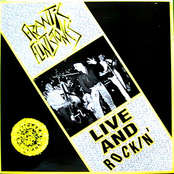 Frantic Flintstones – Live'n'Rockin
Link [1988]
Alone Again – Round the Mountain – What The Hell -. Shake Your Moneymaker – No One Stays – Rockin'Bones – Necro Blues – Hang Ten – Bedrock – Old Black Joe – Gone Gone Well Gone – Playschool Baby – Just Because -. Whisky Bottle Baby – One Night Stand – Blue Christmas
The Live and Rockin' serie on Link was mostly a poorly recorded (and often poorly played) affair. One notable exception was the Frantic Flintstone live album recorded during the Rocking Out tour in November 1988. Despite being recorded just after the departure of ace bass player Gary "Gaz" Day who is replaced by Gasty from the Blue Ridge Rockets, it found the Flintstones in top form playing classics one after another. The songs come from Nightmare on Nervous, Rockin' Out and for the large part Not A Christmas Album recorded a couple of weeks after this gig. It hasn't been reissued on CD which is a shame but you can download it – legally – on Amazon or on other sites that sells music.
---
Frantic Flintstones – The Nightmare Continues…Demonic Verses…Chuck's Revenge
Link Records LINK LP 109 [1989]
Smack Smack – Dog Rip – Bone Rest – Twisted Retard – Rasppin' Grasses – Burned 'N' Turned – Dustbin Case – Five Clawed Talon – Angel – Lost Love – Astral Cowboy – Waste of Life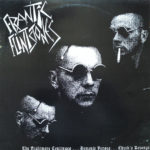 After a few high-end Psychobilly albums still very much influenced by Rockabilly and Neo-Rockabilly, the Frantic Flintstones released The Nightmare Continues in 1989. The album was recorded in June that year, with Gasty (ex-Blue Ridge Rockets ) on the double bass. The result may be surprising at first. If Chuck's voice remains recognizable among thousands, the whole album is very dark. The sound is heavy and powerful, supported by one or more distorted guitars. It's as if the Frantic Flintstones had merged with Demented Are Go. It's pretty successful, and the graft between Psychobilly Gothic and the Frantic Flintstones works well, although it's a bit repetitive in length. The sound homogenizes everything, and all the songs end up sounding similar.
---
Frantic Flintstones – Schlachthof Boogie Woogie
Link Records LINK LP 129 [1990]
Drugs in the Valley – Holy Sisters – Playschool Baby – Absolution – Endless Sleep – Hang 10 – Trips – Pantman – Breakout Mania – Gonna Miss Ya! – Sexy Red Number – West of London – The Race Is On – Legion Song – D.S. – Pantman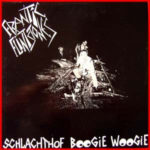 Schlachthof Boogie Woogie was released in 1990. If it contains good songs, there's also a good dose of filler too. The whole album lacks coherence and suffers from the absence of a solid line-up behind Chuck and Johnny Pug. The group is scattered a little between the acoustics of Drugs In The Valley (Peace In the Valley), Holy Sisters, which recalls The Nightmare Continues and yet another version of Playschool Baby (this time with fiddle, perhaps in an attempt to sound like Demented Are Go?) And those are just the first three tracks on the album. The rest is of the same ilk, a catch-all mixing skabilly (Endless Sleep), tunes with a laid-back feeling (Trips), a massacre of a classic tune (The Race Is On) useless instrumentals like Breakout Mania or Pantman (aka Batman) with which we are gratified (afflicted ?) two versions. It's not always played very well, so Sexy Number's double bass leaves something to be desired. The best song remains West Of London (an adaptation of John Denver's West Virginia), but again, the group will record a superior version on Cuttin' A Fine Line.
---
Frantic Flintstones – Well Gone In Europe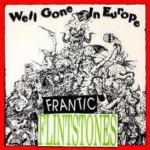 Kix4U KIX 3358 [1990]
Ole Black Joe – Alcohol Buzz – 44 – Honey Maker – Necro Blues – Gone Gone Well Gone – Let's Go Somewhere – The Race Is On – Legion Song – Cryin' Eyes (Country Mix – Broke Up (f/mushrooms Mix) – Endless Sleep (Skankabilly Mix)
The Frantic Flintstones released many albums often with the same songs. In the end, you keep wondering if you have another best-of of slightly different versions. This is what happens with "Well Gone In Europe." Except if you're a total and absolute completist, you can live without that one.
---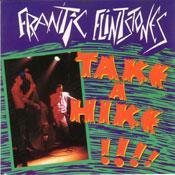 Frantic Flintstones – Take A Hike
Kix 4 U KIXCD3363 [1991]
Your Cheatin' Heart – Dream On-Blue – Just A Dream – Sweet Nothings – So Sad – Little old Lady – Necro Blues – Burned'n'Turned – Rockin' Bones – Frantic – Honey Maker – Gone Gone Well Gone – Blue Xmas – Santa Bring My Baby Back – Santa Claus Is Back In Town – Old Black Joe – Dream On-move
Though the sound is quite good, this album is far from being essential. Actually, on the 17 songs , 7 come from "Not A Christmas Album", 3 are re-recorded versions of Flintstones classics (Burned and Turned, Rockin' Bones, Necro blues) and in the remaining 7, Dream On is featured two times (a slow one and a fast one). That said the new versions are excellent, the group is in fine form and the Frantic Flintstones have released far worst than this album. One for the completist.
---
Frantic Flintstones – Rockin' With The Frantic Flintstones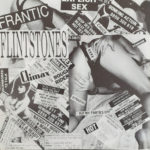 Rumble Records – GANG 011 [1991]
Tom Dooley – Gotta Know – Brown Eyed Girl – Therapy
Out of the four songs that constitute this EP, only Therapy is unissued, the other three being lifted from Cuttin' A Fine Line. It's a Doo-Wop tune with only Chuck, a vocal accompaniment by the band and light piano.
You never know what to expect with the Frantic Flintstones and that's why they are great!
---
Frantic Flintstones – Cuttin' A Fine Line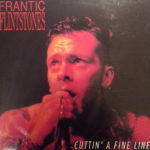 Rumble RUMBCD009 / Raucous RAUCD0000106 [1991]
Chilled bones – You're the one who done it – Sweet Marilee – Jungle love – Time of day – You got me rockin' – Tom Dooley – Gotta know – Brown eyed girl – Boneshaker baby – Slowly killing me – Don't want you baby – Drug squad – West of London – Love me – Am I that easy to forget.
Released in the early nineties for the German label Rumble Records (Scum Rats, Rockabilly Mafia, Punishers etc.) "Cuttin' A Fine Line" finds the band in superb form with the return of Gaz Day on bass with Rich Taylor on drums (Nitros), Pug still on guitar and of course the unmistakable voice of Chuck Harvey. This excellent album (one the very best ever released by the band) mixes classic psychobilly numbers (Chilled Bones, Don't Want You Baby that features Gaz on lead vocals), blues (Time Of A Day), first class rockabilly (You're The One That Done It, Sweet Marilee, Gotta Know), skiffle (Tom Dooley) and some country songs like West Of London and Drug Squad that deals with one of Chuck's favourite subject. The selection is rounded with two acoustic numbers (Elvis'Love Me and Am I That Easy To Forget) with just Pug and Chuck that announces their following album, the all acoustic Skin Up, Chill Out, Just Buskin' Through.
---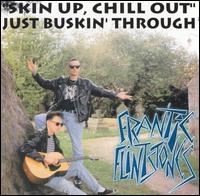 Frantic Flintstones – Skin Up, Chill Out, Just Buskin' Through
Rumble RUMCD018/ Raucous [1992]
Hello Marylou – Blue Moon of Kentucky – Will the Circle be Unboken – You Are my Sunshine – Tom Dooley – I Can't Help it – Born to Lose – Goodnight Irene – It's Hard to be Humble – Love me – Drugs in the Valley – Take me Home, Country Roads – I Gotta Baby – Am I That Easy to Forget
The only thing predictable with the Frantic Flintstones is that they are unpredictable. For this record originally released on Rumble Records in 1992 the band – reduced to just Chuck and Pug – went for an acoustic session. The mood is very laid back and the repertoire is made of covers of classic rockabilly and hillbilly tunes taken from the catalog of Hank Williams, Mac Davis, John Denver, Ricky Nelson, Elvis, Johnny Cash, The Carter Family and though they appear in brand new version here, some of them have been recorded by the band before. It's not completely representative of the style of the Frantic Flintstones but it's a nice addition to your collection.
---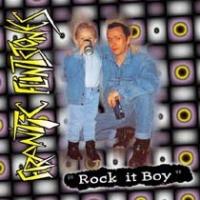 Frantic Flintstones – Rock it Boy
Rumble RUMBCD024 [1993]
Marylou – You Call Everybody Darlin' – You Ain't Nothing But Fine – I Cant Trust Me In Your Arms Anymore – Carry Me Back To Old Virginia – Blues Stay Away From Me – Blue Moon Of Kentucky – Your Cheatin' Heart – I'm Walkin' – Sweet Baby Doll – Will The Circle Be Unbroken – So CLose To Heaven – Jimmy Jazz – Love For A Nutter – Broken Heart
Originally released in 1993, this is the third Frantic Flintstones' album for the German label Rumble records. And like "Cuttin'…" and "Skill Up…" it has a strong rockabilly flavour in it. The line-up for this one is Chuck, Pug, Johnny Bowler (Get Smart, Guana Batz) and Scag. It's a very good album that only lacks of original songs, but with a charismatic band-leader like Chuck (and a solid band to back him) that's not such a big problem. The band draws into the catalog of Jerry Lee Lewis, hence the presence of a piano, Ricky Nelson, Rockin' Sydney, Johnny Burnette/Delmore Brothers, Hank Williams and delivers an excellent rockabilly version of the Clash's Jimmy Jazz. As usual with the FF it features different versions of previously released tunes like Blue Moon Of Kentucky, Will The Circle Be Unbroken and Your Cheatin' Heart wasted by the backing vocals. "Love For A Nutter" is a demo recorded with Alan Wilson that announces the following albums (X-Ray Sessions and Jalmboree) and the beginning of a fruitful collaboration. Bowler closes the set with a vocal prestation on "Broken Heart" that won't figure as one of the highest moment in the Frantic Flintstones history. It's been reissued on the British label Raucous Records with a slightly different cover.
---

Frantic Flintstones – Jamboree
CDMPSYCHO15 [1993]
Detroit Dirtbox – Love For A Nutter – Your Time Is Up – Mean Mean Woman – Diablo – Stay With Me – Sweet Georgia Brown – Lunatics (Are Raving) – Busted – Mindkill – (To The Devil)A Son – Oh 898 – Candyman – He's Waitin' – Sad N' Lonely – Suspended – Chop-Chop, Slash Slash – Honey Child – Hey Chuck – Detroit Bloodbox
Previously issued in 1993 but out of print since then, Anagram had the good idea to reissue this 20 songs album in their Psychobilly serie. Produced by Sharks frontman Alan Wilson who also plays most of the guitar parts, with former bassist Gary Day back in the line-up, this is one of the 3 best album the Frantic Flinstones ever made and probably the richest in styles approached. Wilson is one hell of a guitar player and songwriter and his team with Chuck Harvey is just perfect. From "Diablo" with its surprising jazzy solo in the middle, to the country tune "To the Devil A Son", and even a waltz ("Sad'n'Lonely") they apparently have fun to work together and explore various kind of music. Some guests are present too. Detroit Donny plays harmonica on "Detroit Dirt Box" a bluesy instrumental and on Roy Orbison's "Candyman", Sonny West, who had an album on Nervous, plays some guitars and sings The Sonics' "He's Waitin'". Alan Wilson sings "Mindkill" he co-wrote with Hodges. This one can be seen as the first song from the resurrected Sharks for this is during this recording that Gaz Day convinced him to reform the band. Psychobilly is present, of course, with"Your Time Is Up" which is not far from "What The Hell" on their debut album, "Sweet Georgia Brown" (not the jazz standard) and the great "Love For A Nutter", although I do prefer the demo version issued on "Rock It Boy". Add a bit of rockabilly ("Honey Child" and "Mean Mean Woman") and if you still wonder why are the Frantic Flinstones so great, just ask yourself who could better than them sing a song about a psycho killer like a sixties pop ballad?
The Radioactive Kid