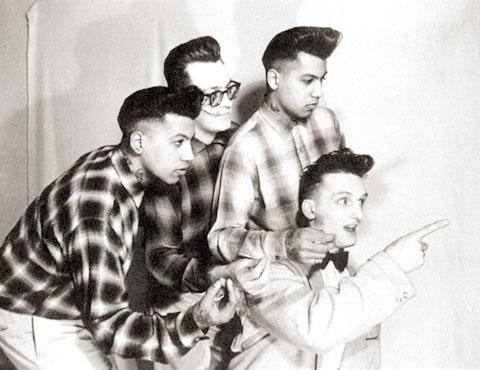 Red Hot'n'Blue
The first half of the eighties was an exciting time for genuine Rock'n'Roll in Great Britain. Rockin' music saw a new life in the charts. Young bands like The Meteors, The Ricochets and the Deltas were experiencing new sounds, taking good old rockabilly in a whole new direction. The Polecats and Restless were there, too, making releases that would later be described as Neo-rockabilly.
Then in the wake of the Stargazers, a bunch of new bands prefered a more traditional sound (paving the way to the « authentic rockabilly » movement of the late '80s). Among these bands, some of the best were the Riverside Trio (rockabilly-hillbilly-blues), the Krewmen (blues with Carl Sonny Leyland), the Blue Rhythm Boys (rockabilly – rockin' blues) and the one we're going to talk about in this article: Red Hot'n'Blue.
By Fred "Virgil" Turgis © 2022
Thanks to Mouse, Ashley Kingman and Kevin Ellis
In the beginning
It all started in 1982 when Mouse Zihni's ex-girlfriend phoned to tell him that her current boyfriend Dave Bourne, who played the drums, was looking for a singer to start a band. She remembered they both used to go to East Croydon Railway Club, where Mouse would sing with the local combo and had a good voice. His favourite singers were Gene Vincent, Tommy Steele, Billy Fury, Louis Jordan and Big Joe Turner.
They arranged a meeting for a rehearsal, and Mouse met the rest of the soon-to-be band, Dave's twin brother Andy on bass and Sam Crabtree on guitar, in a cellar near Emerson Street where Crabtree worked during the day. The rehearsal went well, and a few weeks later, he was asked to join the band full time.
They worked a lot, playing covers of the club hits. They gradually started to gig in the South London clubs but didn't really go anywhere. According to Mouse, "Sam didnt want to do new songs, he was happy to cover the songs he knew and that was that, so thats what we did, we were a cover band doing songs from the 50s. it was small time fun and got me some much needed money."
One night Mouse met guitarist Ashley Kingman who was not totally a stranger to the still-unnamed quartet: Sam Crabtree sold him his first guitar, and Dave and Andy were in the same school though a bit older. "I met Mouse in the toilet of the Castle pub; they used to have a regular Monday DJ there. I seen Mouse with Red Hot n Blue, dug the show and told him I played guitar and was looking to join a band." recalls the guitar player. They already had a good guitar player, but after some debating, he was asked to join on rhythm.
Having played with local combos like The Outer Limits (a psychobilly band) and Dr Muscle Brain Valves, a blues trio with drums, guitar, and harp/vocals, it wasn't Kingman's first band. For the story, the drummer in both groups was Gary Boniface, who later went on to form the Vibes.
The newly formed quintet still needed a name. That's when Mouse came with Red Hot'n'Blue, a tribute to Dewey Phillips' radio show, the first one to play Elvis Presley records on the air.
But not long after that, Crabtree left the band to join the Blue Rhythm Boys. "They were doing well and he just wanted the fast train out rather than take the slow train with us," remembers Mouse. After his stint with Paul Ansell's band, Crabtree went on to form Cat Talk. Without a lead guitarist, the band couldn't go on. They stopped gigging for about six months but didn't stop working. They were hard at writing original material (including the future club hit Sure Like The Look In Your Eyes, and Ashley spent this time moving from rhythm to lead. They used to rehearse in the music shop where Ashley worked.
Introducing Ray Frensham
When they felt ready, they started gigging again, and from this moment, things moved quickly. Red Hot'n'Blue appeared at the Isle of White weekender, leading to more shows in Europe and up and down the UK. Thus they gained the attention of Ray Frensham of Northwood record. He had the project of a compilation album and asked the band to record some songs for it. They agreed and, wanting to expand their sound, asked saxman Kevin Ellis to guest on the recording. Ellis was a well-trained musician being a member of Clive Osborne and the Clearnotes for two years.
So on November 3rd, 1984, Red Hot'n'Blue headed to the University of East Anglia for their first recording session produced by Peter Davenport of Stargazers fame. The quintet cut three songs that day. Get Back on that Train, written by Andy, I wanna tell you that I love you baby and So Lonely On My Own, both from the pen of the team Kingman/Zihni. Two of them (Get Back… and I Wanna tell you…) were released in June 1985 on the compilation album Big Noise From Northwood. The other bands featured on that comp were the Sprites (French rockabilly band influenced by Gene Vincent), The Slingshots, Peter Davenport in full Bill Haley/Jodimars mode with the Roof Raisers and the Riverside Trio. The remaining third track, So Lonely On My Own, would later appear on the band's debut album. Years later, an early version of It's My Lucky Day surfaced and was probably recorded during the same session as it clearly shows Davenport's influence.
Big Noise From Northwood (Northwood NWLP 1002) received good reviews, and Ray Frensham started to consider the possibility of recording a long player with Red Hot'n'Blue. With Kevin now a full-time member (since December 1984), the young rockabilly band that played cover has mutated into a tight rockin'- rockabilly – jump blues outfit and was in high demand and appeared in all-dayers in the UK and Europe. They shared the stage with The Jets, Red Hot, the Blue Rhythm Boys, the Keytones, the Riverside Trio, Rochee & the Sarnos, and Johnny Powers, whom they backed.
Northwood Records
By 1985 Red Hot'n'Blue was getting more and more attention. More gigs were pouring in, and with its popularity rising, it was soon evident that a full-length album was the next step. "Ray frensham thought there was a buck to make out of us, so he signed us up for an album," jokes Ashley.
The summer of 1985 was spent gigging and rehearsing new material for the planned album. In August (19th -21st), the band went to Alaska studios (just under Waterloo station) with Boz Boorer in the producer seat to record what would be Wait'n'See. Cut in three days; it's an extraordinary solid work for a debut album.
It features a majority of self-penned songs – mainly from the team Kingman-Zihni, but Andy co-wrote three songs, and producer Boz Boorer contributed the title track. Three covers complete the set: Yes I'm Gonna Love You, Dick Penner's Move Baby Move, and Myron Lee's Aw C'mon Baby.
It covers a wide range of styles: from boogie blues in a Slim Harpo style (Sure Like The Look In Your Eyes) to rockabilly (Clickety Clack, Move Baby Move) a bit of jump blues (It's My Lucky Day, Bad Girl), a jazzy ballad (So Lonely On My Own), a Latin instrumental with a Django Reinhardt feel in the middle (Hey Gringo) and rockin' blues in the best Chess Records tradition (Postman Blues with harp played by Little Paul (from the Blueberry Hellbellies) and the Diddley tinged Take A Walk Up The Apple Tree).
It was mostly recorded live with very few overdubs (the guide vocals part were often kept).
Wait'n'See remains a good memory for all involved: "Most of it was cut live, then we took bits away and added different shit in its place. Amazing but kind of tedious and time consuming. Boz somehow pulled it into shape. I still think its a good record." says Ashley. "It was good fun and I learnt a lot from it," remembers Kevin, and Mouse adds, "it was a happy affair and we did a cool job on it." Fifteen songs were recorded, thirteen ended on the album (the 14th track of the record, "So Lonely On My Own," comes from the sessions made with Peter Davenport the previous November). The remaining two songs were "Without You" and a cover of Louis Jordan's "Caldonia." When you listen to it, it's very close to "Wait'n'See," so it's probably the reason why it didn't end on the album. It finally got released on the compilation album "The Northwood Story" on NV Records in 1991.
Mixed in September and October by Boorer and Kingman, it was released in January 1986 and received rave reviews. "When it came out it got a four out of five star rating in Record Mirror and other magazines of the day, even INXS only got a 3 star rating, how things changed!". Red Hot'n'Blue toured to support the release, and it sold very well though it seems that the band didn't see a lot of money from that (same old story).
Even when they were headlining the all-dayers, Red Hot'n'Blue kept busking a lot to earn some extra cash. One day while they were playing in the street of Camden, a man approached them, gave his card, and told them to call him as he liked the band. The man was Trevor Horne from The Buggles, who scored several hits as a producer with Grace Jones, Frankie Goes to Hollywood, Art Of Noise… It was a big chance for the band to get a wider audience than the rock'n'roll circuit, but it never happened. Mouse: "Ash told Ray Frensham and Ray was over the top and too pushy and Trevor backed off the situation. This was one of the stupid things that Ray did, and the first of many as far as I'm concerned, he could be a real wanker at times…" . For Kevin, it was "very sad really because we were onto big things."
From that moment, things started to decline "[We had] a good ride for about a year and then we kind of all started pulling against each other. We let Ray get wedges in between us and me and Mouse split from the twins." recalls Ash. Ray didn't want Dave and Andy in the band any longer, and by April 1986, the twins were gone ("not a thing I enjoyed at all, I went along with it, but that was all," says Mouse). Stuart Simpson from the Slingshots and Paul Diffen (Sugar Ray Ford and later Blue Cats) replaced them on drums and double-bass. Pat Reyford (Sugar Ray Ford, too) also joined on alto sax. For Mouse, "Ray was trying to run us and mould us into a jump jive sort of blues thing."
Soon after the twins were gone, Red Hot'n'Blue entered the studio with the new line-up and a session piano player called Sir James (it seems that neither Ray Frensham nor Mouse remember his name). Boz Boorer was also present and added a second guitar on some recordings. The songs made were a reworking of "Sure Like the Look In Your Eyes," "I Wanna Tell You That I Love You," "Without You," and "Sad In My Heart." The latter being a cover of The Man Upstairs that had it released on single on Sideline Records in 1985. The sound was definitely fuller but didn't really fit Red Hot'n'Blue. Somewhere they had lost what made their specificity, their rocking edge, and Boz's production this time was more "radio friendly." That said, the version of "Sure Like the Look In Your Eyes" recorded this day still stands well today. It was envisaged as a "cross over" single, backed with "Caldonia," but never materialized. These sides were reissued years later on Crazy Love records.
The new direction taken by the band didn't really please them. "It wasn't what I wanted to do, I wanted to do rock n roll and blues not big band stuff, I liked it but didn't really want to be in a big jump band," recalls the singer. It was not practical and quite costly to take such a large band on the road, and the twins weren't too happy with the band using the name Red Hot'n'Blue. At the same time, Mouse started to become a famous DJ on the London scene, and slowly the excitement of the beginning started to fade away. For Ashley, "it wasnt the same after the twins were gone.". The relation with Ray Frensham wasn't that good too. There were money problems, and it wasn't long before the band and the label parted ways. The line-up changed again with Terry Clancy (Cat Talk / Scat Cat) joining on bass and John Day on the second guitar, but in the own word of Mouse, "the band just ran out of steam and it came to a very quick final shortly after the weekender up in Southport at the end of 86."
Side projects
After the split, each member of the band remained musically active. Ashley joined Rockin' Rocket 88 in late 1988, appearing on the two tracks from Katz Keep Rockin' and their excellent Comin' Home Lp, on which he co-wrote three songs.
The twins joined forces with Carlos Mejuto (Carlos and the Bandidos) and Rob Glazebrook (ex-Rochee and the Sarnos and later Playboys, Houserockers, Broadkasters) to form Jello Sal (named after Benny Ingram's song). To my knowledge, their only released recording is a cover of She's Mine (Johnnie Strickland) that appeared on Cool Town Bop (Fury Records – FCD 3024), though a demo exists with three more tracks.
Mouse started doing clubs with Mousie's Record Hop "I always wanted to be a DJ, I was driven towards playing music for people. I can't really remember the first time I did a DJ set but I'd say it was around 82/83." (Mouse Teds, Rebels, Hepcats). He did not play music until September 1989. His return to the studio took the form of a song called Untrue, recorded with Lex Luther (Demented Are Go) on bass guitar and Eric LaCube playing just a snare. This song is the only recording made by this short-lived band named the Dillas.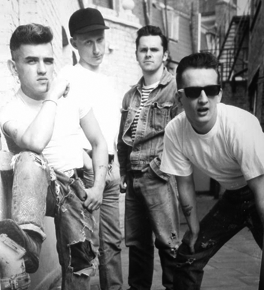 Mouse's next venture was Switchblade. Switchblade started as a trio with Graeme Grant (Demented Are Go, Krewmen, Frantic Flintstones), Mouse's flatmate and Guy Bolton (Born Bad). They recorded a couple of demos in December 1989 and were soon joined by Eric LaCube on drums. In April 1990, they went to the studio and cut an album that remained in the vault until 2016, when Alan Wilson released it on Trophy Records, his sub-label dedicated to stuff he didn't record. This album is definitely not for you if you look for slick and polished rockabilly. The sound is raw and uneven. Some songs sound more like demos while others seem more "finished". The band's style is a mix of rockabilly (Grant is one hell of a powerful slap bassist) with a good dose of rockin' blues, a lot of energy, and an emergency feeling throughout the album. The fact that it was recorded and mixed in two days probably contributes to that feeling.
Mouse penned three songs. The remaining songs are split between rockabilly classics like Orbison's Go Go Go, Glen Glenn's One Cup of Coffee and Blue Jeans and a Boys Shirt, Roy hall's Three Alley Cats, Benny Joy's Wild Wild Lover and blues like Jimmy Reed's Baby What You Want Me To Do, Earl Hooker's You Got To Lose, George Thorogood's Homesick Boy and some surprises like the Beatles What Goes On. The completist will find demos on the Unreleased recordings on Fury records as well as one song, Ride Ride Ride, on the compilation album 20 Blasters from Blighty.
But when Red Hot 'n' Blue reformed in late 1990, Mouse decided to put Switchblade on hold.
The reunion
Ashley explains, "I went to Japan on holiday and found some interest in Red Hot 'n' Blue doing shows there. On my return, I told Mouse and the Twins, and we decided to get back together for a few shows."
The idea was to reform for a six-month reunion with the original quartet without saxophone. "By that time, we had dropped a lot of the jump jive stuff from the set. When we first played together, we played a bit of everything from Blues to Country and Rockabilly to Jump and Jive, even some Latin, but when we reformed, people were listening to different stuff than they were in 1984." (Mouse, liner notes of The Unreleased Recordings).
Mouse, Ashley, Dave and Andy began rehearsing new stuff for a forthcoming album, and in March 1991, the quartet went into Wand studio to record Hey There Man. The album was produced by the band and Iestyn Polson. At the time, Polson was new in the business, but he later went on to work with huge names like David Bowie, Patti Smith and David Gray, as well as Demented Are Go.
Compared to their debut album, Mouse has a huskier voice. The album is mainly made of Rockin' Blues tunes with a strong Chess/Chuck Berry flair (at the same time, Ashley Kingman was also playing with the Blue Rhythm Boys) in the same vein as Sure Like The Look In Your Eyes. There are some more Rockabilly sounding songs and even a slight touch of Hillbilly on C'Mon Rock With Me with Lee Jeffriess, who'll join the Fly-Rite Boys the following year, on steel guitar. Other musicians guested on the album: Phil Rawson on harmonica, John Fordham (now in the Jive Aces) on saxophone, and Paul Ansell (Blue Rhythm Boys) on piano. Seven of the twelve songs are originals by Mouse and Ashley. The remaining five come from the catalogues of Elvis Presley (If You Think I Don't Need You), Charles Page (Baby You've Been To School), Hound Dog Taylor (Give Me Back My Wig), Bobby Roberts (Big Sandy), and Teddy McRae (Hi-Fi Baby). It's an excellent album from start to finish.
After the bad experience that the band had with Northwood for their debut album, they decided to release Hey There Man on their own label. Mouse then created Zinn Records "I started Zinn because I did not want to be ripped off again by a record company."
Hey There Man was an instant success. Not only Red Hot 'n' Blue had gained a cult status throughout the years, but the newly released material was up to par compared to their legendary debut album. In four months, it sold over 2000 copies.
Contrary to their initial plan, the quartet decided to continue, and in 1991 and 1992, Red Hot 'n' Blue toured all over Europe, concluding the year with a tour of Japan. Mouse wrote in Southern & Rockin' in late 1994, "We were working hard but not really earning much (…) but we loved our music and got to places we otherwise wouldn't have seen."
Ain't Gonna Stop!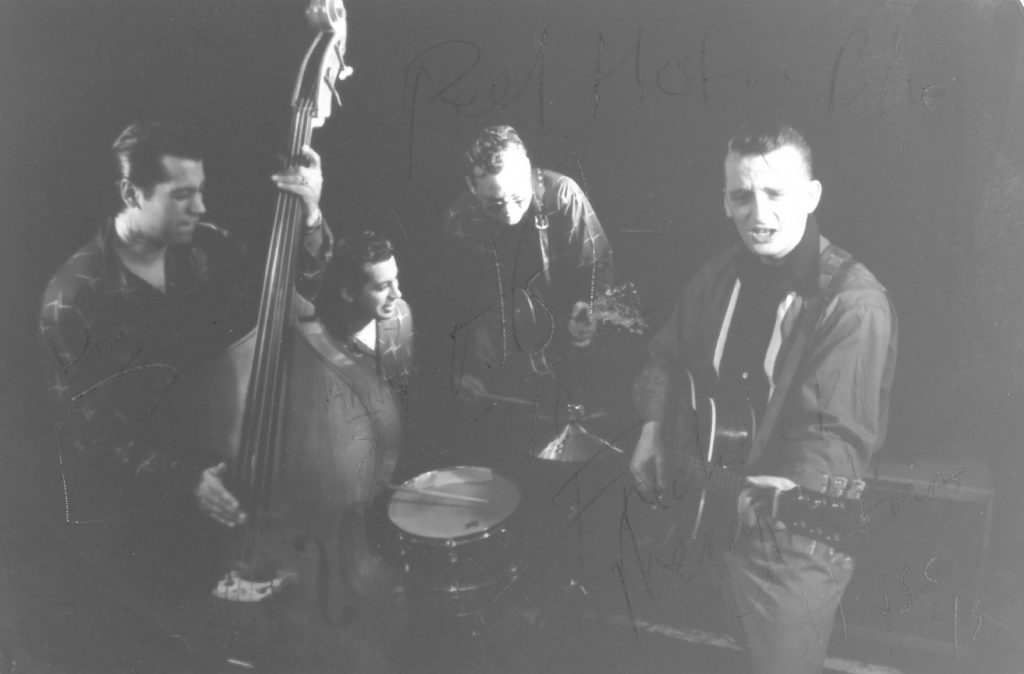 Upon their return from Japan in November 1992, they were offered a record deal with Time Bomb records, a Japanese label. Hence, in early December, Red Hot 'n' Blue was back to Wand studio to cut what would become Ain't Gonna Stop, their third long-player. It finds Red Hot 'n' Blue returning to a broader variety of styles, including rockabilly (Ain't Gonna Stop, Funny Kinda Feeling, Uptown Cat), rock'n'roll love song (You're the One), rockin' blues (Going Away, a recut of Sure Like the Look in your Eyes), Chicago blues (Willie Dixon's My Babe and the Elmore James inspired Caroline). Also, the country-tinged Every Saturday Night finds Mouse playing some steel guitar. He later recorded with that instrument with the Rimshots and Demented Are Go.
Compared to their previous releases, the production is cleaner and a bit thinner in places, but it remains a good album with solid songwriting. Ashley "I had a good time recording that record, it was kind of loose and we ended up with way more than we needed. I played a bit of slide guitar and electric bass. We did some songs fast and slow versions. It was a real mixed bag and a lot of it was laid back, you could hear the band developing."
Ashley leaves…
Shortly after the recording, Ashley was offered to replace T.K. Smith, who had recently left Big Sandy and the Fly-Rite Boys "The Big Sandy offer came up just after we finished the record. I knew it was one of those once-in-a-lifetime things. It just sucked it was then. Mouse and the twins were pretty pissed off at the time. We were more than a band, we all had lived together, partied, and played music together since our teens." This left the band with no guitar player and a set of dates booked for 1993. They decided to carry on, hence the album title: "They decided on the title after I'd gone!" jokes Ashley.
They needed an ace guitar player to replace Ashley. So Mouse chose one of the best: Mark Harman of Restless fame. After some negotiation, Harman agreed to join the band, and the new line-up began rehearsing the set. Despite the guitarist change, the gigs were very well-received wherever the band played. Harman brought a Rock'n'Roll touch to the band compared to Ash and a renewed energy. And the new version of Sure Like the Look In Your Eyes, released on single, became a massive hit on the rocking scene.
Sadly, in September, Mark Harman had to leave the band. He had just recorded a new album with Restless (Figure It Out) with a powerful line-up (Steve Whitehouse and Rob Tyler) and had a lot of dates booked to promote it. "For myself, Andy and Dave it was a sad day. We all had a lot of laughs together and Mark is a good guy." wrote Mouse in the liner notes of the Unreleased Recordings in 1995. Harman and Zinn remained friends and later collaborated to form the Space Cadets.
Pascal Guimbard on guitar
Once again, they decided to carry on. Mouse and the twins decided to recruit their friend Pascal Guimbard, formerly of the Sprites, a French Gene Vincent-influenced band that recorded for Northwood, and Riley McOwen & the Sleazy Rustic Boys.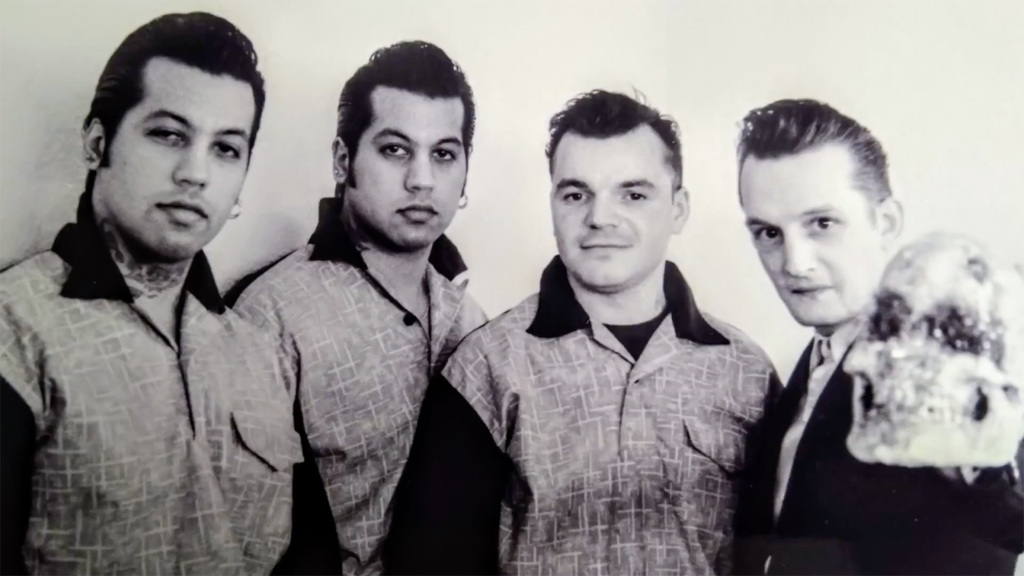 Guimbard was no stranger to Red Hot'n'Blue since he sometimes sat with the band on harmonica.
The band continued touring with their new member (including the Hemsby weekender in 1993), and by 1994, Fury records offered them a record deal. So, in February, Red Hot 'n' Blue returned to the studio to record their fourth LP. On this album, the global sound is less bluesy than on the precedent releases (though one can find an excellent Bo Diddley medley) and more Rock'n'Roll with a strong inspiration from the late '50s / early 60's Elvis Presley and Gene Vincent, which is not a surprise coming from Guimbard. There's also a bit of country (Beggin' Time, Just For A Day, Let Me Know) and a dash of Neo-rockabilly. Among the covers, you find Elvis' Love Me, Don Roberts' Only One, Ernie Chaffin' s Laughin & Jokin' and Russel Spears' Beggin' Time.
There are also two new versions of Get Back On That Train (from Wait'n'See) and Little Girl From Memphis (from Hey There Man). Once again, the album was, deservedly, well-received. The band toured, but all was not too well. Guimbard lived in Sweden, and each time the band had a gig, he had to take a boat or a plane and travel for 30 hours. It was then decided to call it quit by November 1994. For Mouse, it was no use to search for a new guitarist to keep the name alive, especially if you consider that when they reformed in 1991, it was supposed to be for a six-month stint. Before Guimbard left, Mouse and he recorded six tracks with Mo Kabir and Les Curtis that were released under the Cheezie Bitz name. It was only a recording project, and the Cheezie Bitz never gigged nor made another recording session.
Red Hot'n'Blue played a string of farewell shows, including a slot opening for Carl Perkins, and on November 19th, the band played its last show at the 7th Big Rumble Weekender in front of a mad Psychobilly crowd. Bidding farewell in front of a Psychobilly crowd was another proof – if needed – that Red Hot 'n' Blue was a Rock'n'roll band like no other.
A couple of years later, Mouse, Dave and Andy Bourne got together again with Mark Harman, and in 1998 they recorded Still Jumping Around, co-produced by Boz Boorer. The presence of Harman gives the band a more neo-rockabilly sound, with some songs logically sounding like the Space Cadets. It's a good album, albeit not as essential as their earliest recordings, especially the ones featuring Kingman, but it features good originals. Furthermore, it's good to have a recording testimony of the Harman line-up.
In recent years, Mouse, Ashley and Kevin Ellis played a series of reunion shows with Tony Biggs on double bass and Mark Kemlo on drums, both from the Rimshots.
All interviews except where noted by Fred Turgis
This article © 2022 by Fred Turgis & the Rockabilly Chronicle