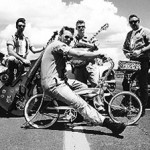 Country : Australia
Genre : Neo-rockabilly
Pony Gleeson: vocals, guitar
Tyron Shaw : double bass
Dan Nosovich: guitar
Geoff Townsley: guitar
When Phil Adams left the Psyclones in 1994, the decision was then made to change direction slightly. Their psychobilly obsession morphed into traditional and neo-rockabilly, swamp rock and dirty rhythm & blues, and that's how The Slingshots were born.
After 5 or 6 lead guitarist changes over a period of six years or so the band recruited Dan Nosovich, who made his debut in the Slingshots. Dan became their final, and possibly their most suited, guitarist until the band's final shows at the end of 1999 when Tyron eventually moved to Melbourne early 2000. During this time The Slingshots had included three interstate tours, released a debut EP/CD-Rom that included a film clip (one of the few bands to do such a release). Other milestones included performing on the 1999 Warped Tour and supporting Southern Culture on The Skids in 1998 during the Nitrobilly tour.
The Slingshots performed a reunion show in 2002 at Wintersun with Doug Wilshire filling in on lead guitar.