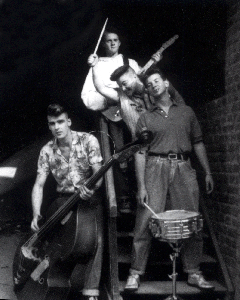 The Scannerz
Germany – Neo-rockabilly/psychobilly
The Scannerz started in late 1985/ early 1986. Sebastian Glenz aka Semmel (guitar) met Uwe Klein through his older brother. Uwe had started to play doublebass and was looking for a guitar player to form a neo-rockabilly / psychobilly band. They were very young (Glenz was 16!) and that was the first band for both of them. Klein and Glenz were soon joined by Murphy (singer/second guitar) and Pennmütz on drums (both from Bonn). Semmel quotes Restless, The Sharks as well as Gene Vincent and Johnny Burnette as influences while the others were more into the 80's Psycho scene and a bit of Punk too.
Murphy stayed with the band for less than a year then left leading Semmel to take over the vocals duties and the band carried on as a trio. Then Pennmütz left and Gonzo took the drums. Finally Klaudia Menzel joined the band sharing the vocals with Semmel.
They eventually got a contract with the newly created Maybe Crazy records (later home of Mad Sin, Scallywags) but Gonzo left before the recording because he had to go to the army.The Lp was recorded with Johannes Bokskopf who Semmel knew from another musical project.The album is quite good and has aged rather well. It features 10 originals and one cover. It's solid neo-rockabilly with a touch of psychobilly featuring an excellent lead guitar and a powerful slap bass with a sound very close to Restless (Vanish Without A trace/Girl Invisible era). The songs are well done, with a will to make melodic and original tunes. Klaudia's voice is a real plus. She sings b-vox on a couple of tracks and lead on two, including the cover of The Ricochets' Night Ship and the ska/new wave/psychobilly Change Myself. Sadly this is the sole release of the band (with the exception of one demo).
The band kept on with another drummer (Johannes Bokskopf wasn't able to join the band full time, which maybe explains why you can't see the face of the drummer on the cover of the album) called Gammel but the musical direction changed and Semmel left the band. The Scannerz continued a bit with a new guitar player (Michael) and Gonzo back on drums, playing more in a 60's beat style but it didn't last and by the end of the decade the band was no longer in activity.
Since then Sebastian has played with the Hot-Riffs, The Paralysers and today his "Mark Harman meets Cliff Gallup" guitar style can be heard in The Tin Cans.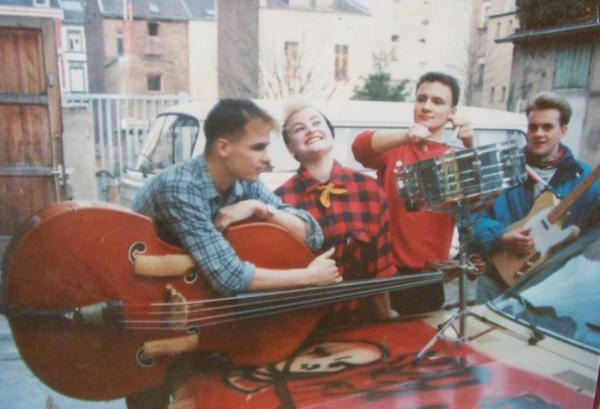 Discography
1987 -S/T – Maybe Crazy LP 001 (black vinyl and 433 copies in clear vinyl)
Later reissued on cd in 2003 by Crazy Love Records – CLCD 64200
A big "Thank You!" to Semmel for the infos.