Chris Sprague – Miles Away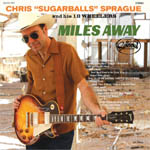 Spinout CD044 [2011]
Driving Along On 18 Wheels – Looking at the World Through a Windshield – Me and this Ole Mack – Miles Away – Devil Went Down to the Truck Stop – Broken Down Diesel – Drag 'em Off the Interstate, Sock it to 'em, J.P. Blues – Slippery Road – Speed Traps & Weigh Stations & Detour Signs – Semi Sweet – Truck Stop a Go Go – Truck Drivin' Cat with Nine Wives – Leaving It All Behind – Last run – Diesel Smoke On Danger Road – Six Days On the Road – 'til Ugly Gets Pretty – Lot Lizard Lucy
If Red Simpson is the undisputed king of truck driving music, Chris "Sugarballs" Sprague must be the new prince. Miles Away is the third album he releases in this style and he received the supreme acknowledgement when Simpson himself gave him an original song (Til Ugly Gets Pretty) to record. Sprague has penned eight originals that stand without shame near the covers of Dick Curless, Dave Dudley, Del Reeves and Charlie Daniels (with adapted lyrics).
The 18 Wheelers provide the perfect backing, nothing too surprising coming from musicians like Dave Berzansky (Hacienda Brothers) on pedal steel guitar, Zack Simpson on rhythm guitar, Bobby Cavener (Amber Foxx) on bass, Jason Eoff on piano, Dave Stuckey on drums and Amber Foxx on backing vocals. Sprague's solid voice makes the rest.
Buy it today, tomorrow it'll be a classic!
---
Chris Sprague – Diesel Made For Two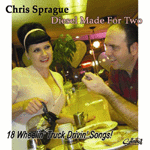 SpinCD034 [2008]
Diesel Made For Two – This Old Truck – Runaway Truck – Roll On Big Mama – Let's Get Drunk And Truck – East Bound And Down – Pray For Your Daddy (He's A Trucker) – Highway Bound – That's a Big 10-4 – Big Mack – Diesel On My Tail – Worn Out Wagon – What's Your 20 – Trucker Brown – The Cutest Truck Driver – Speeding Truck – Overloaded Diesel – Sugarballs Blues
Diesel is Chris Sprague's second solo album in the truck drivin music genre. He sings, plays guitar, drums, bass, produces and also wrote a majority of the songs. He's perfectly backed by his brother Frank, who also plays most of the lead guitar and sings harmony, Deke Dickerson and "Crazy" Joe Trischler on guitar, Mitch Polzak on banjo, Carl Sonny Leland on piano, and the amazing Dave Berzansky on steel guitar.
---
Chris Sprague – Hammer Down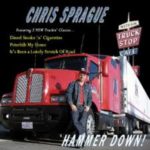 18 Wheeler Records [2005]
Almost Home – Chick Inspector – Diesel Smoke, Dangerous Curves – I'M Coming Home – There Ain't No Easy Runs – Girl On The Billboard – Diesel Smoke 'n' Cigarettes – It's Been A Lonely Stretch Of Road – Nitro Express – Peterbilt My Home – Philadelphia Phillies – The Lovin' Machine – Gear Bustin' Sort Of Feller – The White Knight
Chris Sprague's first solo album featuring Dave Biller, Deke Dickerson and Chas Smith. If you dig Dale Watson's Truckin Sessions, this one is for you.
---
Chris Sprague – The Sweet Sound Of Sugarballs
Self released [2004]
Right Or Wrong – Hardship – Right Time For Love – She's Gonna Love – Back To You – Money Makes The Man – Lucy – In My Head – Waiting For You – Masterplan – I DOn't Care – Cause She's Mine – All Night Long – Angelyne – Mopar Junk
A fine collection of songs written and sung by Chris when he was playing with his brother Frank in the Sprague Brothers with a nod to Johnny Cash on the cover. Lots of Buddy Holly / Bobby Fuller inspired stuff. See also the Sprague Brothers.
See also The Sprague Brothers and the Sprague Brothers interview.