Guana Batz – Held Down… At Last!
CDMPSYCHO64
Down The Line / Got No Money / Can't Take The Pressure / Nightwatch / Lady Bacon / King Rat / You're My Baby / Nightmare Fantasy / Please Give Me Something / Bust Out / See Through / Batman (Live) / B-Side Blues
Truly a classic and without a doubt one of the ten "must have" psychobilly records. After two singles that made quite a stir on the relatively new psychobilly scene and a decent life in the indie charts, Pip and the boys toured heavily, switched to double bass by recruiting Sam Sardi of the Ricochets and took their time to write a solid debut album.
Expectations were high, but the debut long player (10 songs for 25 minutes) largely fulfiled them (and even more). Not only the Batz were talented, but they came with a different sound, both classic and innovative.
The A-side delivers a solid set of five originals, mostly acoustic with slap bass and rhythm guitar to the fore, light drums and electric lead guitar. It stays close to 50's rockabilly, but more frantic (Can't Take The Pressure, Got No Money) and weird (Nightwatch, Lady Bacon).
B-side is slightly different. It opens with the manic pace of King Rat, followed by the wild cover of Johnny Cash's You're My Baby. Nightmare Fantasy, written by Sam Sardi, is no less frantic and shows the influence of the Ricochets. Please Gimme Something is the slower song of the side but is very torrid. The original album closes with an instrumental from the Busters' catalog.
This reissue features three bonus songs that come from a 10″ issued around the same time. Seethrough is as good as any of the songs included on Held Down, B-Side Blues feels more like a studio jam and their cover of Batman is fun though not essential.
---

Guana Batz – Loan Sharks
CDMPSYCHO69
Pile Driver Boogie / My Way / Slippin In / Tiny Minds / Radio Sweetheart / Life's A Beach / Loan Shark / I'mWeird / Hippy Hippy Shake / Live For The Day / No Particular Place To Go / I'm On Fire / Your Baby Blue Eyes
Anagram/Cherry Red reissues Guana Batz's second record. Originally released one year after their successfully debut album, "Loan Sharks" marks a big move into the sound of the band and delivers their most radio friendly album (and it did a decent stint into the independent UK charts). Though they're still firmly anchored in Psychobilly with heavy slappin numbers like Pile Driver Boogie, the spooky "I'm Weird" or their instant classic "Loan Sharks", they don't hesitate to explore new territories like the self-penned "Tiny Mind", a jazzy number with piano (a psychobilly version of this songs is available on the b-side of the single version of I'm On Fire). Under the guidance of their producer Danny Dawson, the band has added a couple of instruments to expand the sound of the band like saxophone, harmonica, piano and…  synthesiser (hey ! this album has been recorded in 1986). They also escape the rock'n'roll clichés by covering unusual songs for a psychobilly band (but what is a psychobilly band?) like Bruce Springsteen's I'm On Fire and Elvis Costello's Radio Sweetheart. Though different you can compare their direction with the one taken by Frenzy around the same period. Of course one can argue that half of the album is made of covers, but you can't deny that Pip and the boys had totally made them their own (with maybe the exception of "Baby Blue Eyes" included here as a bonus track – it was formerly a single b-side – which doesn't bring anything new to this great song). It's probably not the Guana Batz album I'd recommend to someone who wants to discover the band, nonetheless it's a good record.
---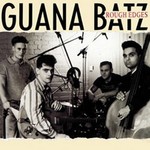 Guana Batz – Rough Edges
Streetwise / Open Your Mouth / One Night / Good News / Rockin On Creek Road / Fight Back / Spy Catcher / Love Generator / Bring My Cadillac Back / Rock Around With Ollie Vee / Two Shadows / You Can Run
After the more pop oriented "Loan Sharks", the Guana Batz returned to the classical sound of their first album. The band threw away saxes and the keyboards and the covers came from the catalogs of Buddy Holly, Elvis and Baker Knight & The Knightmares. In term of cohesion, recording and songwriting, Rough Edges (which is by no means "rough") is their absolute best album showing an accomplished band at the peak of its creativity that benifits of a clean (but NOT slick) production. The band offers a solid mix of psychobilly (Streetwise, Fight Back), wild neo-rockabilly (Love Generator, Open Your Mouth), instrumental (Spy Catcher) and even an excellent jazzy number (Two Shadows). You won't find any filler here and even the construction of the album is perfect. If "Held Down…", was the revelation of a great band to a wide audience and "Loan Sharks" showed a band avid to explore new territories, "Rough Edges" was simply the album of a band in full mastery of his art.
---

Guana Batz – Electra Glide In Blue
CDMPSYCHO71
Electraglide In Blue / Green Eyes / Texas Eyes / No Matter How / Wondrous Place / Katherine / Stylin / Spector Love / Self Made Prison / Who Needs It / Lover Man / Take A Rocket / Lights Out
With their fourth album, the Guana Batz surprised their fans with a heavy sounding and powerful lp that goes further the "psychobilly" label. The sound is compact and for some of the tracks the word "Glamabilly" seems appropriate. Though it works rather well on most of the A side from the roaring Electra Glide In Blue to the melodic Texas Eyes, Billy Fury's Wondrous Place and Katherine on which Stuart takes the lead vocals, on the full length it sounds repetitive. The fact that all the good songs are on the first half doesn't help either. Had this album been reduced to seven or eight songs it would have been excellent.
---
Guana Batz – Stuff
NV ReCords – NVEP05 [1995]
Thing In The Cellar – Stuff / Flashy Car (and a Diamond Ring) – Streetwise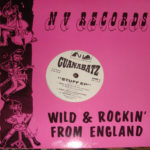 Finding information about this ep concerning the line-up and its recording date is challenging. One can assume that the line-up is Pip on vocals, Stuart on guitar, Johnny Bowler (Get-Smart, Frantic Flintstones, Caravans) on double bass and John Buck (Deltas, Polecats) on drums. It was released in 1995, and Boz Boorer engineered and produced it. He also wrote two songs (Thing In The Cellar and Stuff), the other two being from the pen of Stuart Osbourne.
The sound is uncluttered, almost roots and reminds me of the band's debut album.
The EP kicks off with Thing In the Cellar, a mean Rockabilly track finding the band (that guitar!) and Pip in fine form. It's simple, yet evident, one of the band's best tunes. Next is "Stuff". It has a reggae vibe and sounds a bit like a Clash tune. 
Flashy Car and A Diamond Ring is a slow, mellow tune with a country-blues flair. Once again, Pip's hoarse voice brings a touch of sadness to the song. Before you start complaining about the lack of Psychobilly, their new version of Streetwise sends a shot of adrenalin straight to your veins and closes this four-track 1O" in beauty.
---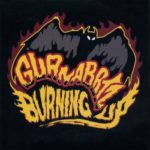 Guana Batz – Burning Up
Tombstone Records – Tomb-45 122 [2017]
Burning Up – Faded Memory – Girl on a Motorbike- Martian Princess
After a recording silence of more than 20 years, the Psychobilly legends from Feltham return with an impressive brand new ep.
The least we can say is that time didn't lessen their energy. With Jonny Bowler on drums, Paul "Choppy" Lambourne on bass and of course Stuart and Pip at the helm they're more powerful than ever.
As usual withthe Batz the arrangement are pretty good with a special care given to the recording, the production and the different mood and texture of each of the songs.
Guana Batz fans will jump on it, new fans will discover a new bands and everybody will eagerly wait for a full album.
Fred "Virgil" Turgis