The Keytones – Shake your hips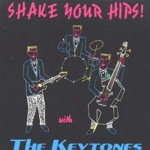 Roof Records – RR LP 103301 [1988]
Shake Your Hips – Coastin' Along – Lonely Road -Why Do Fools Fall In Love – The Munsters – That's When Your Heartaches Begin – Swimming In Pink Champagne – Now's The Time – Soft Pillow – Volare – Good To Be Alive – Only For You – I Got A Woman – That's My Desire – The Missable Kind – Young Emotions
This album released on vinyl in 1988 and later reissued on cd with four bonus tracks features mostly new recordings of songs previously released on single, ep or album.
That said it's a very good one so there's no reason to ignore it.
Their cover of Slim harpo's Shake Your Hips opens the set with a powerful doublebass and a mean and hypnotic guitar. The band's Coastin' Along is what I'd descripe as a typical Keytones song, when doo-wop meets neo-rockabilly.
No trace of doo wop in Lonely Road, this is pure neo-rockabilly. Frankie Lymon's Fools Fall In Love seems written for them. Next is a cover of the tv theme of the Munsters in another version than the one available on Speak After the Tone.
Elvis' That's When Your Heartache Begins is turned into a jivin' doo-wop number. The new version of Pink Champagne is relatively close to the one previously issued, same goes for Only For You.
Now's the time is a fast and short Rockabilly tune in the style of Just Because. Back to Keytones sweetness with the jivin' Soft Pillow. I guess by the time we reach Volare we've lost the wild Rockabilly cats (too bad for you guys) but that's why I like the Keytones. Good to be Alive is a rockin' doo wop and probably one of the Keytones' best original tune (and excellent guitar solo by the way).
Their cover of I Got A Woman owes more to Elvis than Ray Charles – which is not surprising – but they bring a good variation to make it their own. That's My Desire is another one that seems to have been written for them.
The two remaining songs are two originals in their own doo-wop/jive style.
If you already own the singles, this album is maybe a little ess essential than Speak After the Tone but otherwise that's a very good one.
Fred "Virgil" Turgis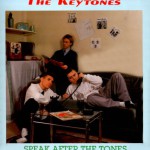 The Keytones – Speak after the tone
[1987]
Ghost Of Lonely Heart – I Guess You'll Never Know – Swimming In Pink Champagne – Angel From Paradise – Munsters – Only For You – Tickity Tock Of The Clock – Stars In Your Eyes – Stained Glass Lies – Whats Cookin' Tonight – Girl – My Gals Been Foolin' Around
Released in 1987, Speak AFter The Tone is the band's first full length. It contains twelve songs, 11 originals and one cover ("Munsters").
There's no big departure in their sound from their previous singles, it's the same good mix of doo-wop (Only For you), jive and rockabilly (Angels From Paradise). Most surprising is "Stained Glass Lies" with its heavy guitar and pounding drums that seems a bit out of place in all that sweetness. The musicianship is top notch with swingin' rhythm and jazzy licks thrown in for good measure.
Nice package too with beautiful gatefold sleeve that includes the lyrics. To my knowledge it's never been reissued on cd.
Fred "Virgil" Turgis
The Keytones – Good to be alive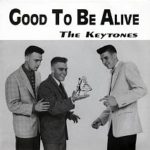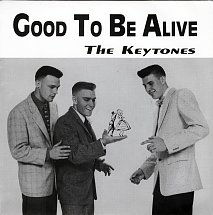 Red Sky Records – Key 3 [1985]
Good to be Alive – Now's the Time

Another great single by the Keytones (Jarrod Coombes, Jim Knowler and Cliff Marshall) with two originals penned by Knowler.
Good to be Alive is a doo wop/jive tune like only the Keytones can craft while Now's the time is an uptempo Rockabilly with a powerful slap bass.
Fred "Virgil" Turgis