Billy & the Bob Cats – Charlene
Rock-A-Billy Records R112 [1991]
Billy & the Bob Cats – Charlene / Willie, Kevin & Todd – Be My Baby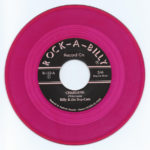 Another little gem from Willie Lewis' Rock-A-Billy records, this time coming in pink vinyl.The A-side is by Billy & the Bop Cats, namely Willie Lewis on vocal and rhythm guitar, Derek Peterson on guitar and David Peterson on double bass, both from Kidd Pharoah. Willie Lewis wrote Charlene for his grandchild. As usual with Willie Lewis, this is top-notch Rockabilly, close to the bone, with a superb guitar part from Derek Peterson.
The B-side was recorded when Kevin Smith (High Noon) visited Willie Lewis. They messed around with this song just for fun. The same day, Lewis had a recording session with the Bop Cats. The session didn't work that well, and while the band took a break, Smith suggested they record the song they played together. In two takes, both equally good, the song was recorded. Todd Wulfmeyer (the Jinns, Marti Brom and Her Jet-Tone Boys, Shaun Young band) later overdubbed the steel guitar part. The result is one of the best hillbilly bop recorded since the genre's heyday, with a fantastic slap bass. The original take, without the steel, can be found on Willie Lewis the early, rare and wild sides on Bopland records (BL 702)
---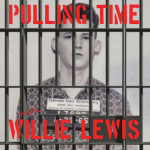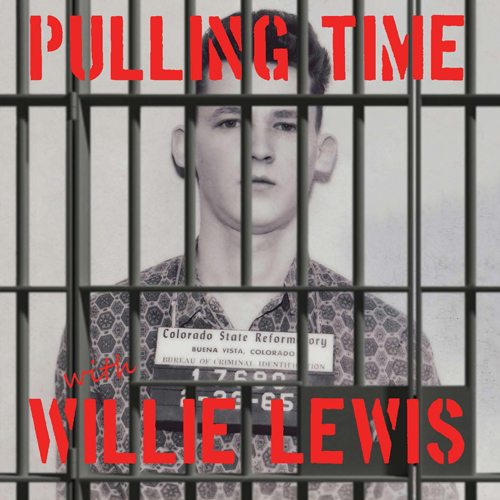 Willie Lewis – Pullin' time with…
Rock-A-Billy Record Co. {2014}
Jailbird Bill & The Jailbirds / Pullin' Time – Willie & The Stablemen / Long Gone Lonesome Blues – Willie Lewis / The Unemployment Blues – Willie & The Rhythm Razors / That Hurt Gert – Willie & The String Poppers / Rock Me Little Mama – Tennessee Bill & The Tennessee Boys / At The Hoedown – Delmer Spudd & The Spuddnicks / The Ramblin' Blues – Elrod Tyler & The H-Bombs / Boppin' Little Mama – Willie & The String Poppers / The Crazy Boogie – Willie & The Original Stablemen / Blue Days – Black Nights – Billy & The Bop-Cats / I Like To Rock – I Like To Roll – Willie & The Stablemen / Rockin' The Blues – Delmer Spudd & The Spuddnicks / Stephine – Billy & The Bop-Cats / The Sore Finger Blues – Delmer Spudd & The Spuddnicks / Bottle To The Baby – Willie & The String Poppers / The Fender Bender Boogie – Delmer Spudd & The Spuddnicks / She's The Kind'a Gal – Willie & The String Poppers / Trouble Bound – Willie & The Elrod / The Tom Cat Boogie – Billy & The Bop-Cats / Rock & Roll Fever – Rocky Ford & The Springs Mountain Boys / Charlie's Lament – Delmer Spudd & The Spuddnicks / I Don't Like This Kind'a Livin' – Elrod Tyler & The H-Bombs / The Blues Come Around – Tennessee Bill & The Tennessee Boys / Rockin' Boogie Baby – Billy & The Bop-Cats / Be Cool, Cats, Cool – Willie & The Red Line Rockets / Wearin' Out My Walkin' Shoes – Willie & Donnie / Rock Me Tonight – Willie & The Flat-Tops / The Hospital Blues – Willie & The String Poppers / The Workin' Man's Blues – The Four Unknowns / Sunglasses After Dark – Delmer Spudd & The Spuddnicks / Yakety Yak – Elrod Tyler & The H-Bombs / I Can't Help It
Willie Lewis was the ultimate Rockabilly cat. This man lived and breathed Rockabilly. Due to health problems he was a little less active in the recent years than he was in the early 90's when he released High Noon, Go Cat Go and numerous single under his own name. His death at 68 in 2014, leaves a void that will be impossible to fill. More than any other of today's Rockabilly artist and no matter what band he played with, Lewis' voice and style, were instantly recognizable.
This cd was released only a couple of month before he passed away. With 32 unissued tracks, it spans an entire life devoted to play and promote Rockabilly music, a journey started in the late 70's with the Four Unknows and Willie and the Stringpoppers until 2013 with recordings by Willie & The Rhythm Razors and Willie & The Red Line Rocket.
Lewis appears with various combos (the Original Stablemen, the Tennessee Boys from Portugal, the Spudnicks) and the instrumentation ranges from him alone with his guitar to larger combo with drums and piano (the title track that features Carl Sonny Leyland) with a lot of classic two-guitars-one-doublebass in between. There's even some bluegrass flavoured stuff with banjo.
As usual with Lewis, the sound is raw and close to the bone (often recorded with just one microphone) and the man always find the true essence of the songs, as shown by his covers of Hank Williams' Long Gone Lonesome Blues or I Can't Help It.One couldn't dream of a better farewell to a legend.
---

Willie Lewis – A Legend of his Time
Rhythm Bomb
I'm Out – All Sweaty Freddie – Are You Walking And Talking – Be My Baby – Leave Me Alone – It's Saturday Night – Don't Shoot Me Baby – Were You There – Stephine – Matilda – Mary Lou Rock – A Few More Seasons – Send Me Some Lovin' – Gertrude – Mom & Dad Doin RnR – A Home In Heaven – The Sammy Bop – All Messed Up – Colored Records – Outer Space Baby
Known for his label – the well named Rock-A-Billy Records – and his collaborations with the cream of the crop of American rockabilly (High Noon, Go Cat Go…), Willie Lewis is also renowned for his own songs and his uncompromised conception of rockabilly, giving the listener some of the purest and rawest stuff put on wax since the glory days of Meteor.
This collection gathers different band fronted by Lewis and if some of the titles are already known, they appear here in different version than on the other compilations previously issued on Goofin. Mainly Rockabilly with only some slight detours by hillbilly bop or bluegrass, it's perfect from start to finish. One can only regret that the booklet doesn't give infos about the different line-up. If you're, like me, a Willie Lewis fan, try to get a copy of the excellent book that Sven Bergman has written about the Man.
Fred "Virgil" Turgis