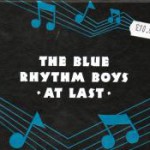 The Blue Rhythm Boys – At Last
Big Beat CD WIK 105 {1992}
Wild Records {2010}
That's The Stuff You Gotta Watch – I'll Go Crazy – Person To Person – I'm Walkin' – It Isn't Right – Cajun Love Affair – Trace Of You – Crazy Mixed Up World – Ride 'N' Roll – Babe's Comin' Home – Mother Earth – I'll Try – Hoochie Coochie Man – Come On Back – Wang Dang Doodle – Breathless – Blue Rhythm Boogie – Go Ahead On – Catfish
Wild records has the good idea to reissue this now hard to find jewel, first released in 1992 on Ace / Big Beat.
"At Last", seldom an album had a so perfectly suited title. This 19 songs album (15 on the 10" vinyl) fulfilled a wait of almost 10 years. Recorded live in one hectic 10 hour session it finally shows the Rhythms' on a long distance and it was worth the wait.
The line-up has changed a bit since the EP. Ashley Kingman (Red Hot'n'Blue, Rockin' Rocket 88 and now Big Sandy And His Fly Rite Boys) joined Ansell and Carlisle on second guitar while Matt Jackson (a gifted guitarist too) was on drums and Nick Gillroy on bass. They took advantage of this fuller line-up to delve into a more rhythm and blues/Chicago blues repertoire with songs by Willie Dixon, Fats Domino, Howlin Wolf, James Brown, Memphis Slim and Little Walter. They are often close to the originals (Hoochie Coochie Man, Wand Dang Doodle) while sometimes playing them in a rockin' blues way ("The Stuff You Gotta Watch"). Conway Twitty's I'll Try is turned into a blues with pumping piano and soulful vocal from Ansell and a scorching guitar solo that make this song one of my favorite (if you're interested). The frantic covers of Tommy Cassell's Go Ahead On and Jerry Lee's Breathless are here to remember us they started as a rockabilly band as do Ansell's own "Come On Back" with another wild solo from Jim Carlisle (what a guitarist!). Another fave of mine is Cajun Love Affair with harp and some French lyrics to add the Louisiana flavor.If you like good rockin' blues with a touch of rockabilly and soul here and there, put your hand on this one. All killer, no filler !
Available at Wild Records.
Fred "Virgil" Turgis
---

The Blue Rhythm Boys – Northwood ep
Northwood Records.-NWEP 101
Rollin & Tumblin/My Happiness/That don't move me /Nobody but you
In the world, there are some enigmas which remain unexplained and others which find sometimes their resolution. But while waiting for this moment of "light", the men think hard fantasise and seek placebos. For a long time the Elvis "My Happiness" version, the first recording of the future King for the Sun label remained a mystery, an "all the dreams" object for wild imagination of the whole wide world rockers. Was it possible to sense an already germinated hillbilly cat magic in this title? Even some suspicious people wondering whether this legendary Graal really existed until it was finally discovered and published for the first time ever.
But before this magic moment, a blue EP enabled us to have an idea of what this song was supposed to sound by a young Elvis. This mono recording Ep released back in the early eighties by the no longer alive british label Northwood had on his cover written in some large black capital letters framed by musical ranges what seems to be the name of the band : "The Blue Rhythm Boys". But inside of that modest blue cover there was four tracks of pure rockabilly blues dynamite which included a presleyan "My Happiness" cover
Paul Ansell, the singer, for whom it was the first band, gives us an idea with his inhabited voice of what one dreamed being Elvis interpretation of that Betty Peterson and Borney Bergantine song. It was like holding in your hands the real one copy Sun single and being Indiana Jones listening to that relic of the past!!! It was for my part the first time that I heard a "so much fifties sounding" combo. The other tracks were "Rollin & Tumblin" (Muddy Waters), That don't move me (Carl Perkins) and Nobody But You (Little Walter) and are real killers played by some of the finest british musicians of that era (Jim Carlisle – slide guitar, Allen Thow – bass and Jeff Tuck – drums). If you haven't already lived that experiment and even if we all know today the Elvis "My Happiness" cover, it's never too late to listen to what has become a rockabilly milestone for many rockers around the world.
David "Long Tall" Phisel