Tommy Steele – Doomsday Rock – The Brits are Rockin' vol. 1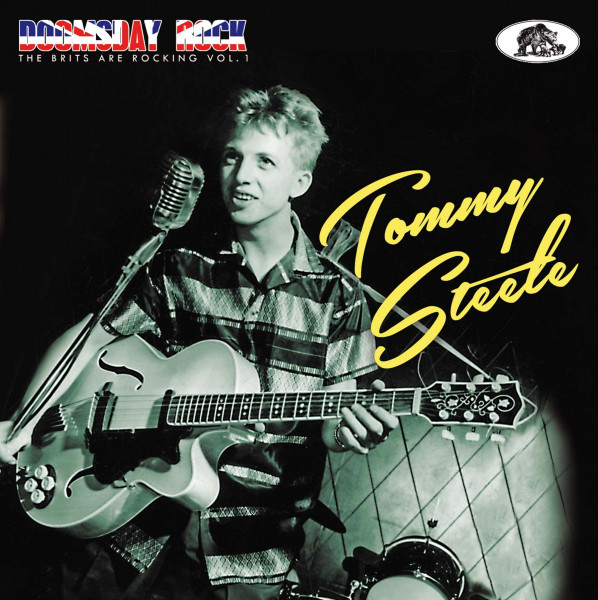 Bear Family BCD17581
Rock Around The Town – Giddy-Up A Ding Dong – Teenage Party (LP version) – The Trial – Tallahassee Lassie – Give! Give! Give! – Build Up – Knee Deep In The Blues – Rock With The Caveman – Take Me Back, Baby – Time To Kill – Hair-Down Hoe-Down – Swaller Tail Coat – Drunken Guitar – Kaw-Liga – Elevator Rock – Grandad's Rock – Puts The Lightie On – On The Move – Cannibal Pot – Hollerin' And Screamin' – (The Girl With The) Long Black Hair – Rebel Rock – Two Eyes – Hey You – Happy Go Lucky Blues – Singing The Blues – Butterfly – Doomsday Rock – Razzle Dazzle – Come On Let's Go – Honky Tonk Blues – Young Love – You Gotta Go
2019 saw Bear Family launching a new series called The Brits are Rockin' dedicated to the British pioneers of the '50s.
They couldn't choose a better artist than Tommy Steele (real name Tommy Hicks) to begin this series with. If he wasn't the best nor the most rocking, Steele was one of the first – if not the first – and he had a strong British identity to boot. Above all, unlike Tony Crombie, who was already 30 when he jumped on the Rock'n'roll bandwagon, Steele was a teenager singing for the teenagers.
Steele began his musical career by singing Hank Williams tunes and playing guitar various bands. George Martin signed him. He later recalled: "We sat with our coffee and watched this genial young man bounce on to the stage with his guitar over his pelvis, and my immediate impression was that he was a blond cardboard imitation of Elvis Presley. Tommy had a lot of energy, but he didn't sound too great."
Fortunately for the young lad, people at Decca saw some potential in Tommy and, following his test audition, they almost immediately signed him. Two days later, Steele was in the recording studio to cut his debut single "Rockin' with the Caveman / Rock Around the Town."
This 34-song/71 minute compilation album spans the years 1956 to 1960. It shows how versatile Steele was, playing styles as various as pop-tinged stuff, country and western, novelty songs, and more. But, of course, the most exciting songs, were his Rock'n'roll sides. Steele was a credible rocker, and tunes like Teenage Party, Rock With the Caveman, Doomsday Rock, Two Eyes are small classics. This album also proposes good live versions of Freddie Bell's Giddy Up Ding Dong and Haley's Razzle Dazzle and the weird and Link Wray sounding semi-instrumental Drunken Guitar.
At first, I was surprised that the songs were not in chronological order, but it happened to be a good idea. It avoids the problem of too many compilations, especially when they are copious like this one, to have ten solid rockin' tracks at the beginning and, as the years pass, you find mellower material. This is not the case with this compilation, which alternates styles and paces as well as studio and live recordings.
As usual with Bear Family, it comes with a 40-page booklet richly illustrated, though, for some reason, there's no sessionography.
This album definitely proves that the Brits, and Tommy Steele, could easily rock like their American counterparts.
Hopefully, this is the beginning of a long series.
Available on Bear Family's website
Fred "Virgil" Turgis