Link Wray – Rocks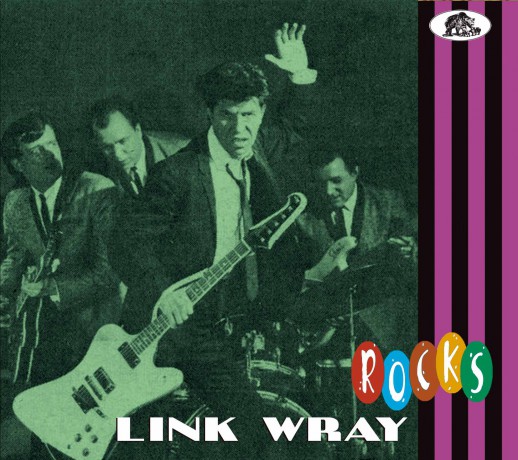 Bear Family – BCD17600
Raw-Hide – Batman Theme – Tijuana – Slinky – Right Turn – I'm Countin' On You* – I'm Branded – Hand Clapper – The Swag – Comanche – Deuces Wild – El Toro – Ain't That Lovin' You Baby – Studio Blues – Hang On – Jack The Ripper – Turnpike USA – The Black Widow – Big City After Dark* – Danger One Way Love* – Dance Contest – Run Chicken, Run – Pancho Villa – Radar – Mary Ann – The Outlaw – Hold It* – Dinosaur – Big City Stomp – The Shadow Knows – Dixie Doodle – Ace Of Spades – Mr. Guitar – Rumble
*Ray Vernon
While the Rock'n'Roll Hall of Fame continues to ignore Link Wray, the Shawnee guitar player receives the Bear Family treatment with a 35 tracks compilation album in the "Rock" series. All things considered, he's in a better company on the German label than with the likes of Madonna, Pink Floyd, Donna Summer, and al.
I hope Link Wray needs no introduction. His simple, straight-in-your-face and powerful guitar style influenced countless guitar players, from The Who's Pete Townshend and Jimmy Page to Eddie Angel, Billy Childish, and Poison Ivy.
There have been quite a few Wray's compilation albums on the market, but none as good nor as this one. And the fact that Bear managed to license sides from more labels than its competitors makes it one of the most complete too. Between Rawhide, the opening track, and Rumble the last one, and next to hits like Run Chicken Run and Jack The Ripper, you'll find a whole panorama of Wray's recordings between 1958 and 1965, including some lesser-known tune but by no means, songs one could consider as fillers. Among the rare tracks are songs recorded by Link's brother under his name (Ray Vernon) and two numbers sung by Link Wray's himself (Mary Ann and Ain't That Loving You Baby.)
As usual with Bear Family, it comes with a thick booklet, including a story by Bill Dahl, rare photographies, and a discography.
Fred "Virgil" Turgis