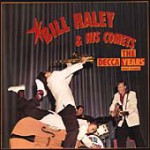 Bill Haley & His Comets – The Decca Years and More
Bear Family BCD 15506
CD 1: Rock Around the Clock, Thirteen Women, Shake Rattle and Roll, ABC Boogie, Happy Baby, Dim Dim the Lights, Birth of the Boogie, Mambo Rock, Two Hound Dogs, Razzle Dazzle, ROCK, Rock-a-Beatin' Boogie, The Saint's Rock and Roll, Burn That Candle, See You Later Alligator, The Paper Boy, Goofin' Around, Rudy's Rock, Hide and Seek (vocal by Billy Williamson), Hey Then There Now (vocal by the Comets Trio), Tonight's The Night (vocal by the Comets Trio), Hook Line and Sinker, Blue Comet Blues (aka. Blue Home Blues), Calling All Comets, Choo Choo Ch' Boogie, A Rockin' Little Tune, Hot Dog Buddy Buddy, Rockin' Thru the Rye.
CD 2: Don't Knock the Rock (without overdub), Teenager's Mother, Rip it Up, Don't Knock the Rock, Forty Cups of Coffee, Miss You, Billy Goat, Rockin' Rollin' Rover, Please Don't Talk About Me When I'm Gone, You Can't Stop Me From Dreaming, I'm Gonna Sit Right Down and Write Myself a Letter, Rock Lomond, Is it True What They Say About Dixie?, Carolina in the Morning, The Dipsy Doodle, Ain't Misbehavin', The Beak Speaks, Moon Over Miami, One Sweet Letter From You, In Apple Blossom Time, Somebody Else is Taking My Place, How Many?, Move it On Over, Rock the Joint, Rip it Up (without handclaps).
CD 3: Me Rock-a-Hula, Rockin' Rita, Jamaica DJ (vocal by Williamson), Piccadilly Rock, Pretty Alouette, Rockin' Rollin' Schnitzlebank, Rockin' Matilda, Vive le Rock and Roll, It's a Sin, Mary Mary Lou, El Rocko, Come Rock With Me, Oriental Rock, Wooden Shoe Rock, The Walkin' Beat, Skinny Minnie, Sway With Me, Lean Jean, Don't Nobody Move, Joey's Song (stereo), Chiquita Linda, Dinah, Ida Sweet as Apple Cider, Whoa Mabel!, Marie, Eloise, Corrine Corrina (without handclaps), Joey's Song (mono).
CD 4: Corrine Corrina, B.B. Betty (vocal by Williamson), Sweet Sue Just You, Charmaine, Vive le Rock and Roll (vocal by Bill Haley and Catarina Valente), Hot Dog Buddy Buddy, The Dragon Rock, ABC Rock (vocal by Williamson and Franny Beecher), The Catwalk, I Got a Woman, A Fool Such as I, Be By Me, Where Did You Go Last Night?, Caldonia, Shaky, Ooh Look-a There Ain't She Pretty?, Summer Souvenir, Puerto Rican Peddlar, Music Music Music, Skokiaan, Drowsy Waters, Two Shadows, In a Little Spanish Town, Strictly Instrumental, Mack the Knife, The Green Door, Yeah She's Evil, Football Rock and Roll, Six Year Olds Can Rock and Roll.
CD 5: Behind-the scenes studio recordings from 1959, featuring incomplete and alternate takes of : The Dragon Rock, ABC Rock (vocal by Williamson), The Catwalk, I Got a Woman, A Fool Such as I, Be By Me, Where Did You Go Last Night?
On April 12 1954 when Bill Haley and his Comets entered the studio to cut their first single for Decca their new label under the direction of Milt Gabler (who previously worked with notorious jazz musicians like Billie Holiday). Little did they know that the little tune recorded in a hurry at the end of the session would change the face of the popular music. This five cd boxed set gathers all the sides recorded for Decca between 1954 and 1959 (with some extras) and proves – if needed – that Haley was far more than a one-song-man.
The songs are presented chronologically with the exception of cd 1 that opens with "Rock Around The Clock" rather than "Thirteen Women".
Haley's most well known songs are on this first platter. After a few sessions new Comets (Franny Beecher, Al Rex, Rudy Pompilli, Ralph Jones) replace Dick Richards, Joey D'Ambrosio and Marshall Lytle who left after a financial disagrement to form the Jodimars. But it would be a mistake to believe that Haley had little consideration for his musicians. He takes every chances he can to put them in the spotlight as shown on the second half of this cd. Billy Williamson, steel guitarist and Haley's partner takes the lead vocals on Big Joe Turner's Hide & Seek (he used to sing Big Joe's Feelin' Happy on stage too). He is joined by Beecher and Grande too for the Comets trio on Tonight The Night and Hey There, Hey Now.
A couple of instrumentals are thrown in allowing Beecher ("Goofin' Around") and Pompili (Rudy's Rock") to show their skills. Grande is not forgotten and get his own one with "A Rockin' Little Tune" (who said you couldn't rock with an accordion?).
All the hits are on this cd and by the time you reach the last song Haley's commercial success (with a few exceptions) is over, and this cd alone would be enough for the casual listener.
When cd2 two opens, the Comets haven't charted for a while and the band is looking for a hit or a second breath. With "Don't Knock The Rock" and "Teenager's Mother" Haley takes the defense of Rock music. If not masterpieces, these are good songs and I don't really understand why Colin Escott has a real go at this songs in his notes. "You Hit The Wrong Note Billy Goat" clearly tries to reproduce the success "See You Later Alligator" but the songs is far from being as good as Bobby Charles'.
Next are the sessions that gave the "Rockin' the oldies" album. Maybe the constant touring didn't allow them to write original material and led to the decision to make an all cover of Tin Pan Alley material. Whatever the reason, the result is not really convincing. It's not the fault of the band but more to the songs that were not suitable to be turned into rock'n'roll. For example "Please Don't Talk About Me When I'm Gone" features a superb bluesy guitar solo from Beecher and Al Rex plays some of his best bass part here.
But the band is in a dead end, trying to apply a formlula instead of exploring new creative ways. Logically this recordings didn't chart and the following session (July 1957) finds Haley trying at last new things, even if it marks a return to his country roots. "How Many" is a very good country-pop ditty that had everything to chart (but didn't), and their cover of"Move It On Over" was excellent as is their remake of "Rock The Joint".
Cd3 features another concept album: "Rockin' Around The World" (Rocking Tunes representative of 12 different and exciting parts of the world to quote the ad). For this session the band is joined by Rusty Keefer on second guitar which brings a little excitement to a very poor material. You can't even blame songs that would be hard to transform into rock material as most of them are originals. Even for die hard fans there's not much to save here except "Vive Le Rock'n'Roll", "Roch Lomond" and maybe another one or two.
The worst enemy of Haley was maybe his will to make Rock'n'roll music acceptable by the whole family. While Elvis, Gene Vincent, Jerry Lee Lewis were playing with the parents vs teenagers conflict. Haley in trying to please everyone, didn't please anyone and despite good musicianship there were not much to please teenagers in "Pretty Alouette" and "Rockin' Rollin' Schnitzlebank".
Things get better with the following session (February 1958). The band now featuring an electric bass delivers an instant classic with the Bo Diddley-esque Skinny Minnie and the lesser known follow-up Lean Jean. The sound is dirty and mean and Haley's voice shows an agressivity rarely heard. In comparison Sway With Me sounds weak.
After a single for the instrumental market (Joey's Song / Chiquita Linda) the Comets return to their trademark sound with another concept album based upon, girls' first names. This is by far the best of the three. It's not 100% successful but the band seems fresh again, inspired (Pompilli cuts some of his best solo on "Woah Mabel" and plays clarinet on "Ida") and rocking. This is the first time in ages that Haley's voice has sounded that good and the arrangements are very tight(especially on "Marie").
This session continue on cd4. Also on this cd are 2 songs recorded for a German movie ("Vive Le Rock'n'Roll" with Caterina Valente and "Hot Dog Buddy Buddy").
After that Bill Haley and his Comets seem to experiment various genres and tracks hoping to chart again. The result ranges from good to average. There's attempts at new things like the crooning on "I Got Woman" or "A Fool Such As I", first-rate rockers ("Where Did You Go Last Night", "Caldonia") and old mistakes ("ABC Rock" couldn't really compete with Chuck Berry's School Days). Then there's the material for an instrumental album with different degrees of success, some announcing the forthcoming mexican releases.
The cd ends with two tracks recorded in 1964 seeing Haley returning to Decca for a single and also proving he still had plenty of good thing in store (though the public didn't think so) and two songs recorded for the consideration of Milt Gabler that never went any further than the state of demos probably because Football Rock was too close to Crazy Man Crazy.
Cd5 gives you an inside view in the recording process of Haley, Gabler and the Comets.You can hear the evolution and the construction of the songs. Just wish they could have found the same tapes for a more interesting session.
This boxed set is perfect to discover the complexity of Bill haley. The only regret I have concerns the booklet. The liner notes seem to have been written by someone who doesn't really like Haley but the discography is very complete and the pictures are beautiful.
Fred "Virgil" Turgis
---
Bill Haley – Bill Rocks
Bear Family BCD 16807
Rock Around The Clock – Shake Rattle And Roll – Dim Dim The Lights – Happy Baby – Mambo Rock – Rocket '88 – Birth Of The Boogie – Razzle Dazzle – Two Hound Dogs – Rock The Joint – Burn That Candle – Rock-A-Beatin' Boogie – See You Later, Alligator – Real Rock Drive – The Saints Rock And Roll – A.B.C. Boogie – R-O-C-K – Crazy Man Crazy – Hot Dog Buddy Buddy – Rockin' Through The Rye – Rip It Up – Fractured – Rudy's Rock – Choo Choo Ch'Boogie – Don't Knock The Rock – Live It Up – Forty Cups Of Coffee – Skinny Minnie – Lean Jean – Where Did You Go Last Night? – Green Tree Boogie.
Bill Haley's greatest hits have been compiled over and over again , mostly on budget series with ugly covers and no liner notes. It is justice that the true father of Rock'n'roll finds his place in the Bear Family's Rocks serie because Bill Haley didn't rock, he was the Rock (the same way Charlie Feathers was the rockabilly).
The core of this collection is made of the hits he cut for Decca in the wake of the success of Shake Rattle & Roll and Rock Around the Clock. Are also included some of his Essex sides when he first tried to mix Western swing with Rhythm'n'blues showing a man and band figuring how to find a new sound, how they succeeded and changed the face of the popular music.
That's without a doubt the best thing from Bill Haley you could buy if you're not fan enough to get the boxed sets 'The Decca Years & More" and "The Real Birth Of Rock'n'roll". As usual it comes with a thick booklet.
Fred "Virgil" Turgis