The Deltas – Boogie Disease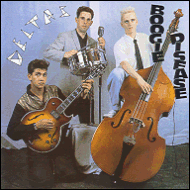 Nervous Records NER002 [1981]
Boogie Disease – As You Like It – Blues In The Bottle – Honey Babe – Victim Of My Love – London Girls – Who – That Ain't Your Business – Raging Sea – Heart Attack – Temperature – Pie 'n' Mash – Moonshine – Nine Below Zero – Fashion Train – Long Black Train
The Deltas were playing wild and frantic Rockabilly but unlike many other bands, they related heavily to the blues idiom covering the likes of Doctor Ross, Slim Harpo, Lightnin' Hopkins or Sonny Boy Williamson. If the Meteors created psychobilly by mistreating rockabilly music, the Deltas were doing the same to the blues.
The Deltas were one of the very first act to be signed by Roy Williams on his Nervous label. It's no surprise for their were among those who wanted to push the boundaries of the genre like Restless, the Meteors, the Blue Cats to name but three.
Their debut album is loaded with 16 wild and psychoticwith half of them penned by the band. The triple attack of Littlejohn's double bass, Pat Panioty's guitar and Steve Bongo banging his drums while singing his heart out (which often leads him to end the song faster than it started) takes no prisonners.
Fred "Virgil" Turgis
The Deltas – Heart Attack b/w Spellbound
Nervous Records NER005 [1981]
In 1981 the British rockabilly scene was in bloom. After Raw Deal split, Paul Fenech and Nigel Lewis formed the Meteors and Pat Panioty formed the Deltas. This single announces their excellent debut album. The version of Heartattack is different than the one that appears on the album.
Fred "Virgil" Turgis
---
The Deltas – You Cant Judge a Book
Raucous Records – RAUC006 [1988]
How Come You Do Me Like You Do – You Can't Judge A Book – Do What I Do – This Train Is Bound For Glory
Superb ep recorded for Raucous featuring high octane rockin' blues in the same vein of Tuffer than Tuff.
---
The Deltas – Mad for it
ID Records NOSE 11 [1986]
Whip It Up – Cigarette – Catch'em Young – The Cat – Age Of Nil – Electric Chair – Hit The Road Jack – Mad For It – Sex Therapy – Gimme The Drugs – No More No More No More – How Come You Do Me Like You Do* – You Can't Judge A Book* – Do What I Do* – This Train Is Bound For Glory* (*cd bonus)
In 1986 the Deltas returned with a brand new album and a brand new lineup. The orginal trio (Captain Pat Marvel, Little John and Steve Bongo) added a drummer Ricochet Ray (allowing Steve to fully concentrate on the vocals) and a second guitar and a saxophone in the person of Boz Boorer of the Polecats who also produced the album and wrote several originals. With the addition of guests on piano and blues harp, the result is a blusier album, yet with a rockin' feel to it, and a fuller sound.
It also sees them more at ease to go into new territories like the jazzy "Electric Chair". But fans of the first lp and their psychotic rockabilly will sure enjoy the title track and their cover of the Cat. The cd version includes the "You Can't Judge a book… ep" recorded for Raucous in 1988.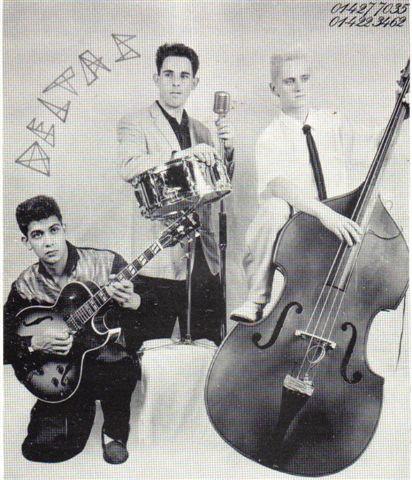 Share the post "Deltas (the)"