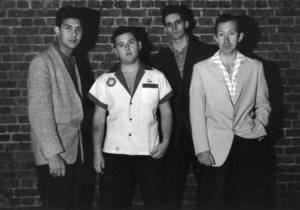 Though Raw Deal lasted less than a year a performed something like 15 or 20 gigs together they remain a very important band in the burgeoning rockabilly scene of the late 70's.
Raw Deal (named after the Junior Thompson's song whose band was named… the Meteors) formed after Rock Therapy disbanded in mid 1979. Rock Therapy was Paul Fenech (guitar, vocals), Nigel Lewis (bass, guitar), Steve Burrough (guitar), Pete Taylor (guitar) and Rob Glazebrook (drums). Burrough and Taylor were the first to leave and soon Glazebrook announced he no longer wanted to play drums but guitar instead.
Through Nick Garrard Lewis and Fenech met Terry Earl who had left Flying Saucers. Earl brought Pat Panioty (who played in the Phantom and previously Rebound) and the Raw Deal was born.
All those who saw them were very impressed but sadly they never had a record out.
By all accounts they were very raw,  savage and wild, with Fenech and Lewis pushing the boundaries of traditionnal rockabilly which eventually led Terry Earl to leave in the first half of 1980 soon followed by Panioty.
Pat Panioty went on to form the Deltas, Earl joined the Dynamite band then the Rapiers and the Avengers and Fenech and Lewis recruited Mark Robertson and the Meteors were born. The rest, as they say, is history.