Eddy and the Backfires – Twenty Fight Years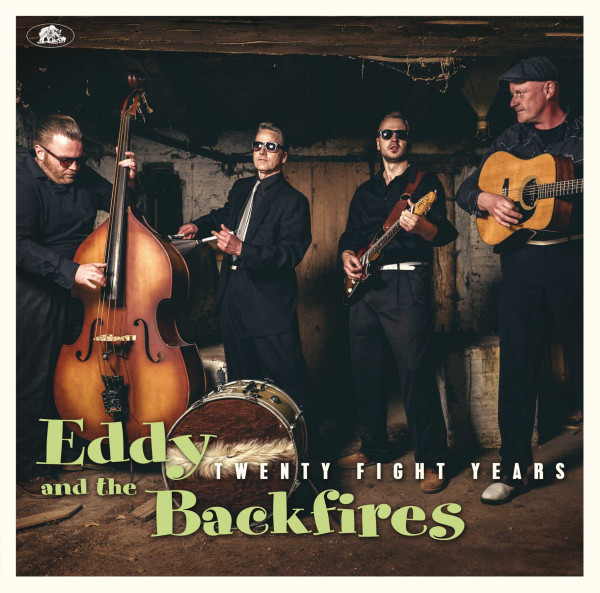 Bear Family BCD 17514 [2019]
Rockin' Beauty – Tornado – C'mon Pretty Baby – A Cat Called Domino – Highspeed Daddy – Hot Boilin' Engine – I Feel Rockin' – Rock, Baby, Rock – Teen Queen – Rock & Roll Guitar – Slipped My Mouth – The Tempter – My World Is You
There are not many different manners to play Rockabilly. You can consider it with all the respect it deserves, and play by the rules set by Elvis, Carl Perkins, or Charlie Feathers to name but three. Or you can play it like a genre that never ceased to evolve. Eddy & the Backfire opted for that second option. Their music is traditional yet very modern.
Eddy and the Backfire formed in Hanover, Germany, at the end of the last century. They celebrate 20 years of existence with their fifth album on Bear Family, no less. It's surprising since a label like Wild records would seem more appropriate, but it's also a seal of approval to be signed on that legendary label.
This album includes eight originals and five covers from Johnny Powers, the Giants, Roy Orbison, Johnny Knight, and Carl Silva. This is far from being pa detail to find them covering a modern band like Carl and the Rhythm All-Stars. It's another proof that the group wants to anchor its music in the 21st century.
Musically speaking, they take things where Johnny Burnette and the Rock'n'roll Trio left them. They play wild, frantic, explosive and white-hot Rockabilly. Though they manage to keep things interesting throughout the album by changing paces (no one wants to hear 13 full-speed rockin' tracks) and they even add a welcome touch of Country and Western with the final track of the album.
Twenty Fight Years was released on vinyl and cd. The cd comes with a complete booklet featuring numerous photographs of the band.
Links
Eddy and the Backfires
Fred "Virgil" Turgis