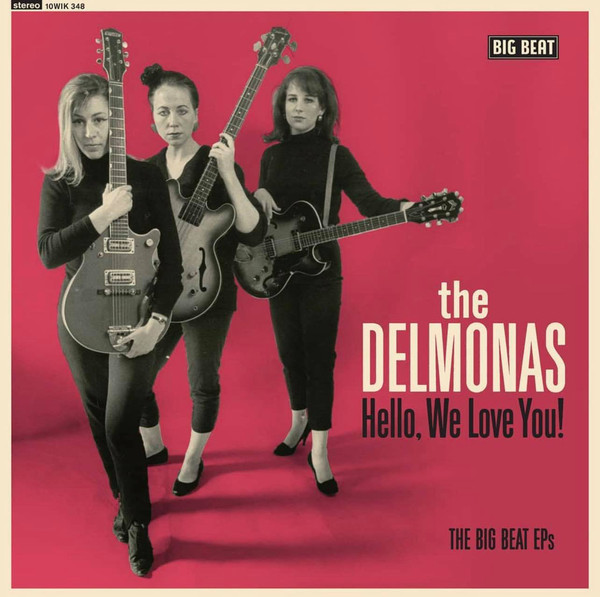 Delmonas (the) – Hello, We Love You! The Big Beat EPs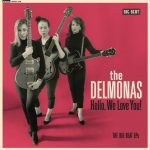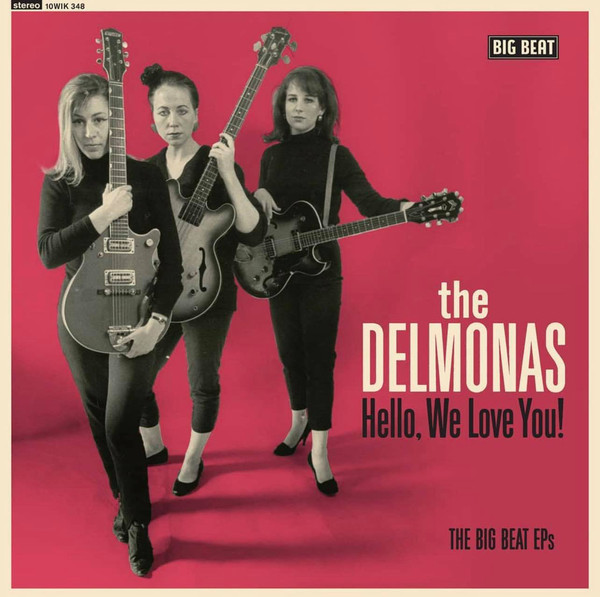 Big Beat Records 10WIK 348 [2021]
Comin' Home Baby – Chains – Woa's Now – He Tells Me He Loves me / Hello ,I Love You – I'm The One For You – Peter Gunn Locomotion – I Want You
When they recorded After School Session in early 1983, The Milkshakes asked two of their girlfriends (Hillary and Sarah) to provide backing vocals on three songs (Cadillac, Soldier Of Love and Goodbye Girl.) It worked very well, and after adding a third member, Louise, The Delmonas were born. Of course, the Milkshakes provided the backing band.
Their debut on records took the form of two EPs on Big Beat Records in 1984.
The first one featured two covers, Mel Torme's I'm Coming Home and The Cookies'Chains. A pair of two Hampshire/Childish originals completed the set: Woa' Now (that the Milkshakes recorded on Fourteen Rhythm & Beat Greats) and He Tells Me Loves Me (that later appeared on the Milkshakes'The Milkshakes' Revenge!).
Louise takes the lead on Comin' Home in a very voluptuous manner. By comparison, Chains is very lighthearted and pure fun. Woa Now brings back a touch of Garage and Beatles' Hamburg days feel. The best track has been kept for the end: He Tells Me He Loves Me sounds like an instant Girl Groups classic in the style of the Shangri-Las.
The second single is based upon the same pattern: two covers and two originals. Hello, I Love You is the Doors song played on the music of the Kinks' All Day And All Of The Night. Peter Gunn Locomotion owes more to Freddie Starr's version than the original one. The two originals (I'm The One For You and I Want You) had previously been recorded by the Milkshakes. Still, the girls added a brand new dimension to these songs, with their (dangerous) charms and sensibility, especially on I Want You, which sounds like a lost gem from Laurie records.
Both singles are now reissued by Ace/Big Beat records on this superb 10" album.
Available here

---
Delmonas (the) – Comin' Home Baby (Volume 1)
Big Beat Records SW 101 [1984]
Comin' Home Baby – Chains – Woa's Now – He Tells Me He Loves me
---
Delmonas (the) – Hello We Love You (Volume 2)
Big Beat Records SW102 [1984]
Hello ,I Love You – I'm The One For You – Peter Gunn Locomotion – I Want You
Debbie & Jackie