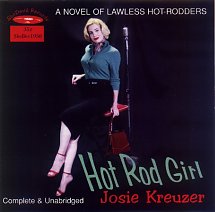 Josie Kreuzer – Hot Rod Girl
SheDevil Records – SheDev1950 [1997]
Wild Man – Ball That Jack – Long Dark Night – Runaway Train – So-Called Boyfriend – I Waited Up – Honey Pie – Dead Man Walkin' – Eyes Of Whiskey – Ain't Got A Thing – You're Not Doin' Me Right – One Way Love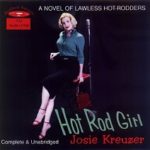 After the demise of Whistle Bait, Josie Kreuzer recorded and produced her debut solo album at Golden Track Recording Studios in San Diego, in the fall of 1996. She released it the following year on her own She-Devil label.
On this album, Kreuzer was backed by Buzz Campbell, Johnny d'Artenay and Ty Cox from Hot Rod Lincoln. Most songs are originals penned by Kreuzer, some having been played and tested on stage during the Whistle Bait days. It also contains two covers: Sonny Burgess's Aint Got A Thing, and Donna Darlene's You're Not Doing Me Right.
It's a very solid effort, especially for a debut album, considering the fact that Kreuzer sings and is also in charge of the production. Maybe an external ear could have helped her refine some vocal takes, the singer being off-key on You're Not Doing Me Right, and some phrase ends are not always pleasant. But those are minor flaws, and Kreuzer's high-pitch nasal vocals, close to Wanda Jackson, does wonder on most of the tracks, and Hot Rod Lincoln provides solid backing, sometimes aiming at a Neo-Rockabilly sound (So-Called Boyfriend).
---
Josie Kreuzer – As Is
SheDevil Records – SheDev1951 [1999]
As Is – Ain't Got A Clue – Just Lookin' Pretty – Hey Sheriff – I Hope It Doesn't Rain Today – Big City, Small Town – Just Passing Through Your Heart – With A Sigh – Too Many Mistakes – Wild Fire – So Gone About You – 12 Dollars & A Heartache – Long Way Home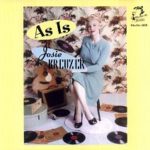 In 1999, Kreuzer released her second album, which was even better than the first one. The vocals were better, the production was better, and the songs (all penned by the singer) were excellent and varied. It found Kreuzer going more into a hillbilly bop direction, with the presence of a steel guitar on some tracks. The backing band consisted of Mike Kraus on guitar, Jeff Kraus on double bass, Marc Clarke on drums and Dana Duplan on steel. Also, Teri Tom of Whistle Bait played the lead guitar on one tune.
---
Josie Kreuzer – Beggin' Me Back
SheDevil Records – SheDev1952 [2002]
Lucky & Wild – Good Time Girl (And A Thunderstorm) – After I Stop Lovin' You – Gone Fishin' – Beggin' Me Back – Why ? – Keep Your Change – Reminder To Remember (To Forget Him) – Read The Lipstick On The Wall – Can't Complain – 10 % – My Sin (Mi Pecado)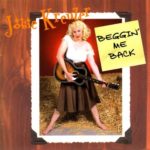 Kreuzer's third (and last) album appeared in 2002, still on She-Devil Records. She is supported by a new group consisting of Jeff Graves (aka Rip Carson) on double bass and Craig Packham on drums. But the main change, compared to the two previous albums, comes from the singer delegating the production to Mark Neill (who also plays the guitar). Owner of Soil of the South studios, Neill produced and recorded bands like Big Sandy and the Fly-Rite Trio, the Lucky Stars, Deke Dickerson, the Smith's Ranch Boys, and the Sprague Brothers, to name a few. This is, by far, Kreuzer's best effort.
The sound is more compact and better balanced. As for the vocals, they have refined over time while remaining so recognizable. Having an external ear allows her to correct certain vocal flaws. The repertoire gains in variety and emotions (which the first album lacked a bit). Lucky and Wild opens the album and immediately grabs your legs, only to release you about thirty minutes later with the superb and Latin-tinged My Sin (Mi Pecado). In between, you find songs like After I Stop Lovin' You à la Johnny Cash, Why, a traditional Rockabilly number, Reminder To Remember (to Forget Him), a nod to Elvis' I Forgot to Remember to Forget Her and Read the Lipstick On The Wall where we hear all the know-how of Mark Neill (listen to the sound of the snare drum and the acoustic guitar to convince you of it).
Josie Kreuzer on Spotify