Josie Kreuzer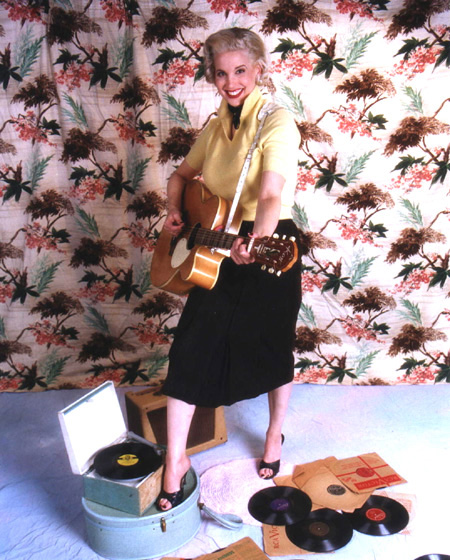 Josie Kreuzer appeared on the rock'n'roll scene around 1992 with the all female rockabilly band Whistle Bait. They soon estabished a name as a solid live act. Sadly, Whistle Bait never released anything (but they recorded some tunes with Wally Hersom at his Wallyphonic studios) and eventually broke up in 1996. Josie then started her own label (She-Devil) and 1997 saw the release of her first solo album "Hot Rod Girl" with Hot Rod Lincoln providing her back-up band. Two years later, she gave us "As Is" a great album with some honky tonk influences, and in 2002 followed "Beggin' me back" her best record to date and the perfect mix of all her influences. Produced by Mark Neill, with Craig Pacham on drums and Rip Carson on bass, you can't go wrong with this one.
Note to the reader : this interview has been conducted a few years ago (sometimes between As Is and Beggin' Me Back) but I thought it was worth publishing as more of the infos are about Josie's influences and things like that.
by Fred "Virgil" turgis
Can you tell us how you became involved into rockabilly ? Who (or what) was the shock that decided you to become a singer?
Josie Kreuzer I grew up in a very musical household. There seemed to be some kind of music playing most of the time. My mother's record collection was huge–chock full of blues, jazz and rock n roll. It was hillbilly & rockabilly that struck the strongest chord with me, moved me the most. I started writing songs when I was eleven, really with no intentional goals that I can think of. It wasn't until I started working at a record store as a teen, that I discovered the more obscure rockabilly music which made me even love it more, and that was when I decided to get a guitar and eventually start a band.
Nowadays what are you influences and what are you listening to ?
My influences are always expanding. They've always spanned across many genres of music, not just rockabilly. Lately I've been listening to alot of old western swing, mariachi and Hawaiian 78's, plus a lot of Jazz & vocals like Nat King Cole, Ella Fitzgerald and Kay Starr. I just got back from playing a festival in Australia where I picked up a few CDs from some of the current rockabilly bands out there, so I've been listening to those lately as well–The Satellites and The Satellite V are two bands to look out for… really good stuff.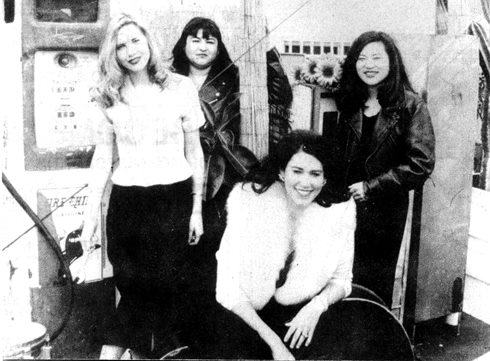 Reading an article about Whistle Bait, it seems you had a wide range of influences (from Wanda Jackson to the Ramones).
Josie Kreuzer Hmm, where'd you find that article ? Yes, if I tried to list all of my influences it would take months and scrolls of paper! I have shelves & shelves of records & CDs and I'm continually buying new stuff all the time.
Could you tell more about this band and how did it sound?
Josie Kreuzer Whistle Bait was my very first band. It was actually all of the members' first band as well. I started it when I moved to LA in 1992. It was an all-girl rockabilly band, and believe it or not I hadn't had the intention of starting an all-girl band…it just sort of happened that way. It was a four piece–lead guitar, upright bass,drums & myself on Rhythm guitar & vocals. We were extremely raw sounding –as first bands usually are.
Any chance to see an official release of the demos recorded by Wally Hersom?
Josie Kreuzer That's a frequently asked question…still, after all of these years… But honestly, I really don't know if those recordings will ever be released—I can't foresee putting them out in the near future…. Maybe after I'm dead or something?! I guess I probably shouldn't mention this, but there are live videos of us too.
Why did Whistle Bait break up?
Josie Kreuzer Mainly because we wanted to go in different directions musically. I wanted to stay traditional rockabilly, I think the others were aiming more towards a harder edge/alternative sound. We also had some disagreements on the business side of things which I won't go into.
Is it true that it was just before you were due to play Hemsby?
Josie Kreuzer Gosh, you know everything, don't you ? It's a classic story. Our last show ever was at The House of Blues in LA on Elvis' birthday for their annual benefit. Unfortunately we didn't know it was our last show when we were playing it! Soon after, we had a band meeting or fallout–whatever you want to call it… I had been unhappy for a long time with the music situation, and at that meeting a lot of «certain» business issues came up…we all left pretty pissed off. I decided that it was best if the band didn't continue… I wasn't even sure what the hell I was going to do. I had absolutely no plans of doing a solo thing–probably just starting a new band. Whistle Bait had one final gig to do–we were committed, the contract was signed, it was Hemsby 16. Unfortunately the rest of the girls refused to follow through on the booking commitment. I told them that we should at least do this last gig, but they wouldn't budge (cause they were still angry with my decision to quit the band)… so I called the promoter of Hemsby and told him that the band broke up, but if he wanted, I would still come over and do the show alone. I've been a solo artist ever since.
Your first album is straight (and first class) rockabilly. On the second we can hear a touch of country with the presence of the steel. Does it something you did consciously ? Would you like to go more in that style (with fiddle etc.)?
Josie Kreuzer Now that I look back, I realize «As is» was just myself coming full circle. In my earlier years, I was really more hillbilly sounding, but no one really knows this because the first recording that everyone has heard is 'Hot Rod Girl'… I never «consciously» plan the songs I write, they just come out. «As Is» was just a product of the songs that came out of me at that period of my life. You see, for me, I can't just sit down and say «well gee, I think. I'm gonna write a rockabilly song today', my songwriting goes much deeper than that….it's influenced by what's going on around me. The arrangements (e.g. steel guitar) just come to fruition as I get together with my band. I happened to have a steel player there at the time, and I just liked the way it sounded. I have a hard time with genres. Unfortunately they have to categorize us somehow. I really just play the music that is deep in my heart, and that just so happens to be categorized by people as rockabilly…so when I slightly stray from that it worries some people–I don't know why–hillbilly rockabilly–honky–tonk–whatever you want to call it–it all has soul, and that's what I like creating—music with soul.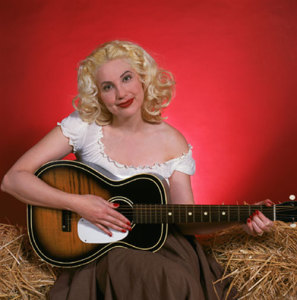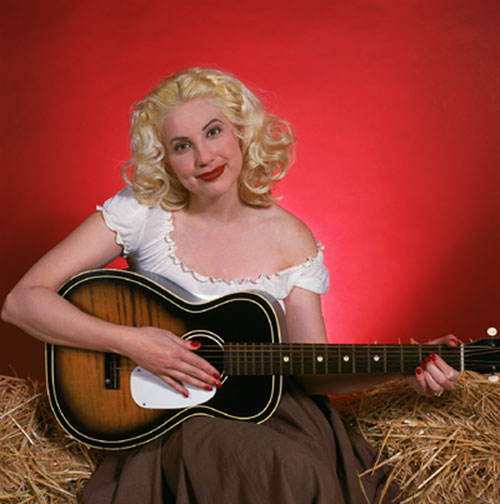 Being a rockabilly artist is surely not easy, I guess. But is it more difficult to be a woman on that scene?
Josie Kreuzer It's both– Working with a band, club bookers and sound guys is more difficult in that males tend to hate being told what to do by a woman..in the end we are always considered a 'bitch' where as if I were a man, I'd be considered assertive and be respected to a greater extent. But it's also easier being a woman in that we have higher recognition on the scene because there aren't as many doing it. So, lot's more press and photo ops!
You produce your records and you run your own label. Is it to have more control over your recordings ?
Josie Kreuzer It's entirely to have total control over my recordings. I have total accountability for everything. I know exactly how much and where every last cent is going from my CD sales earnings. Ask any artist who is with an Indie label, and they probably haven't even seen $10,000 bucks so far…. and if they have, they are probably wondering if they'll ever get anything else. Ask any artist who is on a major label and they probably haven't even seen one penny because they are still paying off their massive debt to the label. It's sad but true.
Would you like to produce other artists on She-Devil ?
Josie Kreuzer I don't think I would ever have enough time! Plus I don't think I'd like to be responsible for other band's income… Too much of a pain and too much work!
Did you play with rockabilly singer of the first generation as Wanda Jackson or Janis Martin ?
Josie Kreuzer Oh yes, I've played with Wanda before – she is still just as rockin as ever – and what a voice?!