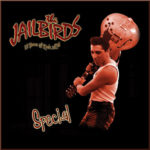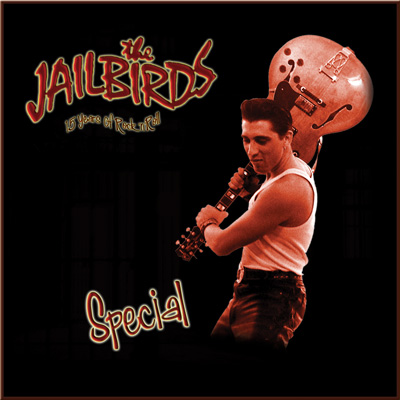 The Jailbirds – Special
PART-CD 694.001 [2011]
Viva Las Vegas / Light My Fire / Layla / Blue Blue Day / Sealed With A Kiss / She's Gone / As Long As I Live / Boppin' Rosalie / Number One / Cats In The Cradle / My Girl No.1 / Secret Agent Man / Hurt Again / Faith / Good Luck Charm / Tornado / Spend A View / One Eyed Jack / Tell Me Why / Birds Are Back / Waterboy / Summerwine / That Blue Moon / You Never Talked About Me / Gone Away / Midnight Train / Wild Ones
The subtitle says it all: "15 years of Rock'n'roll". During this 15 years, the Jailbirds have released 5 cd's and appeared on numerous samplers. This CD covers in 27 songs and 80 minutes (good value for money) this 15 year journey and features the best of their recordings as well as some re-recordings too.
To best way to describe their music is to look at the samplers they've appeared on: Graveyard Hop, Psychomania, Das Best des Deutsches Rockabilly, Don't Mess With the Rebs, Rock'n'Pop meets Rock'n'roll. That's what describes them the best, a neo rockabilly band with element of Teddy Boy music, Psychobilly, a taste for classic Rockabilly, some unusual covers (the Doors, Eric Clapton) and of course a lot of Elvis Presley. Not a bad cocktail.
Fred "Virgil" Turgis
Share the post "The Jailbirds"