Little Rachel – 'Cause I feel good!
Self released (2005)
Ooh, He's Fine – Back to Kansas City – I'm What You Need – Spiderwoman Blues – Uh Uh Baby – His Words Don't Say As Much As His Eyes – Scorched – Is My Baby Happy Now? – Don't Jump (Rock the Boat) – I Am Your Destiny – Tough Lover – If You Were Mine – I Wanna Boogie – Your Baby's My Baby Now
Ooh, she's fine ! Rockabilly girl Rachel, known formerly of the Casey Sisters decided to go rhythm'n' blues. And man, she was right! This album is a killer. You've got here all the ingredients to make a good mixture : fine and accomplished musicians Tjarko (Tinstars, Ronnie Dawson), Beau Sample (Cave Catt Sammy), Damien Llanes (Nick Curran, Deke Dickerson), Matt Farrell (Nick Curran); a producer who knows his job (Billy Horton) and most of all a little girl with a powerful voice. Half of the songs here has been written by Rachel herself and four has been penned by ex Tail labelmate, the swedish Eva Eastwood. And this 11 compositions can stand proudly near the covers. Rachel's voice is really impressive, she can scream, she can shout or she can sing a soulful ballad (Spiderwoman Blues or Is my baby Happy now, two of my faves), but the voice is always on top. The musicians fit perfectly the mood of each songs, playing subtle guitar licks or juicy saxophones depending the tune. Comparisons are not always fair, but if you're looking for a female counterpart to Nick Curran, don't go any further, she sings it perfectly, Little Rachel is «What you need».
---

Little Rachel – There's A New Miss Rhythm In Town
El Toro R&B 203 – (2006)
Bartender Baby – Hey, Big Boy – It's Always A Blonde – Broken – Bull Ridin' Mamma – Get On The Right Track – Give Up Honey – I May Be Trouble – Keep on Movin' – New Miss Rhythm in Town – Pannic Attack – Please Quit Me Baby – Take This Love and Bury It – Talk To Me – Bonus Track by The Lazy Jumpers Mr.Advice
The little girl with the big voice is back and she's going to teach you what rhythm'n'blues really is She went to Barcelona, Spain to record and found the perfect match to her astounding voice: The Lazy Jumpers. They get along so fine it seems they were made to be together like butter and bread, Abbott and Costello or Lady Day and Prez. On one side you have a girl with a voice as good and powerful as Big Mama Thornton, Wynona Carr or Ruth Brown. On the other side The Lazy Jumpers (who believe me are not lazy at all). Mario Cobo delivers some fine licks in the vein of Johnny "Guitar" Watson , or Clarence "Gatemouth" Brown while Blas Picon and Ivan Kovacevic provide the perfect rhythm section, tight and swinging in the same time.
Eight tracks are from the pen of Little Rachel, two by Eva Eastwood (who was already present on her debut album) and the Lazy Jumpers wrote the rest (including a song from one of their own album). The music ranges from groovy Rhythm'n'Blues (Bartender Baby; Hey, Big Boy; Please Quit Me Baby) some with juicy saxes and piano to straight blues (I May Be Trouble) which sees drummer Blas Picon taking some mean harmonica solo. And in between you have some pre-rock'n'roll that fits Rachel's voice so well (Panic Attack), a Chuck Berry-esque rocker (Give-Up Honey), a boogie (Bull Ridin' Mama) and a Fever inspired song (Take This Love And Bury It) full of soul and seduction. A couple of tunes have a more modern sound (well, everything is relative) and you could easily imagine "Broken" sung by Candy Kane and "Keep On Movin'" by Little Charlie And The Nightcats.
There's a lot more I could rave about (Get On The Right Track is a killer!) but it's better to let you some surprises. In 2006 Ruth Brown has left the building, it sure is sad and we'll always cherish her music but in 2007 we can say : "There's a new Miss Rhythm In Town".
---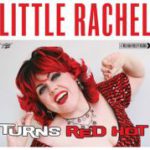 Little Rachel – When A Blue Note Turns Red Hot
Goofin GRCD 6157 – (2009)
Mama Was Right Again – Go Bully Some Other Gal – My Favorite Dream – O La Violencia – Just Right Man – Emotions – Born to Cry – This Lonesome Night – I Don't Miss You At All – It's Not Me – Every Road Leads Back Home – My Mojo Don't Work No Mo' – Little Man – You Could Have Fooled Me – You Ain't So Such A Much
Little Rachel's previous album left breathless and full of admiration. So you can imagine how excited I was when I heard the news of her collaboration with The Hogs of Rhythm (known to be the band associated with Dr Snout and featuring members of Finland's top rockabilly band The Barnshakers).
In the same time I had a little apprehension: would she be able to match the high quality of There's A New Miss Rhythm In Town? My doubts vanished after just a few bars of the opening song.
"Mama Was Right Again" is a fantastic 60's soul number (Eat your heart out Amy !) with a strong bass line. Nine of the fifteen were written by Rachel (and she's better and better at doing this), two by Shane Kiel (Two Timin' Three), one by Rachel Decker (The Honeybees) and the remaining three are covers by Dion, Mel tillis and Blanche Thomas.
The album is the perfect balance between 60's influenced soul/Rhythm'n'Blues, 40's and 50's jivers, pre-rock'n'roll, a great Chuck Berry rocker (I Don't Miss You At All), strong ballads and even a jazzy bossa nova. The band is tight and perfect as you can imagine with musicians from this calibre, and of course you have this voice, this wonderful, this rich, this bewitching voice…
A word has to be said about Jyrki Häyrinen's production and mixing work. He sure has his part to this success.
Enough of my talking, the disc speaks for itself, go and buy a copy and you'll understand what I try to tell you.
Fred "Virgil" Turgis
Share the post "Little Rachel"