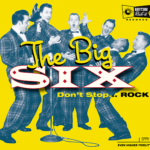 Big Six (the) – Don't Stop… ROCK!
Rhythm Rock-It EPPR5 [2019]
20th Century Boy – We The Boys Will Rock Ya – Sombrero – Blue Moon – Lady Of Nagoya – Tell Me Baby – Out Tonight – At Last – Mama We're All Crazee Now – Cold Feet – Are You Ready To Rock – Sh-Boom – Master Blaster – Groovey Geezer – All Of Me – Come Back Baby – West Coast Jive – Rock The Island – New Orleans – Get Off It and Rock It – No Way Out – Everybody Groove – Tiger Feet – Rocket Ship To The Moon – All Night Long
Shortly after he left the Stargazers in 1994, Ricky Lee Brawn went on to form two supergroups featuring the cream of the crop of the British rocking' scene: the Space Cadets and the Big Six.
Both bands featured Anders Janes his partner in crime in the Stargazers. The Space Cadets and the Big Six released numerous albums, mostly on Vinyl Japan, and now sadly out of print. But in 2012 Janes released a best-of album of the Space Cadets on his label Rhythm-Rock-It. And while the band played its last show at Viva Las Vegas before an indefinite break appeared "Don't Stop… ROCK!" the very best of the Big Six.
I can hear the younger ones ask: "Why are the Big Six so special?" Well, let me just tell you that the band was formed, in addition to Brawn and Janes by Mike Sanchez (Big Town Playboys) on piano, Nick Lunt and Al Nicholls (both also from the Big Town Playboys) on saxes and the one and only (or dare I say the one and crazy) Pat Reyford from Sugar Ray Ford on vocals and guitar.
Their music is a mix of various influences, all mixed to make a highly danceable and rocking cocktail. Every track here is a winner and is sure to make you wriggle, tap your feet and clap your hands.
You'll find a good dose of Glam Rock sprinkled with Rockabilly. Listen to the guitar part on T-Rex's 20th Century Boys. Doesn't it sound like Paul Burlison (or Grady Martin) in the Johnny Burnette Rock'n'roll trio? And Mud's Tiger feet and Slade's Mama Weer All Crazy Now should be learned by every young cat who tries to master the art of double bass.
Rocksteady and early ska influences are present in some songs, including a new version of the Stargazers' Rocketship to the Moon. It has to be said that Brawn's vintage production works very well for that stuff. Tunes like Janes' Cold Feet and Come Back Baby seem to come straight from Studio One in Jamaica.
There's a bit of Latin too (Sombrero), an amazing cover of the Jazz standard All of Me featuring hot solos, plenty of Rock'n'roll everywhere as well as superb Rhythm'n'Blues (Reyford's Tell Me Baby, All Night Long, or Master Blaster.)
If you don't own the original albums, I can only recommend you to jump on this best-of. And if you already have them, buy it too, for it comes in a superbly designed digipack.
But be warned! If you try to dance on every track of this album, you may suffer from serious exhaustion.
Buy it here.
Fred "Virgil" Turgis