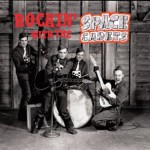 The Space Cadets – Rockin' with
Rhythm Rock-It – EPRR2
Rockin' With The Space Cadets – Awakadeeawakadoo – Astrobilly Rockin' – In Space – Rockin' On Thin Ice – Jack Hammer – Lost On Earth – Space Girl – Lady M – I'm A Space Cadet – You Don't Move Me – Give Me Space – We're Gonna Rock Rock Rock – Did He Jump, Or Was He Pushed – Cadet Walk – Rocket Ship – Get Closer – Let's Get Crazy – Take It Home – Lift Off
The Space Cadets have now gained something of a cult status. Consisting of Ricky Lee Brawn (Stargazers, Big Six) on drums, Anders Janes (Stargazers, Chevalier Brothers, Big Six, Ray Gelato) on bass, Mark Harman (Restless) on guitar and Mouse (Red Hot'n'Blue) on vocals, they were the super modern rockabilly band! Though they still gig sporadically (with Paul Harman on bass) they last studio album (at the time this compilation was released) was Cadets A Go-Go in 2000 and their three releases (one 10″ and two albums) are now long out of print since Vinyl Japan has ceased its activities.
This compilation made by Anders himself on his own label (who also re-released the Stargazers' debut album) gathers 19 of their best recordings and one unissued track (Space Girl) which is as good as the rest. I won't discuss the choice of the songs, each having his own favorite but I was surprised not to to find a signature song like "We Are The Space Cadets", featuring vocals introduction by the four different members of the band. Anyway that's a detail. The sound has been re-mastered and it comes in a nice digipack featuring never seen before photographies. Highly recommended (even if you have the albums)
Buy it here
Fred "Virgil" Turgis
Share the post "The Space Cadets"