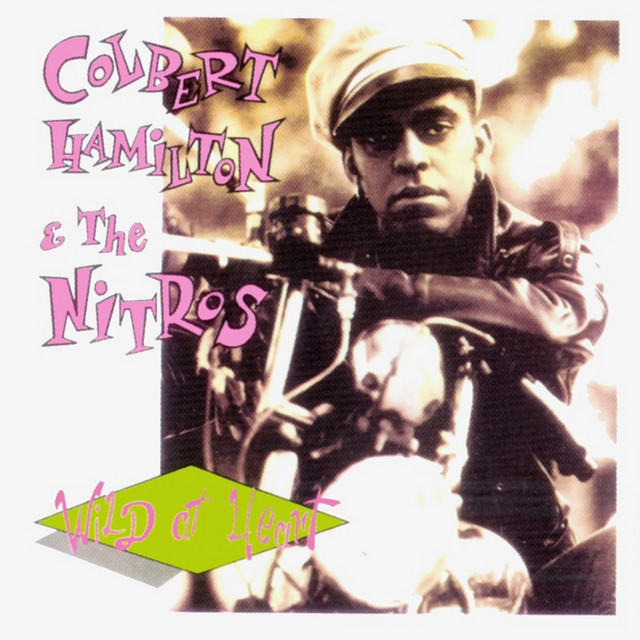 Colbert Hamilton
Colbert Hamilton and the Nitros – Like A Rebel
Migraine Records ‎– MR 45-042
Like A Rebel / Cruel Hearted Girl
Released in 2020, this single (limited to 500 copies on red vinyl) features two songs recorded in 1993 during the Still Taggin' Along sessions.
If the excellent Cruel Hearted Girl is not new, the A-side, Like A Rebel penned by Hamilton and O'Malley is even better. It's an outstanding neo-rockabilly number and it seems hard to believe that it didn't end on the original album.
---
Colbert Hamilton and the Nitros – Love Or Glory Man
[2013]
Shake Rattle Bump 'n' Grind – Falling To Pieces – Roxette – Rehab – Bella Donna – Everybody Loves Me – Life's A Bitch – Blue – Molly's Chambers – Love Or Glory Man – I Was The One – I Didn't See Memphis – Livin' La Vida Loca – W.M.D.
It's good to see Colbert Hamilton team again with John O'Malley and the Nitros (who are for this album Jason King on double bass and Guy Shalom on drums). This is great neo-rockabilly, Hamilton having a perfect voice for that style and O'Malley's jazzybilly guitar is everywhere. There's a majority of self-penned tune either by Hamilton or O'Malley that are quite good. I wouldn't say the same about the covers. "I Was the One" featuring Mark Keeley of Good ROckin' Tonight on piano is okay but Amy Winehouse's Rehab, Prince's Everybody Loves Me or worse Ricky Martin's Livin La Vida Loca seem very odd choices to me but as I said the originals are good enough and you can skip the covers and have a solid neo-rockabilly album.
---
Colbert Hamilton and the Nitros – Wild At Heart
Nervous Nerd076 [1994]
Lucille – Wild At Heart – Still Rockin' After All These Beers – Bad Reputation – Too Late – Boom Boom – Do You Wanna Rock? – Abused By You – High Flyin' Cat – Boogaville – Pass The Bottle To The Baby – The Boys Are Back In Town – Big In The World – Ninety Nine Girls
Colbert Hamilton and the Nitros returned in 1994 with Wild At Heart (in the process, Hamilton returned to Nervous records), produced by the mighty Alan Wilson (the Sharks). And believe it or not, this one is even better than its predecessor.
Not only is the sound perfect, but the band and the singer are in top form. Moreover, they expand their musical range. Next to Neo-Rockabilly nuggets on which O'Malley, Taylor and Day show the full extent of their talent underlining Hamilton's voice, you'll hear more different tunes. Hence, the listener will find rather unusual covers like a superb reinterpretation of the Reverend Horton Heat's Bad Reputation, or Thin Lizzy's the Boys Are Back In Town turned into a magnificent Rockabilly tune (to be honest, the original one begged for this treatment). Also, the band and the singer delve into blues territories with Boom Boom (Little Walter), and Too Late. Both songs feature Detroit Donny on harmonica (who also played on the Frantic Flintstones' Jamboree). Do You Wanna Rock is a solid mix between modern stuff and Rockabilly, quite similar to what the Rockats achieved with Make That Move. Totally on the other side of the Rock'n'Roll spectrum, Day's Pass the Bottle is a traditional-sounding Rockabilly with piano and saxophone and plenty of references to Gene Vincent. The piano and the sax return for Boogaville, an instrumental, on which O'Malley's talent seems to have no limits. Imagine an instrumental penned by Danny Cedrone, Franny Beecher and Mark Harman, and you'll have a slight idea of the result. As if it wasn't enough, Big In The World brings a touch of Soul (with hints of Roy Orbison) to this already superb album.
We couldn't agree more with John O'Malley when he said about Wild At Heart: "I wouldn't change a thing about that one."
---
Colbert Hamilton and the Nitros – Still Tagging Along
Vinyl Japan JRCD05 [1993]
Get out of my sight – Cruel hearted girl – Rollercoaster rock – Gaze into the crystal – Wasn't that good – Cadillac baby – Dead of night – Black magic – Get you back – New place in town – Stop – Haunted memories
Recorded in 1992 and released the following year, Still Tagging Along saw Colbert Hamilton teaming with the Nitros (John O'Malley, Rich Taylor and Gary Day).
Get Out Of My Sight, written by Tony Coni (of the Hellrazors), begins with restrained tension before exploding into superb Neo-Rockabilly fireworks. Cruel Hearted Girl is just as excellent but with an emphasis on melody. Rollercoaster Rock is a classic Rock'n'Roll. Gaze Into The Crystal is built around a catchy riff around which O'Malley adds embellishments. The slightly veiled voice adds even more to the mysterious atmosphere of the song. Wasn't that good is a cover of Wynonie Harris. Without horns, the song takes a more rockabilly turn. Once again, O'Malley's guitar, combined with Hamilton's voice, does wonder. Cadillac Baby, written by Hamilton and Coni (probably during the Hellrazors days), ends the first side.
Dead of Night is a Neo-rockabilly masterpiece. It's one of the very best tunes of the genre. Taylor and Day build a solid rhythm, O'Malley's guitar keeps the tension before bursting into a hot solo, and Hamilton's voice is the icing on the cake.
Originally done by Jericho Jones, Black Magic alternates between Diddley-tinged parts and classic Rockabilly. The following three songs, while good, are more average. Get You Back and Stop are not that original in their form and structure, and New Place In Town is slightly too long to convince.
But all that is quickly forgotten with the fantastic jazzy ballad Haunted Memories. Alan Heller adds a second guitar and piano to complete the orchestration. Once again, the rhythm section does a superb job, with Taylor playing with brushes. Hamilton is perfectly at ease as a suave crooner, and O'Malley places subtle accelerations sounding like Django during his electric period, who would have crossed paths with Mark Harman.
Despite two or three more average songs, Still Taggin' Along is an album that any Neo-Rockabilly lover must have.
The first pressing came out on pink vinyl.
---
Colbert Hamilton and the Nitros – Cadillac Baby
Vinyl Japan JRT02 [1993]
Cadillac Baby – Silver Bullet – Cruel Hearted Girl – Born To Love One Woman
Released at the same time as the album, this EP is its perfect complement. Cadillac Baby and Cruel Hearted Girl appear on the album. Silver Bullet, a composition by Rich Taylor, the drummer is a superb melodic tune and would have had its place on the album, especially as a replacement for less original songs (New Place In Town for example). Don Johnston's Born To Love One Woman receives the Hamilton/Nitros treatment and becomes an excellent Neo-Rockabilly. Released in translucent red vinyl.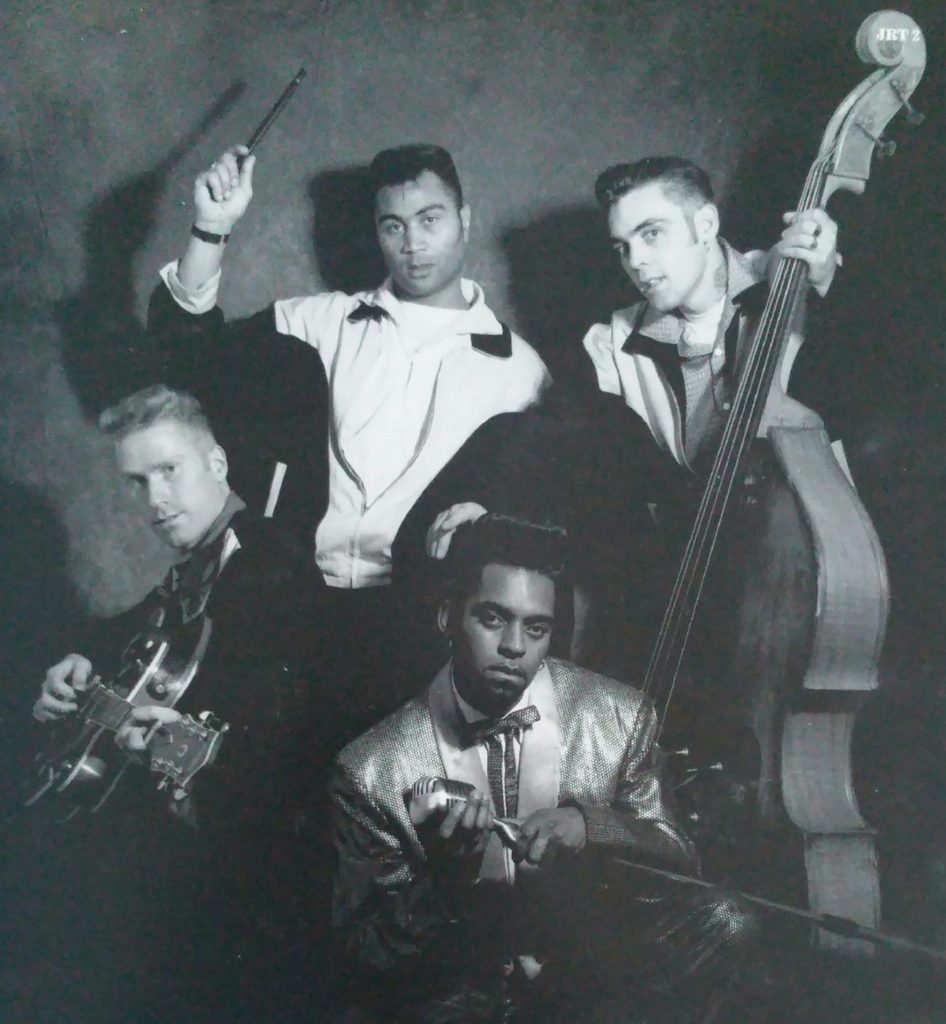 ---
Colbert Hamilton and the Hellrazors – s/t
Fearless Records – FEAR LP001 [1984]
Wow – Mystery Train – Half-Hearted Women – Women Love – Rock Therapy – Long Blonde Hair – Ice Cold – Long Black Shiny Car – Nervous Breakdown – Love Me – I'm So High – Good Rockin' Tonight – I'll Never Let You Go – Don't Knock Upon My Door – Love Me
Some records are revolutionary, some are very good, and some, despite minor flaws, are like good friends you like to stay with. I consider the debut album of Colbert Hamilton like a good friend.
On one hand, this is an all-cover album (ranging from Gene Vincent to Restless), and the sound is a bit thin concerning the production. On the other hand, Colbert Hamilton has an impressive voice, and the Hellrazors (Toni Coni on guitar, Tony Parkes on slap bass, and Julie Gardner on drums) do a perfect job backing him. The rhythm section is simple yet powerful and effective, with prominent slap bass, and Miss Gardner plays mainly on the snare. It keeps the raw essence of the genre and is ably completed by Coni's lightly electrified guitar.
All in all, it's a good album recommended to anyone interested in the British neo-rockabilly sound of the mid-eighties.