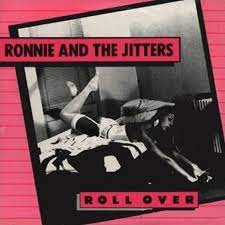 Ronnie And The Jitters – Roll Over
Nervous Records – NERD 014 [1984]
Roll Over Richard – Wild Weekend – Love Somebody New – She's Not The Girl – Rock Away – Black Slax – Truck Stop Song – Can't Fool A Woman – Take Me In Your Arms – Crazy Place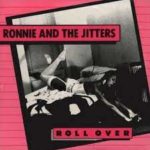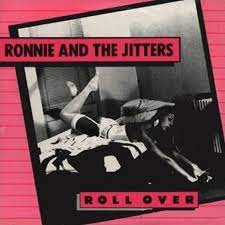 Ronnie and the Jitters were a band from New Jersey that appeared on the New York scene in the late 70s. The band consisted of Ronnie Decal on lead vocals and guitar, Warren Keller on saxophone, Steve Missal on drums and Dave Post on bass.
They first released a single in 1979, then an album titled Roll Over in 1983 on an American label. The following year, it was licensed to Nervous Records and included the tracks from the single.
Eddie Angel (Planet Rockers, Los Straitjackets) is also credited for some guitars on this album.
Roll Over Richard opens the set. It's a no-brainer powerful rock with a blasting sax and a wild Rock'n'roll piano. It's reminiscent of George Thorogood, but the drums sound typical of the 80s mars it. Next is a cover of the Rockin' Rebels Wild Weekend. Originally an instrumental, their version features lyrics, probably written by Decal since he appears on the credits. It conjures the recklessness of the 50s, and the result is not far from what John Cafferty did for Eddie and the Cruisers.
Love Somebody New is more modern and inscribed in its time by its arrangement and style. She's Not The Girl is a bouncing rockabilly that evolves into Rockaway, a mean instrumental, before briefly returning to the song.
B-side opens with an excellent cover of the Sparkletones'Black Slacks. Next is another cover, this time from Kristy McColl. Though titled Truck Stop Song on the records, its original title is There's A Guy Works Down The Chip Shop, Swears He's Elvis. In an attempt to conquer the American market, the label and McColl made a version named There's A Guy Works Down The Truck Stop, Swears He's Elvis. Anyway, the Jitters covered it, and it's a great country rock in the vein of what Dave Edmunds had recorded. Can't Fool A Woman is a ballad (every Rock'n'Roll album should have one) with the mandatory spoken part. Take Me In Your Arms is a modern rocker; think the Rockats (Make That Move era of the band) with a saxophone. It was a good idea to finish the set with a good rocker like Crazy Place; too bad that the band doesn't seem to know how to conclude the tune, which could easily be one minute shorter. Roll Over is clearly not an album for the purists, but it tries, and often succeeds, to capture the spirit of a lost period but with a modern twist.
Fred "Virgil" Turgis