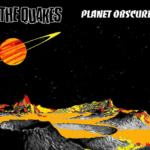 The Quakes – Planet Obscure
ORREXX – REXX005 [2012]
Dark shadows – Die too young – Promise – It's a curse – Streets are so lonely – Don't follow me – This night – Wildcat – You're a joke – Anti social girl – Festa do estica e puxa – All about you
After 25 years or so of existence, The Quakes still led by the inexhaustible Paul Roman release their 7th studio album and they don't seem to run out of inspiration. Very few bands can claim that. Roman's song writing is still sparkling, full of creativity with a superb ability to write complex songs with strong melodies. "Planet Obscure" is in the very same vein as their previous album (the excellent Negative Charge) with some nods to earlier material. Thus "It's A Curse" sounds a bit like an updated version of "you're Dead". Talking about their debut album, there's a tribute to the band's first drummer, Dave Hoy, tragically killed in an accident. The lyrics are well crafted too, avoiding the endless clichés of bats, zombies, graveyards and so on, a thing the Quakes never really did.
Most of all, Roman doesn't seem to care about tags, in that he's similar to Alan Wilson of the Sharks. Rockabilly, Psychobilly, New Wave, Hillbilly, Brazilian pop… if it's good to his ears, he incorporates it to create that great Quakes sound that is instantly recognizable. This is all that, and more, that you'll find on Planet Obscure.
Fred "Virgil" Turgis
Share the post "The Quakes"