One Summer day in 1988, three Rockabilly enthusiasts rehearsed for the first time together in a garage in Austin, Texas. That day, one of the best contemporary Rockabilly bands was born. The three guys were Kevin Smith, Shaun Young and Sean Mencher. The yet-unnamed band would soon become High Noon
The Early years
Born in 1968, Shaun Young grew up in Denver, Colorado. He developed an interest in music at a very young age, thanks to his parents. "My parents did have a lot to do with it. My dad was a big Buddy Holly fan, and both of my parents loved the Everly Brothers. They would sing Everly songs in harmony together when I was young. They also sang tunes like Frauline by Bobby Helms. Mom liked Ray Price, George Jones and Elvis. After digging into their records, I started to search out stuff myself and found out about Gene Vincent, Johnny Burnette, Sid King and all the classic Rockabilly." And even though the Stray Cats had an impact on him when they appeared, he realized that the whole Neo-Rockabilly scene had something missing compared to the older records. With a bunch of schoolmates, he formed the Shifters around 1986. Says Young, "The Shifters was a teenage rockabilly band (not real good), but it was a way to start to learn how to 'play it right'."
Next to his record collection, Bop Street, a Denver Rockabilly band, was pivotal in Young's musical development. "After graduation we found out about a band in Denver called Bop Street. The Nalty brothers, Pete and Brian, were the core of the group who later formed the Jinns. "They were a big influence, they were older and knew a lot more about the music than us. Pete turned me on to Ronnie Self and Ronnie Dawson to name a few. It was through them I met Todd Wulfmeyer and Kevin Smith."
Kevin Smith's first real musical shock was when he stumbled upon She Loves You by the Beatles and Buddy Holly's Peggy Sue. He later found the same energy in Punk, and a little while later, with the Stray Cats. Like Young, Smith was introduced to more obscure music by Pete Nalty, who owned a record shop in Denver. "Through him I found out about Howling Wolf, Joe Clay, Ronnie Self, Ronnie Dawson, etc." Also, seeing the Paladins live, with Thomas Yearsley playing the upright bass, made quite an impact on him.
Smith often accompanied his friend Todd Wulfmeyer to the Shifters' rehearsals. One day the bassist didn't show up, and Young replaced him.
In January 1988, while on tour in Austin, the Shifters discovered and were amazed by the city's rich musical scene. The following month, they left Denver to make Austin their home.
Meanwhile, in Washington, Sean Mencher discovered Rockabilly through the great Tex Rubinowitz. Explains Mencher, "Tex Rubinowitz and The Bad Boys are the first live rockabilly band I saw and, well, pretty much changed my life. I saw Tex perform live at an outdoor free concert series at Fort Reno Park, and man, they were rockin' like crazy and brilliant! I mean Hot Rod Man, Ain't It Wrong, Feelin' Right Tonight! Great songs, and excellent rockabilly music!" But Rockabilly wasn't Mencher's only interest. He was open to many different genres, hence the breadth of his music. "There was a blues quartet called The NightHawks, who influenced my musical direction a great deal too! A brilliant band who, in my opinion, deserved much greater recognition! Also, others in the area were Robert Gordon, Johnny Seaton, Danny Gatton, Evan Johns, as well as Billy Hancock… and also, all the great bluegrass music, like The Seldom Scene, and the Johnson Mountain Boys. Plus, the brilliant jazz guitarist Charlie Byrd lived in the area. My dad, who is an excellent piano player, took me to see Charlie Byrd, Barney Kessel, and Herb Ellis twice!!! We had a ball. Plus, we went to see the greatest, Andres Segovia. We also went to see the greatest, Chet Atkins!!!" Mencher grew up in a musical environment. His dad and his grandmother played piano, and his mother remembered seeing Louis Armstrong in New York City "Everyone in my family loves music."
When he was around 18 years old, Mencher started playing the guitar "My dad had an old acoustic harmony guitar that my younger brother, Marc, was taking lessons on. And he did not go to a lesson and asked if I wanted to go instead, so I did. And then just kept on going with it." In terms of influences, Merle Travis might be the most obvious one. "For several reasons, not only is he a brilliant guitarist, with a whole guitar style named after him "Travis Picking," he was an incredible songwriter. I mean, all you have to do is a little research on him, and you realize what a giant he was, creatively. Absolutely brilliant. I could go on and on."
The guitarist played in various bands in Washington (one can hear him strumming the acoustic guitar on Polaris, a demo recording made by the Insect Surfers in 1986) before moving to Austin in 1987. There, he played with Jimmie Dale Gilmore and a country band named Chaparral.
Forming the trio
Young, Smith and Mencher met when Chaparral opened for the Shifters. Says Young, "Kevin and I were very impressed by his playing and song writing. He dug the Shifters' energy, so we started talking about Rockabilly and how we thought a band should sound." In an interview with Jon Johnson in 2002, he added, "We were freaked out by Sean's playing. It was the first time we'd ever heard anyone fingerpick like Merle Travis."
The three of them began to know each other better, and it was evident they were on the same wavelength. One day in August, they gathered at Sean Mencher's home, in his garage, to see how they would sound together. Explains Mencher, "We just played for hours, song after song, Sun Sessions, Buddy Holly, Carl Perkins, etc. Just all stuff we knew in common that we had always wanted to realize but did not have the right musicians and instruments!" Young concurs, "We had so much fun playing Elvis Sun tunes and such we all decided this was the band we had all dreamed of." Shortly after that, the Shifters broke up, and Kevin Smith returned to Denver with Todd Wulfmeyer to play with the Jinns, the newly formed band by the Nalty brothers. But he quickly realized that he wanted to focus on upright bass, which wouldn't happen in Denver. "I realized that I would rather be an upright bassist in Austin than an electric bassist in Denver." (Kevin Smith to Jon Johnson, July 2002)
He then returned to Austin, and High Noon, named after the western with Gary Cooper and Grace Kelly, was born. High Noon was made of three powerful talents. Shaun Young's voice conjured the memories of the great Texas Rockabilly singers (among them a certain guy from Lubbock). Sean Mencher's bag of riffs seemed bottomless. Unlike many Rockabilly guitar players who were happy to rehash Hank Garland, Cliff Gallup or Scotty Moore riffs, Mencher developed his style by listening to those who inspired them, like Merle Travis but also Oscar Moore or Charlie Christian. And there was Kevin Smith, who showed everybody what "slapping a doghouse bass" really meant (and he was more than able to sing harmonies too.)
Asked if the band found its sound right from the start, Young answered, "Yes and no. When I see old video of High Noon I'm surprised at how much we sound the same now as then. We did however evolve and refine the sound as we went along with becoming better players and song writers. I think we all had a certain individual style that just messed real well and produced a strong combined result." The band's first gig was a fill-in for Chaparral. After that, things moved very quickly for the band.
Mencher, "After that, we just played as much as we could, anywhere, anytime, all the time… 25 gigs a month in and around Central Texas was not unusual for High Noon at that time!" When they weren't playing, they were rehearsing and writing new material. Soon, a self-published cassette was released with five original songs: three by Shaun Young (I'm Not Blue, Tears Keep on Falling, and Rattlesnake Man) and two by Mencher (When She's Good, and Flatland Saturday Night which he also sings).
The first album and a collaboration
In May 1989, Janne Haavisto was on holiday to visit some friends. Haavisto played drums in Laika and the Cosmonauts, a Finnish surf band that had just released their debut album on Dojo records. The label owner had given Haavisto some money in case he would find some exciting band to record. One night, he saw High Noon at the Black Cat Lounge. As we can imagine, he was wowed by the band. It didn't take long to track them down and offer them to record a few tracks. The band agreed, and on May 24, they found themselves at Ben Blank's Sound Recorders Studio. In four hours, eleven tracks were recorded. These songs cover the whole gamut of Rockabilly music, ranging from the Honky-Tonk tinged My Ex Is Why to the wild When She's Good, with the threatening Devil Woman and the instant classic Glory Bound. The album (Show & Dance, DOJLP 5013) was released the following year and made a lasting impression on the Rockabilly scene. That same year Big Sandy and the Fly-Rite Trio released their debut album, quickly followed by Go Cat Go, the Planet Rockers and Dave and Deke Combo. In the first years of this new decade, it was clear that the Americans were ready to bring back home the Rockabilly crown.
More gigs followed for High Noon, including some trips abroad.
Sometime in 1990, or early 1991, I couldn't find the exact date despite my searches, High Noon and Lisa Pankratz were hired to back Beverley Stauber for her debut album. It contains songs penned by Young and Mencher (including an early version of Crazy Fever). The album also features two songs by High Noon with Lisa Pankratz. But the final result is more than average, partly due to the production. The whole experience didn't make a lasting experience for Shaun Young "Man, what can I say about that mess. I hate the way that thing was recorded. It was a huge studio with mikes everywhere. We were just warming up and goofing around when they recorded the songs I was singing. I didn't know they would put them on the record. Beverley was a friend of ours, and we were trying to help her out." the album titled Nail My Feet To The Kitchen Floor was released by Nervous Records (NERCD 064) in 1991.
Willie Lewis & Rock-A-Billy Records Co
In 1990, the band met Willie Lewis, of Rock-A-Billy Records Co fame.
Says Young, "Kevin and I had heard his first record in Denver. We were saying 'Who is this guy?' Then our old friend Todd Wulfmeyer found him and introduced us. Willie came out to some shows we did up in Colorado. We told him how cool it would be to have a 45 rpm record out on Rockabilly records, and he agreed." The result came in the form of a four-song EP (Rock-A-Billy R 107) recorded at the Texas Tube Room. It featured two new songs, Train of Misery and a cover of Buddy Holly's Midnight Shift, and two new recordings of Glory Bound and Rockin' Wildcat. Those versions have a rawer sound and are even better than the ones you can find on Show and Dance.
1991 saw High Noon and Rock-A-Billy records releasing a 78 rpm (Rock-A-Billy R110) with Baby Let's Play House on side A and Bop Street's Too Much Trouble. "Willie Lewis's Rock-A-billy Records was the only record company crazy enough to put out a 78 rpm disc," explains Young.
On November 14 of the same year, the boys returned to Denver to record a few tracks in Willie Lewis' living room. That day the trio recorded three songs: Sonny Fisher's Hold Me, All Night Long (Shaun Young) and Crazy Fever (Sean Mencher). The first two tracks were released as a single in May 1992 (Rock-A-Billy R 114). In an interview with Craig Maki for Southern & Rockin' Music in 1995, Lewis said, "High Noon, in my personal opinion, are the best working Rockabilly band ou there probably today. Them and Big Sandy and the Fly-Rite Boys are definitely two of the top three." Coming from someone like Lewis, these are high praises. He pursued by qualifying All Night Long as "The best record high Noon ever recorded in their life. It's authentic Rockabilly. When you take that sound and combine it with their talent, you've got an unstoppable and unbeatable combination."
Willie Lewis, who contributed some background vocals on All Night Long, also took the opportunity to record one tune with the band. The song was Makin' Noise With The Boys, penned by Willie's nephew. In The Story of a Hepcat (Life and Music of Willie Lewis) by Sven Bergmann, Lewis explains how this session took place, "I was playing rhythm guitar while going through the song with these cats, but they were playing just a wee bit above my talent level. After one (less than tight) practice was done, Sean Mencher suggested that I put down my guitar, just do the singing, and let them make the music. It turned out to be one of the best darned idea the boy ever had too." The song, credited to Billy B. Hepp & the Hep Cats, appeared on the Rock-A-Billy Record Company Compilation Album Volume 1 (Rock-A-Billy Records R 3001).
On the road (again)
May 1992 was a busy month for the Rockabilly trio. On May 9, they appeared for the first time on the stage of the Hemsby Weekender in England, with acts like Ray Condo, Big Sandy and the Fly-Rite Trio, Charlie Feathers and more. Years later, Thunder records released a bootleg EP with two live tracks by High Noon (All Night Long, Havin' A Whole Lotta Fun) which was probably recorded during that trip.
That same month, the band was at Jet-Tone studios to record their next album. Jet-Tone studios were actually Young's extra bedroom. The name came from the fact that it was close to the airport. "We did have trouble with low flying planes ruining recordings." jokes Young.
Once again, these ten tracks were a masterclass of Rockabilly. Next to two classic covers (Glenn Barber's Feelin' No Pain and Carl Mann's Mona Lisa) and a song by Darren Lee Spears from Go Cat Go (Who Was That Cat), it features seven originals written by Mencher and Young.
If the core of the album is pure Rockabilly, some songs show different influences. Branded Outlaw is more hillbilly, while the riff of Rocks Me Right is a superb variation around the Charlie Christian A Smooth One lick. There are also some blues with Hannah Lee that Sean Mencher sings. Jussi Huhtakangas, aka Lester Peabody of The Barnshakers, plays steel guitar on two tracks.
Speaking of Finland, the band appeared on Eero Raittinen's Mies Matkallan, released on Epic records, which features a version of Glory Bound sung in Finish.
The band kept on touring for the rest of the year, including gigs in Germany in September and at the Rock'n'Roll Jamboree in Finland in November, sharing the stage with the Blue Cats.
Also in 1992, a singer named Marti Brom made her first recording with her own version of Crazy Fever (Renegade Records).
High Noon, Texas Style
No time to rest, and in early 1993, High Noon entered the studio with some guest musicians to work on new recordings. They made a deal with Wolfgang Doebeling to release a mini-album on the German label Exile Records. Sadly, half of the tracks recorded during that session weren't good enough soundwise to be released. So in November, the trio returned to the studio to cut what became Texas Style. For this one, High Noon took a slight departure from their usual brand of stripped-down Rockabilly and brought some guests to the party.
Crazy Mixed-Up World, the Willie Dixon song made famous by Little Walter, opens the set. The trio, with the help of Alvin Crow on fiddle and John Ely on steel guitar, turns it into a superb hillbilly bop with Shaun Young yelling the name of the musicians in the great Bob Wills tradition. Next is He Won, I Lost, She's Found, penned by Mencher. This Honky Tonk with steel, fiddle and harmony vocals (provided by Brent Wilson of the Wagoneers) is sure to make you cry in your beer. Side A closes with Across the River, another Mencher original. It's another delicate ballad enlightened by Mike Maddux on accordion.
Side B opens with My Heart Cries Yes, a Bluegrass number propelledw by Danny Barnes (Bad Livers) on banjo. Perkins' Movie Magg is here to remind you that High Noon is one of the Rockabilly trio. Finally, the steel and the fiddle return for Hank Harral's western swing-tinged Red Barn Boogie to conclude this mini-album in beauty.
Among the four useable tracks recorded earlier that year, only Elmore James' Strange Kinda Feelings (though their version owes more to Eddie Dugosh And The Ah-Ha Playboys version) saw the light of the day on a single given with Dynamite Magazine. The other three remain, as far as I known, unreleased.
On the touring front, 1993 was hectic, with gigs in St. Petersburg in July and the Canary Islands in October.
That same year, Goofin' Records from Finland released Glory Bound. This CD gathers the singles and the album recorded for Willie Lewis as well as some unreleased tracks, including an impressive version of Crazy Fever.
And to complete an already busy year, Shaun Young managed to record and release his first solo single in November.
The Carnegie Hall concert: High Noon with Ronnie Dawson
Though 1994 was steady on the recording front, the year was marked by a one-of-a-kind performance. Ronnie Dawson, the blonde bomber, was offered to play the Carnegie Hall on April 29. This concert, titled Deep in The Heart Of Texas, was part of the Carnegie Hall Folk Festival series. Also on the bill were T. D. Bell, Erbie Bowser and Mingo Salivar.
For this show, Dawson recruited High Noon with Lisa Pankratz on drums. The whole show and the subsequent tour are very well documented on the Bear Family CD "Ronnie Dawson- The Carnegie Hall Tour" (BCD16828). This tour led to an appearance on National TV on the Conan O'Brian show. Seeing Ronnie and the band firing on all cylinders on Monkey Beat City is something everyone who pretends to play Rock'n'Roll should see.
Stranger Things
The touring continued, and 1995 found the band playing another Hemsby weekender as well as playing in the American embassy of Finland. During one of its trips to Finland, the band recorded another album at Hitsville IV studio in Helsinki with long-time collaborator Janne Haavisto.
Stranger Things marked a new step for the band. Of course, the musicianship was top-notch. Sean reached new heights on guitar, and everyone willing to learn the double bass should listen to Bluebonnet Boogie, Long Empty Stretch of Highway or Now You're Gonna Be Loved. Let's take this occasion to mention the band's secret weapon: Shaun's rhythm guitar. It blends and works perfectly with the slap to build a solid melodic backbone. There are no drums in High Noon, but when I listen to the band, I always think of what the great Freddie Green once said: "You shouldn't hear the guitar by itself. It should be part of the drums so it sounds like the drummer is playing chords". High Noon's rhythm guitar is precisely a snare with chords.
Lyrically wise, the songs are also far above the vast majority of what one can find in Rockabilly, with songs too often revolving around girls kissed by boys in the backseat of a car. Take I'm Done, I'm Through, a verse like "I think congratulations are due, to the one who changed my mind and left me blue, I don't want to sound cynical – but my condition's critical, and I don't think I can ever be true" could have been written by Harlan Howard, while "I done caught on when he winked his eyes, I saw you wink back when he passed by, it may take me a while to figure things out, but I done caught on and now I'm cuttin' out" echoes the great Hank Williams. As if it wasn't enough, Kevin Smith joins the songwriting team with two excellent songs (Slow Down Baby and Fishin Hole Boogie).
The touring continued, and in April 1996, High Noon played in Japan. "Japan, what a mysterious place! It was such a thrill to play there. When we found out we were going, the excitement ran high, of course, and man, we were not disappointed. The fans were terrific and the scene was incredible!" (Shaun Young's liner notes of High Noon – Live InTexas & Japan). The Nagoya show at Diamond Hall was recorded. Three songs ended on the aforementioned Live in Texas and Japan, and the whole show was released on Live At Diamond Hall in 1999.
Going on hiatus
In late 1996, or early 1997, Sean Mencher moved to Maine, which put a halt to the band's activities. For nearly ten years, the band was touring and recording, and despite all their pleasure, this life began to take its toll on their life. Furthermore, Smith, Young and Mencher's priorities had changed over the years. Says Young, "We had been on the road for years, making no money, sleeping on floors, riding trains, and missing our family. Don't get me wrong, we loved to play music for everyone who would listen, and getting to see the world is something not everyone gets to do. But it starts to wear when you're always worried about paying the bills. Remember, this was before the scene was as organized as it is today. We had to do everything ourselves. Sean's wife Leslie booked and managed the band; without her and Sean busting their humps, we would have gone nowhere. Sean and Leslie then decided to move their family up to Portland, Maine. It was a chance for their three kids to go to good schools and be close to their Grandparents. So we just had to slow down. I don't think any of us really look at High Noon as ever being broken up."
High Noon went on semi-hiatus, and each embarked on different projects, documented elsewhere in this magazine.
Back on stage and a new High Noon album…
The band played some one-off gigs during this period, including a show at Viva Las Vegas in 2000 ("The crowd was wild that night," Smith recalls. "It was like we were the Beatles or something." High Noon on http://www.lonestarmusic.com)
But the real good news came when the trio was booked to play the Green Bay festival in 2002. Not only the band would reunite for this show, but they'd also record a new album filled with brand new material. Explains Young "The last thing any of us want High Noon to turn into is a reunion band playing all the old hits from the early nineties. You have to have fresh stuff, new songs, and new challenges. If you're going to do it, do it right."
Recorded and produced by Billy Horton in January 2002, "What Are You Waiting For?" contains 15 original songs. Their various experiences nurtured the their sound and expanded what they started with Stranger Things.
From the boppin' Let's Go Daddy-O to the Cajun-tinged Bayou Beauty, with the excellent Travis/Atkins instrumental Comanche Moon and the beautiful ballad Not For Nothing, the band goes from style to another with class and refinement.
But in case you'd forget that High Noon is "the Texas Rockabilly Trio". Listen to songs like Hanging (from the old oak tree) with its powerful slap bass, Misunderstood, It's the Beat, the Holly-esque Beautiful and Railroad Crossin with its guitar solo evoking Grady Martin.
Young's tremolo makes wonder on slow songs like I've Never Felt As Lucky. Kevin Smith proves if needed, that he's the undisputed master of the slap bass. He provides the backbone of the sound with, here and there, some short and brilliant solos. On guitar, Sean Mencher enlightens the whole album with his amazing licks, quoting Paul Burlison, Grady Martin, Chet Atkins, and Merle Travis.
One could fear that the break impacted the band's dynamic, but like Young said: "It is always great to play with High Noon; it's heaven! It's kind of like riding a bike; we played for so long together that you just kind up pick up right where you left off. I just get swept away by the feel of that band. With just the three instruments, it seems the music has a rhythm all of its own."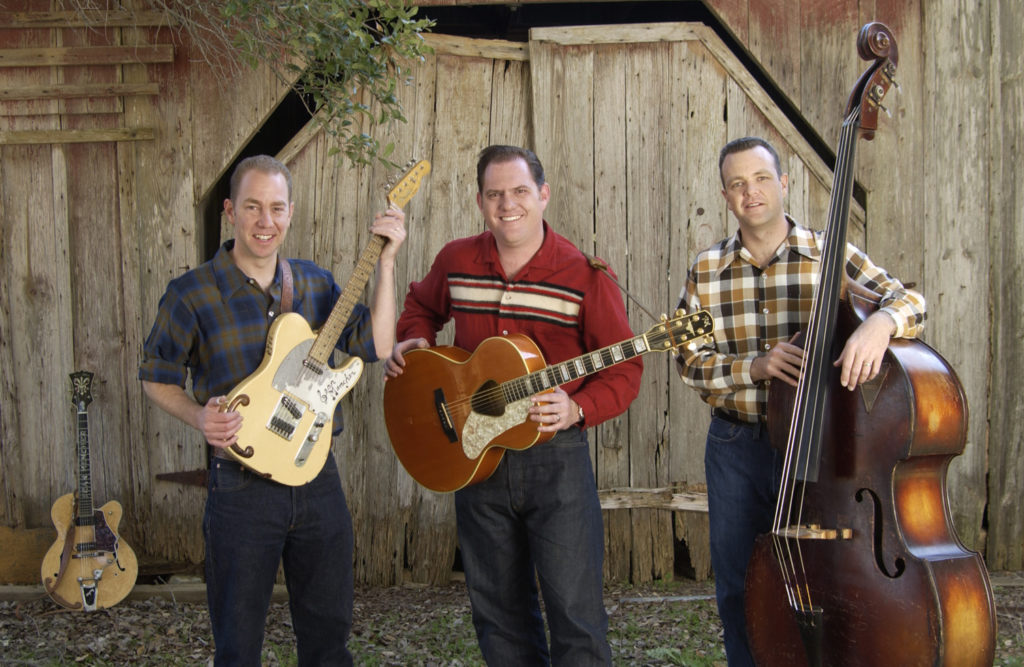 Since then, High Noon occasionally gigged, including a show at the Rockabilly Rave in March 2006. For this show, Kevin Smith was busy touring with Dwight Yoakam and wasn't available. He was replaced by Jimmy Sutton (Four Charms, JD McPherson). Mencher and Young were more than happy with their new bassist. "Well, when Kevin got the call from Dwight, we were already booked at the Rave, so we had two choices. Either cancel or play with a fill-in bass player. Playing with a fill-in player isn't something we would normally even consider, but when Jimmy Sutton said he'd play, my mind was at ease. High Noon is a weird special thing, and it's hard for anyone to step in and play. Not that the music is complicated or no one else out there is good enough to fill our shoes or something, I'm defiantly not saying that! It's more like the three of us have been screwing it up for so many years together that it makes it difficult for someone to step in and groove like the band normally does. Does that make sense? Anyway, we've known Jimmy for almost as long as High Noon has existed, and of course, we are BIG Jimmy Sutton fans, so I felt like yeah, we can pull this off. Well, Jimmy did more than just fill in and pull it off. He took it over and made it his own! That set wasn't High Noon with Jimmy Sutton filling in on bass; it was High Noon, period."
In 2015, as an acknowledgement of their efforts to the Rockabilly cause, Bear Family released a best-of of the Goofin years (no Rock-A-Billy Records Co recordings on this one) featuring two demos (Quick Hand and My Heart Cries Yes). That same year, they received the first "Keeper Of The Key" award at the second Ameripolitan ceremony.
Today, with Kevin Smith busy touring with Willie Nelson, the trio seldom plays together. But the band manages to surprise its fans, like in 2020, when they released one single on Swelltune records. By listening to these two songs, you wouldn't believe that 18 years have passed since What Are You Waiting For. The trio sounds as fresh as the first time I heard them when they released Glory Bound on Willie Lewis' Rock-A-Billy Records. When these three guys are in the same room, you can expect the best in rural bop and drummerless Rockabilly.
Sources
All interviews except where noted conducted by Fred "Virgil" Turgis

Liner notes
High Noon, Show & Dance plus (Goofin Records GRCD 6073), liner notes by Sven Adamski
High Noon, Flatland Saturday Night (Bear Family BCD 17383), liner notes by Bill Smoker
Ronnie Dawson, The Carnegie Hall Tour (BCD 16828AH), liner notes by Greg Wolske, Sean Mencher and Lisa Pankratz
Book
The Story Of A Hepcat, Life and Music of Willie Lewis by Sven Bergman
Magazine
Craig Maki, interview with Willie Lewis in Southern & Rocking Music #5
Website
It's High Noon for High Noon, Jon Johnson, July 2002
The High Noon Web and Fan Page, hosted by Geocities (beware of the porn pop-ups on this one!)
Discography
Singles
Train Of Misery – Midnight Shift / Rockin' Wildcat – Glory Bound
Rock-A-Billy Record Company R-107 [1990]
Baby Let's Play House / Too Much Trouble
Rock-A-Billy Record Company R-110 [1991]
Hold Me Baby / All Night Long
Rock-A-Billy Record Company R-114 [1992]
Dynamite! Magazine -The World Of Rock'N'Roll #03 [1994]
Strange Kinda Feeling
free 7" issued with Dynamite! Magazine #03 – B-side by Johnny Legend and the Sundowners
Live In Japan
On The Hill Records OTHREP 008 [1997]
How Come It – Call Of The Honky Tonk / Some Like It Hot – Flatland Saturday Night
Let's Go Daddy-O / Hanging (From The Old Oak Tree)
Goofin' Records – GRSI 206 [2002]
Change – You Done Did It
Swelltune Records – SR45-007 [2020]
Battle of the Bands Volume 1
Thunder Records, France ( Thunder 707-02 )
All Night Long / Havin' A Whole Lotta Fun
*Bootleg – Split ep with Big Sandy and the Fly-Rite Trio
Albums
Show & Dance
Dojo Records DOJLP 5013 – LP [1990]
Rattle Snake Man / Flatland Saturday Night / I'm Not Blue / Rock Too Slow / My Ex Is Why / Rockin' Wildcat  / Glorybound / Tears Keep On Fallin' / When She's Good / Devil Woman / Just Because
Rocks Me Right
Rock-A-Billy Record Company R-1002-LP [1992]
Late Train / Mona Lisa / Your New Flame ( Is Burning Me ) / Who Was That Cat ? / Crazy Fever / Don't Have A Heart Left To Break / Rocks Me Right / Feeling No Pain / Branded Outlaw / Hannah Lee
Glory Bound
Goofin' Records GRCD 6039
Train Of Misery / Midnight Shift / Rockin' Wildcat / Glory Bound / Too Much Trouble / Baby Let's Play House / Hold Me Baby / All Night Long / Late Train / Mona Lisa / Your New Flame / Who Was That Cat ? / Crazy Fever / Don't Have A Heart Left To Break / Rocks Me Right / Feelin' No Pain / Branded Outlaw / Don't Have A Heart Left To Break ( Alt. ) / The Beaumont Boogie / Ain't It Wrong / Havin' A Whole Lotta Fun / Crazy Fever ( Alt. )
Texas Style
Exile Records EX10 EP09 [1994]
Crazy Mixed Up World – He Won, I Lost, She's Found – Across The River / My Heart Cries Yes – Movie Magg – Red Barn Boogie
Stranger Things
Goofin' Records GRCD6060 [1995]
Stranger Things – Slow Down, Baby – Call Of The Honky-Tonk – High On A Hill – Fishin' Hole Boogie – I'm Done, I'm Through – My Little Thrill – Long Empty Stretch Of Highway – Now You're Gonna Be Loved – Rockin' Beauty – Bluebonnet Boogie – She Forgot Her Memory – Mixed Signal Mama – I Done Caught On – Doggone That Cat
Live In Texas and Japan
Watermelon Records Watermelon CD 1063 – CD
Goofin' Records Goofy 6074 – LP [1996]
Rattlesnake Man – Branded Outlaw – I'm Not Blue – When She's Good – Tears Keep On Falling – Rockin' Wildcat – My Ex Is Why – Devil Woman – My Heart Cries Yes – Flatland Saturday Night – Introductions – Rock Too Slow – Introductions 'Continental Club' – Ain't It Wrong – Glory Bound – Who Was That Cat ? – Intro Japan – Stranger Things – How Come It – Mona Lisa
Show & Dance plus
Goofin' Records GRCD 6073 ) – CD [1998]
Rattle Snake Man – Flatland Saturday Night – I'm Not Blue – Rock Too Slow – My Ex Is Why – Rockin' Wildcat – Glorybound – Tears Keep On Fallin' – When She's Good – Devil Woman – Just Because – Baby Let's Play House* – Too Much Trouble* – Midnight Shift* – When She's Good* – Rock Too Slow*
*bonus tracks recorded live in Finland in 1991
Live At Diamond Hall
Vampirella Music – MCG 1020058-2 [1999]
Glory Bound – The Beaumont Boogie – Mona Lisa – How Come It – Stranger Things – Call of the Honky Tonk – Fishin' Hole Boogie – Slow Down Baby – Just Because – Having a Whole Lot of Fun – Now You're Gonna Be Loved – Rockin' Beauty – I Done Caught On – Flatland Saturday Night – She Forgot Her Memory
What Are You Waiting For?
Goofin' Records – GRCD 6116 [2002]
Let's Go Daddy-o – Hanging (From The Old Oak Tree) – Old Habits – Prelude To The Blues – Bayou Beauty – Not For Nothin' – Railroad Crossing – Beautiful – Yard Dog – I've Never Felt As Lucky – Kiss And Tell Baby – Comanche Moon – Gotta Love That – Misunderstood – It's The Beat
Compilations
Flatland Saturday Night
Bear Family BCD 17383 [2015]
Glorybound – Stranger Things – She Forgot Her Memory – When She's Good – Let's Go Daddy-O – Long Empty Stretch Of Highway – My Ex Is Why – Beautiful – Rock Too Slow – Rockin' Wildcat – Rockin' Beauty – Old Habits – Flatland Saturday Night – Bluebonnet Boogie – Not For Nothin' – Rattlesnake Man – Mixed Signal Mama – Fishing Hole Boogie – I'm Not Blue – Gotta Lotta That – Doggone That Cat – Now You're Gonna Be Loved – Comanche Moon – Kiss And Tell Baby – Slow Down Baby – It's The Beat – High On A Hill – Hanging From The Old Oak Tree – My Little Thrill – Call Of The Honky-Tonk – Quick Hand (demo) – My Heart Cries Yes (demo)
The Rock-A-Billy Record Company Compilation Album vol. 1
Rock-A-Billy Record Company, R-3001-Lp [1995]
When My Baby Left Me / Makin' Noise With The Boys*
*as Billy B. Hepp & The Three Hep Cats, featuring Willie Lewis on vocals & rhythm guitar
The Rock-A-Billy Record Company Compilation Album vol. 2
Rock-A-Billy Record Company, R-3002-LP [1997]
Blues Stop Knocking
DVD
Various – Goofin' Records 20th Anniversary Party
Goofin' Records – GRVD 400 [2006]
Let's Go Daddy-O – When She Is Good – Slow Down Baby – High On A Hill (Down In Tennessee) – Blue Bonnet Boogie – Flatland Saturday Night
Backing other musicians
Beverley Stauber – Nail My Feet to The Kitchen
Floor Nervous Records [1991]
Let's Have A Party – Lonely Girl – Hot Rockin' Romeo – Running Back – Gotta Lotta Rhythm – Nail My Feet To The Kitchen Floor – Tough Lover- Too Late Now – Train Of Pain – Crazy Fever -Eenie Meemie Miney Mo – It's All In The Game – I'm The One – Tear It Up* – Rock 'n' Roll Honky Tonk Rambling Man*
* High Noon and Lisa Pankratz without Beverley Stauber
Eero Raittinen – Mies Matkallaan
Epic – 471695 1 [1992]
Jätit Mut Itkemään – Mä Heitän Kaikki Pois – Tiellä Turhuuden – Noin Hieno Mies – Minkä Kaipuullensa Voi – Just Siks' – Kuin Enkeli – Ouagadougou – Kontulaan – Istun Päässä Laiturin – Kotiin Päin (aka Glory Bound) – Mies Matkoillaan*
as far as I know, High Noon appears on all tracks except *
Ronnie Dawson & High Noon with Lisa Pankratz – The Carnegie Hall Tour
Bear Family Records – BCD16828 [2012]
Yum Yum Yum – Fool About You – Who Was That Cat* – Up Jumped The Devil – Glory Bound* – Beaumont Boogie* – Rockin' In The Cemetery – Monkey Beat City – Red Hot Mama – The Cats Were Jumpin' – Yum Yum Yum – The Worrying Kind – Shim Sham Shimmy – Down In Mexico – Party Time – Acoustic Jam – I'm Tore Up – Up Jumped The Devil – Rockin' Bones
*High Noon without Lisa Pankratz and Ronnie Dawson