Planet Rockers (the) – Return of the Planet Rockers
Witchcraft WCILP/CD 106 {2014}
Saturday Night In Oak Grove – Stranger Dressed In Black – Snakebit – Showdow – Heavy On My Mind – Moon Over Memphis – Man Whitout A Star – Voodoo Woman – Whatcha Gonna Do – Jenny Lee – Hold On – Dateless Night – Long Gone Daddy – Sinnerman – Southwind – Indian Giver – Nashville Woman
The Planet Rockers are back!  The original line-up: Sonny George and his deep voice, Eddie Angel with his sharp riffs and one of the best rhythm section in activity, Mark Winchester and Bill "Thunder" Swartz respectively on double bass and drums.
When you listen to this rockin' platter you wouldn't believe that 20 years have passed since the four of them recorded theit last album together. they sound as fresh and powerful as yesterday. No they're even more powerful.
Recorded in Memphis, Tennessee at Sam Phillips recordings, this brand new album finds them mixing swamp blues, rockabilly, country rock, rock'n'roll to create their own Planet Rockers style with songs borrowed from the catalog of Cordell Jackson, Hayden Thompson, Tony Joe White, Frankie Laine, Jerry Reed, Dale Hawkins, Simon Stokes and the Nighthawk and more surprising Electric Light Orchestra. The lack of originals (only two, one by Eddie Angel, an instrumental, and another one by Mark Winchester)  is not a problem for once these four men play a song it becomes instantly a Planet Rockers song.
With that album, the Planet Rockers are back to the one and only place they deserve, the top! Welcome back, guys, we missed ya a lot and don't make us wait too long for the next one!
The Planet Rockers – Coming In Person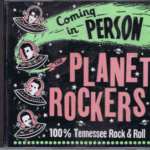 No Hit Records 005 [1991]
Trouble Up The Road – Big Wheel – Tennessee Woman – Big Daddy – One's all the Law will Allow – Spin My Wheels – Gotta Rock – Truck's Driver Rock – Yes I Do – Trouble Time
For a long while, the Rockabilly scene was dominated by the European bands. But in the end of the 80's, all of sudden, the States took the bull by the horn and came back to claim their heritage with bands like Big Sandy, High Noon, Dave and Deke and of course the Planet Rockers.
Their debut album was an instant revelation. Coming from Nashville, they were as far as possible from the modern country sound that dominated the town and played a brand of rock'n'roll/rockabilly with a strong country rock feel and blues elements thrown in for good measure.
Their style sounded like a cross between Tex Rubinowitz (not surprinsing since Eddie Angel originally came from the Washington scene) and Sleepy LaBeef. The Planet Rockers were the agregation of four strong personalities, each bringing its own touch to forge their sound. On the front, their was Sonny George's distinctive deep voice. Eddie Angel on guitar sounded like Scotty Moore, Chuck Berry, Carl Perkins, Earl Hooker and James Burton all rolled into one. 
The rhythm section was also top notch with Bill Swartz on drums and Mark Winchester on double bass (he later joined Brian Setzer).
Accept no substitute, this is the real sound of American Rock'n'roll. Essential with a capital E.