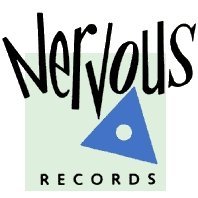 Nervous Records – the Roy Williams interview
-Hey, I've just bought the debut album of a psychobilly combo called the Frantic Flintstones.
-Is that any good?
-Of course, it's on Nervous Records!
That's the kind of dialog that my psychobilly pals and I used to have. Nervous was for us – and I'm sure we weren't alone – a reference. Nervous records always had the best stuff coming with nice sleeves too. Judge by yourself: the Polecats, The Sharks, Frenzy, the Ricochets, the Coffin Nails, the Caravans, the Nitros, Restless, the Blue Cats, Buzz & the Flyers, Torment, Skitzo, Nekromantix, Batmobile, the Quakes, the Rattlers… Impressive isn't it. Reading Nervous records' back catalog is like reading a Who's Who of Neo-Rockabilly and Psychobilly.
Of course, there was some exceptions:
-Look that's the latest Nervous records lp.
-What's the name of the band?
-Spook & the Ghouls.
– …
Anyway Nervous records is indissociable from the whole genre, and we had to talk to Roy Williams. Now put your favorite Nervous album on the platter or in the player if it's a cd and read the following interview..
by Fred "Virgil" Turgis
When and how did you discover rockabilly music?
I was collecting old rock'n'roll records in the early 60's and I came across a listing of SUN 45's for sales from someone called Breathless Dan Coffey (Breathless Dan Coffey is a well known record collector in Europe and he's also the brother of Mike Coffey, guitar player for Crazy Cavan – ed.). Before that, the only time I'd heard of rockabilly was from a Guy Mitchell song! In truth, I'd been buying rockabilly records for some time, but never really knew the word in relation the records I had. We used to call it 'the empty sound' because of the slap-back echo!
The 'division' of rock'n'roll and rockabilly can be subtle and there's a lot of 'crossover'. I think of it this way
All rockabilly is rock'n'roll
All rock'n'roll is not rockabilly
or
All ants are insects
All insects are not ants
You can say that we have an interesting linguistic discussion here between etymology and entymology =;-)
Was Rock'n'roll the kind of music played at home when you were a kid?
Oh no! My mother used to sing songs to me when I was very young. These were songs from the 1940's. The only music my father liked on the radio was religious music. He used to complain that there was too much 'boogie woogie'…. He used to tell me that our radio couldn't get Radio Luxembourg (where all the good stuff was). I used to go and watch TV in the village pub with my friend whose parents owned the pub. I saw '6-5 Special' on a small black and white TV, one of only two in the village. Then we moved back to Wales and lived in a village with no electricity for a while, so I missed a lot of 1950's TV. Then, one day in 1958, I got on my bicycle and rode into the town (Aberystwyth) and walked into the pier. There was the smell of the candy floss and lots of flashing lights and a big jukebox pounding out rock'n'roll. I was lost……
Then we moved closer to the town and had electricity again and my parents bought a new radio and gave me the old one. I spent all my time on this radio listening to radio stations from other countries searching for rock'n'roll.
As a DJ you helped to promote Hank Mizzell's Jungle Rock, you managed young bands. How did you decide to create your own label?
I saw a bit about how the music business worked from 'Jungle Rock' and I thought that I could create another hit with a young good looking British band. At about the same time, I saw that Ronnie Weiser has started his own label and there were lots of new labels in England because of punk. I thought that I could do this, too. I also thought that it was time that I established better financial security for my family because DJ work was not so reliable! I actually started in music publishing and the label came after.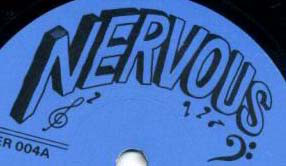 Looking back at the Nervous records back catalog, one thing struck me. Like Sam Phillips who always said he didn't need two Elvis, it seems that you were always looking for bands that sounded different…
The lesson that I learnt from Rollin' Rock was NOT to go for a 'house label sound'. There was a time that everything on Rollin' Rock was hot, and then suddenly it wasn't because it all had the same 'house sound' and the whole catalogue was out of style. I didn't want to have this happen to Nervous records, so I deliberately tried to be more 'diverse'.
You have worked with many of the best psychobilly bands, but strangely you never worked with the originators of the genre, the Meteors. Do you regret it?
Not really. they seemed very shambolic to begin with and after their first EP and LP, I didn't find them so interesting. The first LP was REALLY good, though and hugely influential.
In the end, when I bought out the Alligator label, I became the owner of the earliest Meteors' recordings [three songs were released on Homegrown Rockabilly – ed.]
Today I suppose things have changed radically with the mp3's. But in the heydays of neo-rockabilly / psychobilly what was the average pressing for a Nervous record?
I always remember that when we released the Buzz And The Flyers LP, we pressed 3,000 copies and delivered 2,000 to various customers in the first week! Those days are long gone.
How do you / did you involve in the recording process as a producer? Do you suggest songs to cover, different ways to approach songs, select songs with the artists etc.?
I make all sorts of suggestions. Some bands have all of their ideas ready, and some need more 'guidance'. Sometimes I give the project to a producer. I can't force bands to record what they don't want to. I feel awkward sometimes because I can't play an instrument and it's often difficult because of that.
Is there a release in which you had strong hope that failed to sell?
Quite a few! Often because the bands split up just after the recording!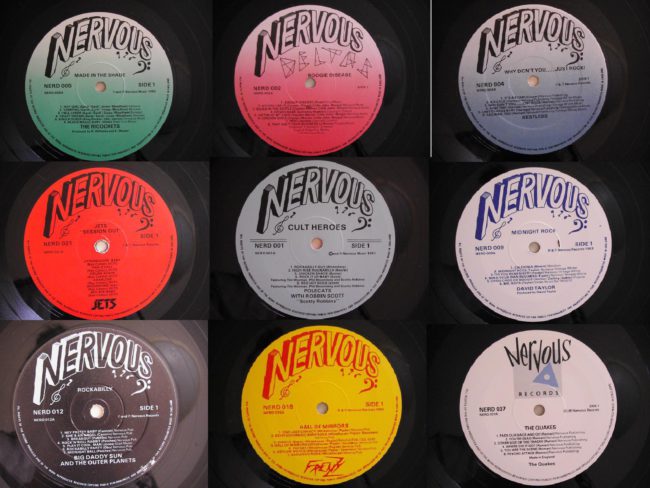 Which Nervous records releases are you particularly proud of?
The first Restless album and The Blue Cats 'The Tunnel'.
And is there one that retrospectively you think "I shouldn't have released this one"?
That's too political!
Beside Nervous records, I believe that you were involved with the organisation of the Big Rumble. What memories do you keep from it?
A lot of work, and a lot of fun. I really enjoyed going round the caravans in the morning with a video camera, and finding people in the 'wrong' beds! I also had some funny experiences at the reception of the camp. Del used to put me there because I could manage some words in various languages. It was always difficult explaining to French people about the meters for the electricity!
I have the sad feeling that today the rockin' scene is more and more divided in sub-scenes like neo-rockabilly, modern rockabilly, authentic rockabilly, old school psychobilly, gothabilly, trashbilly (and so on), with much importance given to the clothes rather than anything else. What do you think of the evolution of the scene?
I agree with you. It's become fragmented and this is BAD news.
You were one of the first to bet on the cd's then on the mp3's. How did the internet change the way of selling music?
It's broken down the national barriers. Really there is only one marketplace now, and everyone is equal in it. This is good. Music is no longer qualified by its rarity. It's qualified by it's standard. When I was DJ-ing, there were some people who would not dance to a record if it wasn't an original 45. This is BOLLOCKS!
The 'downside' of all this is that there needs to be a lot more 'back-office' computer work to make it all work properly. Most small labels are hopeless at the paperwork side of things and this leaves the ownership of copyright in a bit of a mess. I've actually written my own computer program to handle this stuff.
The last word is for you…
I'm more interested in the future of rock'n'roll/rockabilly than the past.


Website: http://www.nervous.co.uk/