The Blue Cats – The Blue Cats
Rockhouse LPL 8011 [1980]
Just Go Wild Over Rock 'N' Roll – I'm Gonna Die – Pretty Pretty Baby – I Dreamed You Left Me – Southbound Blues – Boogie Up Roar – Five Days Five Days – I'm Driving Home – Sweet Love On My Mind –
Caldonia – I Sure Miss You – Jumpin' Little Mama – Juke Joint Jem – Sure-Fire Way – Goofin' Around
Debut album featuring the Carlo Edwards (guitar), his brother Stef (drums), Clive Osborne (sax, rhythm guitar) and Dave Phillips (vocals and double bass). Excellent from start to finish. A true classic!
---
The Blue Cats – Fight Back
Rockhouse ROCKCD 8111 [1981]
Fight back – Hot & cold – Tired & sleepy – Love me – Jump cat jump – Up a lazy river – Who stole my blue suede shoes – Who slapped John – Wild night – Thunder & lightning – Life fast die young – Made for rockin' – Slippin' in – Idle on parade – Birth of the boogie – Everybody's rockin'
By the end of 1980 the Blue Cats found themselves in need of a bassist and a singer after the departure of Dave Phillips. They quickly recruited Mitch Caws and Clint Bradley both from The Tennessee Rebels and started to work right away. From that moment they started to experiment and write new material with a more modern edge. Released in 1981 Fight Back is representative of that era.
Half of the album reminds the "old" Blue Cats with covers of the Cochran Brothers, Gene Vincent, Eddie Bond, The Phantom, Marvin Rainwater, that are probably here to satisfy the label who didn't want to make a big departure from their successful debut album. The other half is by far the most interesting with six neo-rockabilly jewels, sometimes close to early psychobilly, written by Bradley.
One can only regret the light production on some of this tracks and wonder how it would have sounded with more studio time.
Almost three decades later, "Fight Back" remains a key album of the early 80's and a huge influence on numerous bands.
---
The Blue Cats – The Tunnel
Nervous records Nercd069 [1992]
Man With A Mission – Galluping Man – Casting My Spell – The Tunnel – Heavens Gate – Cry On The Wind – Car 76 – Take And Give – Bad Mans Money – Wild Dogs Of Kentucky – Rivers Bend
All I Can Do Is Cry
Winning return for the Blue Cats with this 1992 album with Paul Diffin (Sugar Ray Ford) on bass. Every track here is a killer from the manic neo-rockabilly of Man With A Mission and the Tunnel to the tributes to Cliff Gallup (Gallupin' Man) and Gene Vincent (Cry On the Wind) and what could possibly be the definitive version of All I Can Do Is Cry. 
Fred "Virgil" Turgis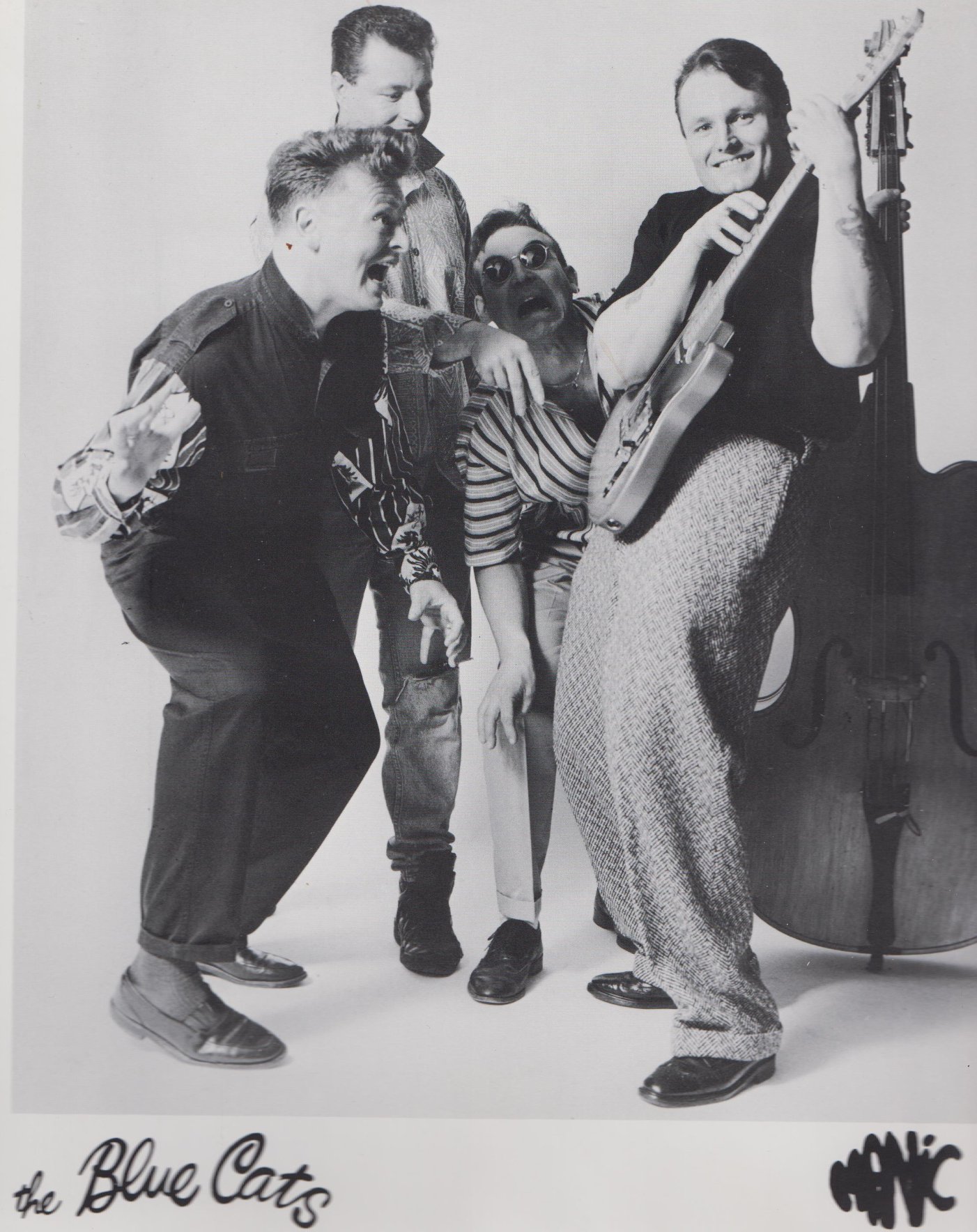 Share the post "Blue Cats (the) / G-Men / Beltane Fire"