Restless – Live in Tokyo 1989

Foot Tapping Records
Intro-Ghost Town / People Love A Show / Radar Love / All By Myself / Roll Your Monkey Maker / Vanish Without A Trace / That's Alright / Neutron Dance / Ice Cold / 16 Tons / Baby Please Don't Go / Edge On You / Money Honey / Little Pig / Long Black Shiny Car / Mr. Blues
This album, with the Sharks' Live in Japan and Frenzy's Live in Japan tends to make me believe that the best live albums are recorded in Japan with Steve Whitehouse slapping the double bass. If the Meteors Hell in the Pacific could easily prove me wrong on the first point, the Blue Cats' On A Live Mission certainly confirms the second.
In 1989 Jeff baily left Restless and the band considered calling it quit. But with a tour of Japan scheduled, Ben Cooper and Mark Harman decided to hire a temporary bassist, namely Steve Whitehouse, to honor the booking. As Mark said in an interview to Deathrow "If Steve had said no, then if would have almost certainly been the end of Restless. Thankfully he said yes and after five minutes of rehearsing we went to Japan."
The result as I said is an excellent live album with a surprinsigly tight band – considering the condition this line-up embarked to the tour – that plays all the classics (you can check, they're all here) with carefully choosen covers and more unusual stuff like People Love A Show, a song that previously appeared on the b-side of Ice Cold.
Recorded by Pete Gage and mastered with the help of Alan Wilson you can't go wrong in term of sound. Most of all this recording perfectly completes the other live albums released by Restless.
The choice of Whitehouse proved to me a pretty good one since the band recorded three studio albums, including the excellent Movin' On, with him.
---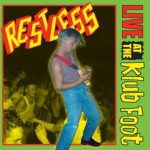 Restless – Live at the Klub Foot
Trophy Records TR002
Roll Your Money Maker – Fools Gold – Last Chance Baby – Baby Please Don't Go – Bottle On The Beach – Long Black Shiny Car – Girl On Death Row – Live A Lie – Ghost Town – Ice Cold – Edge On You – Love Me – Mr Blues
Recently Alan Wilson (of Western Star and the Sharks fame) found a box full of tapes recorded at the Klub Foot, the mecca of Psychobilly and Neo-rockabilly in the mid-80's. These tapes needed to be restored and cleaned, a very costly process and two of these shows (Batmobile and Sting Rays) were released on Anagram/Cherry Red Records. Sadly the sales weren't enough for the label and they called it quit. Knowing he had history in his hands, Wilson created a sub-label to his own Western Star to keep on releasing this stuff.
The second release in the serie concerns another well established name on the scene: Restless. I don't think it's possible to find someone who doesn't like "Why Don't You Just Rock?" or "Do You Feel Restless?" They made a name on both rockabilly and psychobilly scenes. When this gig was recorded in September 1984 they were at their finest, the line-up being original members Mark Harman on guitar and Ben Cooper on drums plus bassist Jeff Baily and, freshly recruited, Mick Malone on second guitar. The quartet plays killer tunes one after another (with the exception of the Phantom's Love Me which doesn't fit them well – sorry Mark you're not a wildman). This set even features an original that never appeared on a studio album and written by Malone.
Buy it at Western Star
---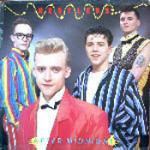 Restless – After Midnight
ABC [1986]
What Can You Say – Somebody Told Me – Do You Really Need To know? – Trouble rides A Fast Horse – Bye B B By By Bye – How Can I Find You? – You Lose – After Midnight – Dark Blue Sea – The Face – Just A Friend
Shortly after the release of Do You Feel Restless, the band's second album, Paul Harman left Restless to be replaced by Jeff Bayly. Around the same time they added Mick Malone on second guitar.
In 1985 the ep Vanish Without A Trace announced a slight change in the band's sound, slowly moving from neo-rockabilly to modern-rockabilly, sometimes bordering on psychobilly but their fans couldn't imagine that their sound would change so drastically. "After Midnight" took everybody by surprise with its radio friendly production, synthethic drums sound, keyboards and horns. In trying to gain a wider audience, which they never really did, Restless had lost its personnality. The rockabillies ignored the album and so did Top Of The Pops, a typical case of a no winners situation. "After Midnight" was a total waste of talent comparable to Frenzy's Sally's Pink Bedroom.
---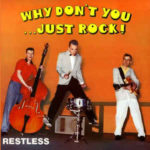 Restless – Why Don't You Just Rock
Nervous records Ner004 [1982]
It's A Scam – Ice Cold – Why Don't You Just Rock! – High Time – Last Chance Baby – Tag Man Tag – Long Black Shiny Car – Face In My Gin – Yellow Cab To Midnight – Morning Comes Slowly – Black Cat – Travellin' – High Time 2* – Later* – That's Alright* (*cd only)
Restless have a problem: their first album was perfect. One could argue that this is not such a big problem and many bands would like to have such a problem. It became a problem for them when they never managed to recapture the magic of that first album (though Do You Feel… came close).
Why Don't You Just Rock was like a lightning in a bottle. The band had it all: the songs (mostly penned by singer and guitar player Mark Harman), the talent (with Harman's guitar everywhere but also a tight rhythm section made of his brother Paul and Ben Cooper on drums)  but also the freshness and some form of carefree attitude that you have when you're a teenager and you play that kind of music. Thus, they brought something new to the genre, making a lively album that rocks, bops, swings and rolls. A 80's equivalent to Gene Vincent and the Blue Caps (a huge influence on the band).
There's no need to do a song by song review, each number here is almost a classic: the title track, Ice Cold, Yellow Cab to Midnight, High Time (with its crazy jazzy guitar), Long Black Shiny Car. Unlike many they're not afraid to play a ballad (Morning Comes Slowly) seriously.
And if you still need to be convinced, just count the numerous band this particular album influenced. They are legions. Restless, with Why Don't You Just Rock, almost define, with the Blue Cats and a couple more bands, what neo-rockabilly is.
Fred "Virgil" Turgis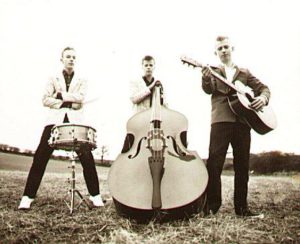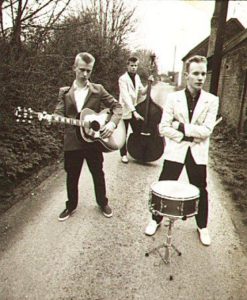 Share the post "Restless"