The Caravans – Easy Money
Nervous Records – NERD 036 [1988]
Rough Diamond – Sneakin` Out – I`ve Lost , You Win – Cryin' – I Ain't Got No Excuses – Easy Money – A Better Place – Blues Train – Stranded – Good Bye, Good Bye – In The Heat Of The Day – Sometimes I Wish – Stoned Tired & Cryin` – (Be My) Heart`s Desire – Love Me Like You Do
The Caravans formed in 1983 and after a few contributions to various compilation albums they finally released ther debut album on Nervous records in 1988. The line-up for this album was Mark Pennington (double bass/lead vocals), Rich Caso (lead guitar who replaced former lead guitarist Rob taylor), Darren Francis and Brian Gillman (rhythm guitars) and Lee Barnett on drums.
The result is very good melodic but hard hitting neo-rockabilly. All the songs are originals mostly from the pen of Pennington. Some songs are very good (Easy Money, Goodbye Goodbye, Sneakin' Out, A Better Place, Cryin' in a neo-Gene Vincent style or the hillbilly skiffle of In the Heat of the Day with accordion) still, some are more average and break the dynamic and the homogeneity of the records . And on some songs the two rhythm guitars add more confusion than power.
A good album but had it been limited to 6/7 tracks it could have been a killer.
Later reissues on cd include four unreleased songs from the same sessions.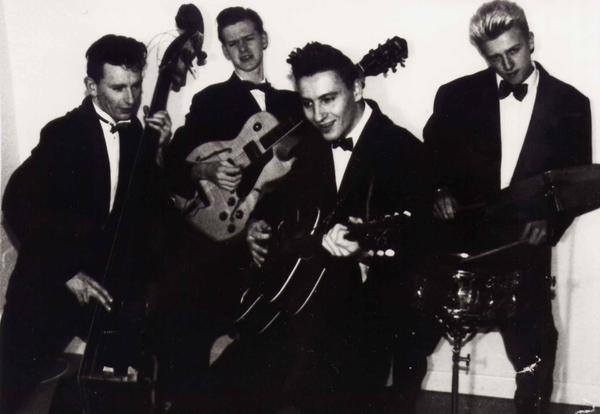 ---

The Caravans – No Excuses
Chuckeedee Records – CHUC 001 [1991]
After the release of their debut album (Easy Money) the Caravans saw some line up changes. Brian Gillman, Darren Frances and Lee Barnett had left . Mark Pennington (vocals and double bass) and Rich Caso (lead guitar) then recruited Johnny Bowler (who played bass with Caso in Get Smart) to play drums and this three piece band recorded No Excuses for Chuck Harvey (Frantic Flintstones) short lived label.
Though Easy Money was good, it contained a few fillers that broke the dynamic of the album and were a bit monotonous on long distance. This is not the case here. No Excuses is simply perfect. It's exactly what one can expect from a neo-rockabilly album with powerful slap bass, syncopated drums (with breaks and rolls), light guitar. The absence of the two rhythm guitar doesn't affect the sound of the band, far from that. It's clearer and Caso's solos are more in evidence rather than drawned in the rhythm section like on Easy Money. The better mix also helps alot to achieve that.
The reissue features the three tracks of the « On The Rocks » Ep.
---

The Caravans – Straightside
Rockout [1994] Crazy Love [reissue 2001]
Sure Miss You – Hobo Baby – Rockin' Tonight – Baby Blue Eyes – Sunset Blues – She's Just Rockin' – Baby that's Where You're Wrong – Mean & Cruel – Lost Love Blues – Do Without You – That's What It's Meant Tobe – Freight Train – That Gal Of Mine – That's My Belief – Gonna Love Ya – Ole River Blue – Want U Back
New album and new line-up for the Caravans. On Straightside Sean Goan arrived on drums, Jonny Bowler switched to doublebass and leader Mark Pennington ended on… guitar.
But this is the main change to be noted for the music remains more or less the same than on the previous albums.
Good originals and tailored made covers to suit the brand of neo-rockabilly that became the Caravans' trademark.
Originally released on orange vinyl on Gaz Day's Rockout records and later reissued on cd on Crazy Love with five bonus tracks.
Fred "Virgil" Turgis