Frank Virtue & the Virtues – Rock
Bear Family BCD 17533
Esquire Boys – Guitar Boogie Shuffle / Esquire Boys – Rock-A-Beatin' Boogie / Frank Virtuoso & The Virtues – Rollin' And A Rockin' / Frank Virtuoso & The Virtues – Toodle-Oo Kangaroo / Frank Virtuoso & The Virtues – Good Bye Mambo / The Rhythm Rockets – Stranded In The Jungle / Tom Friday & The Rhythm Rockets – Hallelujah, I Love Her So / Frank Virtuoso – Corinne, Corinna / Frank Virtuoso – Fever / Joe Fortunato & The Rhythm Rockets – Roll Over Beethoven / Frank Virtuoso – Rattle My Bones / The Rhythm Rockets – Boppin' The Blues / Frank Virtuoso – Mambo Rock / The Rhythm Rockets – Rip It Up / Frank Virtuoso Quintet – Go Joe Go / Frank Virtuoso & The Virtues – Hop, Skip, Jump and Mambo / Frank Virtuoso – Straighten Up And Fly Right / Frank Virtuoso – Let's Have a Party / Frank Virtuoso & His Men of Virtue – My Constant Love / Frank Virtuoso & His Men of Virtue – I'm Going Home / The Virtues – Guitar In Orbit / The Virtues – Guitar Boogie Shuffle / The Virtues – Flippin' In / The Virtues – Shufflin' Along / The Virtues – Virtue's Boogie Woogie / The Virtues – Pickin' The Stroll / Frank Virtue & The Virtues – Highland Guitar / Frank Virtue & The Virtues – Marching Guitars / The Virtues – Guitar Boogie Twist / The Virtues – Guitar Shimmy / The Frank Virtue Combo – Manhunt / The Twangy Rebels – Rebel Rouser "65"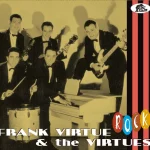 This compilation sheds light on a relatively obscure (at least for me) figure. Frank Virtue was a bass player from Philadelphia who recorded many sides under his own name or with various bands.
The first two songs find Virtue playing bass with the Esquire Boys, featuring none other than the great Danny Cedrone, the genius behind the hot guitar solo of Rock Around the Clock.
When Virtue formed his own combo (Frank Virtuoso and the Virtues), the Haley craze was at its peak. The influence of the man with the kiss curl can be heard on all these numbers, featuring sparkling guitar, hot sax and infectious beat. The sides recorded under the Rhythm Rocket moniker are less interesting. Being produced for budget labels, they lack originality and try too hard to sound like the original versions.
Then Virtue switched back to Frank Virtue (without a band name) and put on wax a batch of great tunes from Little Willie John's Fever to King Cole's Straighten Up and Fly Right. The sound falls halfway between the Jodimars and Haley's stuff sung by Billy Williamson. Virtue is not the greatest singer, but he compensates with enthusiasm and energy.
Another incarnation was Frank Virtuoso and his Men of Virtue. The songs are less rocking and more pop-oriented and mellow. Yet the quality of the musicianship remains, as proven by the guitar on I'm Going Home.
Go Joe Go, recorded under the Frank Virtue Quintet name, is one the best track of this compilation: a fantastic jazzy yet rocking instrumental. More instrumentals were cut under various monikers, mixing Arthur Smith and Duane Eddy (and for some with a touch of Twist) or the atmospheric and reverb-laden Manhunt.