Billy Hancock and the Tennessee Rockets – Rootie Tootie
Ripsaw 211 [1978]
Rootie Tootie / I Can't Be Satisfied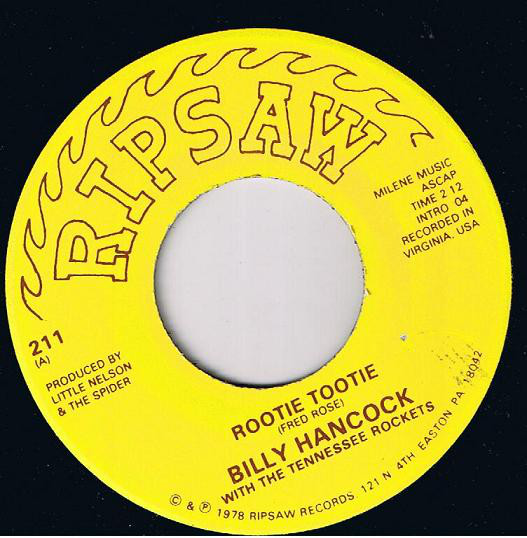 For their first Rockabilly release, Ripsaw records borrowed the winning recipe that Sam Phillips used to introduce Elvis to the world. Recorded by Billy Hancock and the Tenessee Rockets, this superb piece of stripped-down Rockabilly features a hillbilly cover (Hank Williams' Rootie Tootie) on side A, while a blues cover can be found on the flip (Muddy Waters' Can't Be Satisfied).
At the time of its release in 1978, it was probably the most authentic-sounding Rockabilly ever recorded since the fifties. Very few, if none, before (and even after) captured that early Elvis Sun sound – with a slight Charlie Feathers influence – like Billy Hancock. In that, he's ideally helped by Don Mulkey on double bass and Jeff Lodsun on drums.
Also available on The Best of Ripsaw Records vol.1 (Rootie Tootie) and vol.4 (I Can't Be Satisfied.)
---
Billy Hancock and the Tenessee Rockets – The Boogie Disease
Ripsaw 213 [1979]
The Boogie Disease / Knock-Kneed Nellie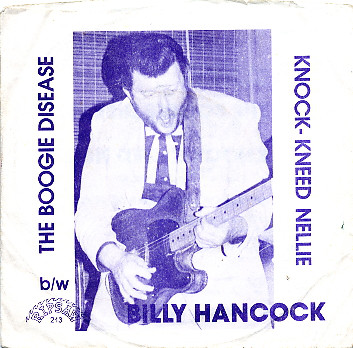 For his third single for Ripsaw, Billy Hancock covers Dr. Ross blues classic and turns it into a frantic Rockabilly tune. Mitch Collins on piano and Tex Rubinowitz, Little Nelson, and the Spider (co-founders of the label) on backing vocals augment the line-up of the Tennessee Rockets (Bob Newscaster, Bryan Smith, and Jeff Lodsun).
The B-side features an original song by Hancock titled Knock-Kneed Nellie written with Charlie Feathers in mind and his long tradition of impaired women (Tongue Tied Jill, Stutterin' Cindy). Hancock gives one of his best vocals performance. In addition to the obvious influence of Charlie Feathers' hiccups, one can also perceive a bit of Buddy Holly, another favorite of Billy Hancock, in the melody.
Also available on The Best of Ripsaw Records vol.1 (The Boogie Disease) and vol.3 (Knock Kneed Nellie.)
---
Billy Hancock and the Tennessee Rockets – Miss Jessie Lee
Ripsaw 215 [1980]
Miss Jessie Lee /I'm Satisfied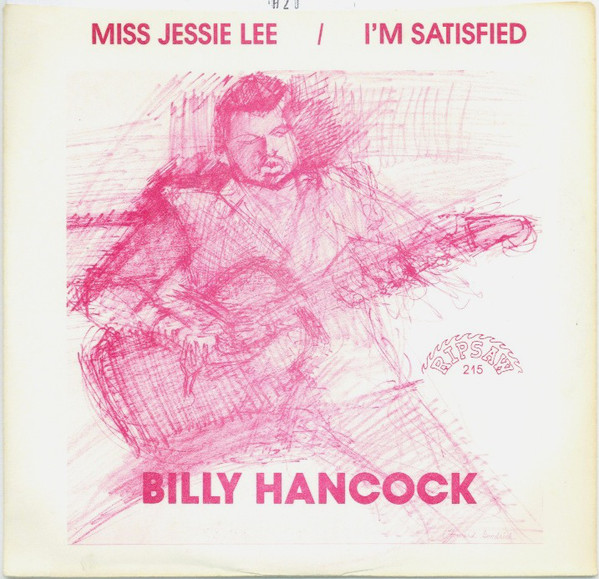 Another killer release by Billy Hancock. Side A is a cover of Eddie Burns (who probably took his inspiration from Sonny Boy Williamson's Good Morning school Girl.) With its breathless vocals, Hancock's version perfectly nails the Rockabilly's sense of urgency. Once again, the musicians (Bob Newscaster on guitar, Bryan Smith on slappin' bass and Jeff Lodsun on drums are top-notch.)
"I'm Satisfied" is an original penned by Hancock as an answer to I Can't Be Satisfied (see Ripsaw 211.) It's another solid piece of rockabilly that features two pairs of guitar solos performed by Hancock and Evan Johns.
Available respectively on The Best of Ripsaw Records vol.3 and vol.4.
---
Billy Hancock – Redskin Rock 'N Roll
Ripsaw Records 216 [1980]
Redskin Rock'n'Roll / Lonely Blue Boy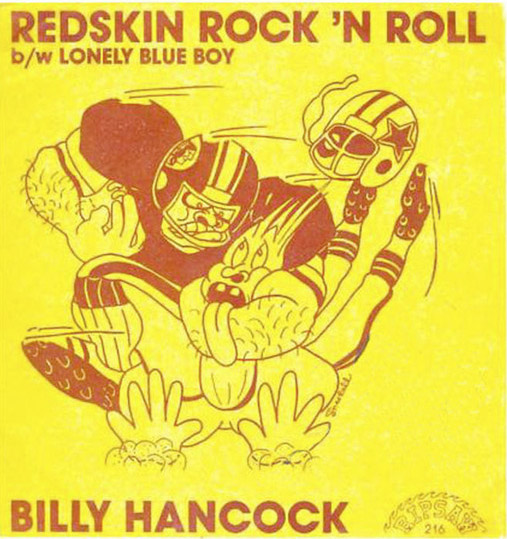 The A-side of this single is a solid Rock'n'roll song with piano and a final arrangement in the best Elvis tradition. Lonely Blue Boy is a cover of Conway Twitty but Hancock's version leans more on Elvis and he delivers a superb vocal performance.
Fred "Virgil" Turgis
Visit the Ripsaw records website.