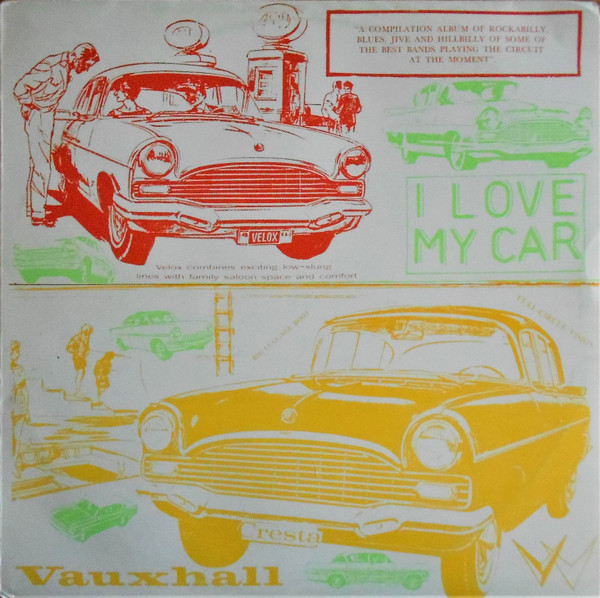 Various – I Love My Car
Fury Records – F3002 [1987]
Way Out West – I Love My Car / Rusti Steel & The Tin Tax – Howlin' / The Nitro's – Destruction Road / The Sticks Trio – Get Up And Shake It / Rockin' Rocket 88 – Put 'em In The Oven / The Hilltop Boys – Take A Chance Baby / Niteshift Trio – Don't Need No Body / Rover Boy Combo – Baby Let Me Show You The Door / The Baskervilles – Inside Power / The Bootleggers – Hey Poor Billy / Oakville Tune Wranglers – Roamin' Around / The Midniters – Where's Derek / The Playboys – Desperate Dan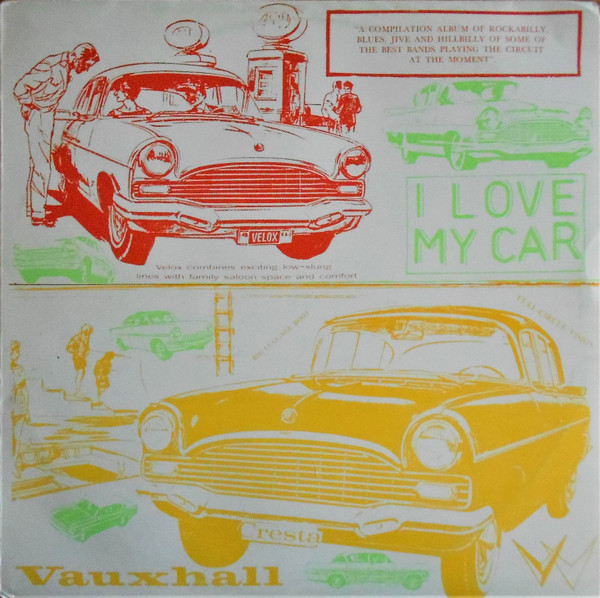 Fury records released I Love My Car in 1987. It is a more homogeneous compilation than many others released during the same period.
The compilation opens with the title song, played by Way Out West, a superb Rockabilly.
Rusti Steel and The Tin Tax is one of those bands that lean more towards Hillbilly and rural bop, like the Oakville Tune Wranglers, Rockin' Rocket 88, the latter with fiddle, or the Bootleggers who play with a harmonica and also mix skiffle to their music.
Some groups stand out. Thus, the young Nitros, in one of their first (if not the first) discographic appearances, are already excellent. The sound is raw, but all the elements that will make Nighshades, their first mini-album, a masterpiece, are present.
Many of the groups on this compilation will only make occasional appearances and never release an album (nor a single for some), and that's a shame. I am thinking of the excellent Sticks Trio. Their song Get Up And Shake is with She's Just Rockin', the only musical testimony of the group. It's too bad because their Rockabilly-Jive, influenced by the Jets and the Keytones, was very pleasant.
The Baskervilles, featuring Pete Turland and Darrel Higham, and their Neo-rockabilly tinged with Psychobilly will make another appearance on a compilation and then disappear.
Another band that is difficult to find information on is the Hiltone Boys. Besides their four-track demo, this is, as far as I know, their only release. Their contribution, Take A Chance Baby, is traditional rockabilly with slight modern accents à la early Restless. Likewise, the Niteshift Trio brings a little neo-rockabilly touch to the ensemble.
The Midniters stand out from the rest of the selection. This is one of the earliest incarnations of the band, featuring a saxophone. Their rock instrumental seems to come straight out of a Hot Rod compilation from the early sixties. Very different from the neo-rockabilly/psychobilly of Easy Money, their debut album.
Finally, the Playboys (with Rob Glazebrook ex Rochee & the Sarnos) conclude the album with desperate Rock'n'roll.