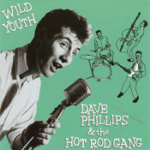 Dave Phillips and the Hot Rod Gang – Wild Youth
Rockhouse [1982]
Wild Youth – She Will Come Back – 56 Boys – Tainted Love – Love Me – My Turn – On The Move – One And Only – Flea Brain – Should I Ever Love Again – Summertime – Baby Blue – Just Can't Believe – Wow
Having left the Blue Cats in 1980, Dave Phillips took some time off before forming his own band. Still with Gene Vincent in mind he named his new band the Hot Rod Gang after the 1958 movie featuring the screaming kid. The first line-up consisted of John Day and Ray Thompson on guitars, Rob Tyler on drums and of course Dave Phillips on double bass and lead vocals. But it's the second line-up with Mark Harman from Restless on guitar replacing both Day and Thompson that entered the history of modern rockabilly. Harman was the perfect choice, his fast Gallup influenced licks being the perfect complement to Phillips. The trio recorded Wild Youth in late 1981 and contrary to what the cover reads it's Tyler on drums and not Andrew Wrightson who was the band's driver (even on the cd reissue features the mistake).
One can suppose that the label (Rockhouse for both) acted with Phillips the same way he did with the Blue Cats' second album (with Clint Bradley) hence the presence of many familiar cover in a more traditional style (Flea Brain, Summertime, Baby Blue and the Phantom's Love Me sung by Harman). But there's enough modern stuff to make of Wild Youth a benchmark in Neo-Rockabilly history, the best known being their cover of Tainted Love. It's an instant classic that will have a lasting influence on many young bands.
Essential to any decent collection.
Fred "Virgil" Turgis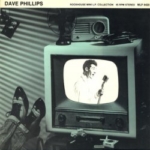 Dave Phillips – Rockhouse Mini L.P. Collection
Rockhouse Records – MLP 8420 [1985]

Brand New Beat – The Fun Of It – In My Dreams – So Now You've Lost her – You Don't Want to Know – The Trip
I said it before and I'll say it again, mini lp are often the best support for Rockabilly. It's short, every number counts and there's no place for fillers.
Dave Phillips' mini lp for Rockhouse is the perfect exemple of that statement.It's almost perfect and dare I say, even better than his debut solo album.

Once again one can hear the influence of Gene Vincent, with the covers of Brand New beat (imagine Vincent revisited by Restless of vanish Without A Trace period) and In My Dreams which is probably the weakest song of the album (but to his discharge it's hard to compete with Vincent on that type of song.)
The four remaining tracks are originals. You Don't Want to Know features Mark Harman of Restless (and former hot Rod Gang member) on guitar and is a rockin' ballad with once again the shadow of Gene Vincent over it.
So You've Lost Her is a medium rocker while the Fun of it is a fast neo-rockabilly with breaks later covered by French band the Happy Drivers on their debut album and the Trip is Worth th eprice of the album alone. This fast modern rockabilly number (with a dash of psychobilly) is a modern masterpiece.
Dave Phillips – The Best Of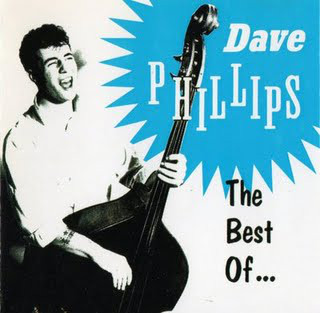 Rockhouse records ROCKCD8603
Tainted love -'56 Boys – Wild youth – She will come back – Love me – On the move – It was free – The trip – Every walk of life – I saw her standing there – Sunshine girl – So now you lost her – The fun of it – Brand new beat – I'm gonna die – I'm driving home – Boogie up roar – Pink thunderbird – Cat man
If you don't have any of the solo albums of Dave Phillips or the Blue Cats (which is, in my opinion, a shame), you should definitely acquire this best-of album.
It covers the "Rockhouse years" of the fame double-bassist, with songs from the first Blue Cats album, the studio recordings (including the hit Tainted Love) and two live songs lifted from the Live at the Rockhouse compilation album.
It also shows that Phillips always had the best musicians to back him, Rob Tyler on drums and aces like Mark Harman, Paul Gaskin and Mick Malone on guitar.
Fred "Virgil" Turgis
Read our in depth interview with Dave Phillips here.