Last year, I stumbled upon a brand new artist who sang Rockabilly and hillbilly bop just the way I like it (understand: with a strong will to write melodies and a good dose of Buddy Holly in it).
Once I received his debut album, it stayed in my player for weeks. That was exactly what I was expecting from a band: superb voice, excellent musicianship and a batch of original songs that didn't sound like you've already heard them 100 times before.
When I was thinking about removing the album from my player, Colton Turner (that's the name of the artist by the way in case you'd wonder) and his band (Zane Turner, Yari Bolanos and Alberto Tello) released a second album that was even better.
Suddenly, I heard in my head a little voice that said "Virgil, if you doen't write an article about this band, what the use of this website?"
So here it is (and don't forget to buy their albums).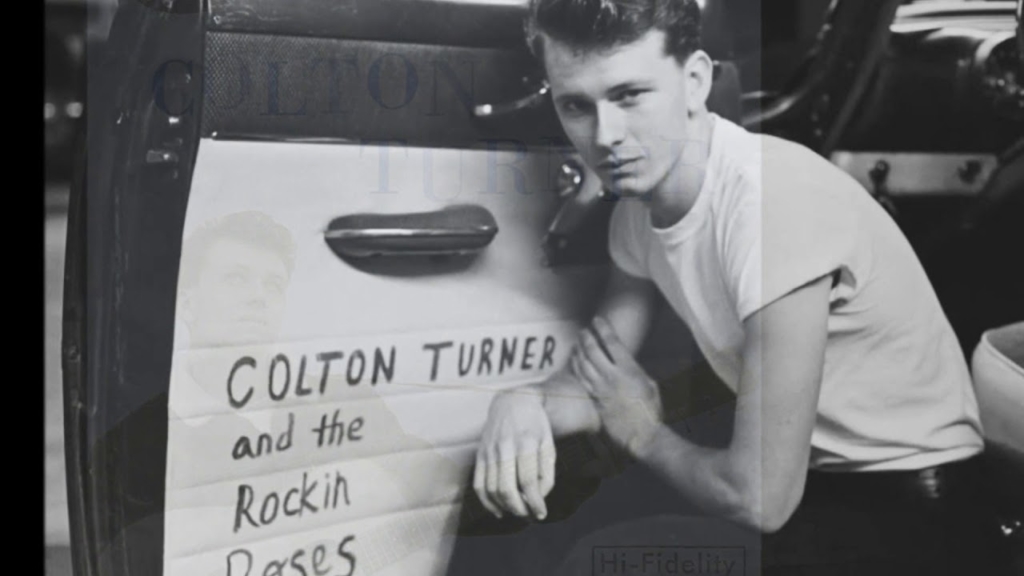 Colton Turner and his brother Zane ­ who plays guitar in the band ­ grew up in Carlsbad, California. In High School the two brothers got into the Beatles and other sixties Rock'n'roll artists. With the Beatles covering artists like Carl Perkins, it didn't take long before they discovered the first generation of Rock'n'roll musicians. "It was pretty over once we got hold of a Buddy Holly cd." says the singer.
They quickly decided to form a band. The first line-up of the Senders, as they were called, was Colton and his brother Zane and a drummer called Jack. They were soon joined in 2015 by Yari Bolanos ("Jerry as we call him") on bass. The bass player remembers how he heard about the band "(Jack) told me about a band he was in that played 1950's Rock'n'roll exclusively and I asked if I could maybe rehearse with them so that next day I came over to their garage to try out and it took off from here."Colton adds "We practised a couple of times and it just seemed like a real natural fit. (…) We had a lot of fun playing around and just hanging out."
Yari has found memories about this formative years "The Senders was a pretty fun band, we were all electric, besides drums. Colton and Zane had matching electric guitars and I played a P bass at the time. We would practice in this tiny garage everyday for hours on end, which I think really helped us really fine tune our sound. Our gigs were mostly bars and restaurants, and occasionaly a bigger gig like the county fair. We had a few recording sessions at Paladins' bass player Thomas Yearsley's studio in Oceanside, Ca. To be honest we didn't really know who he was at the time but he treated us like he's known us for years and we are very thankful for his hospitality and his patience while recording us!"
Moving to Austin, Texas
The Senders stopped when Zane and Colton Turner decided to relocate to Austin, Texas. But the Colton brothers eventually persuaded Yari to join them "The two brothers had called me out of nowhere after about a year since they had moved to tell me that they bought me a greyhound ticket bus to Austin. They were planning on recording again and wanted me to play bass on the recordings, I didnt really have anything going on so I decided to just go for it and visit for a couple of weeks." Little did he know that he would stay a little lot longer.
This time also saw Yari switch from electric bass to double bass full time. One of the reason being none other than the great Kevin Smith of High Noon fame (now with Willie Nelson) "After I heard him play in High Noon it really motivated me to get serious about trying to improve my Upright Bass playing. I've been fortunate enough to see him live and chat with him for a bit."
The trio was soon completed by the missing piece of their rockin' puzzle: Alberto Tello, an Italian drummer who lived in Austin. In his country, Alberto played ten years with Tribal Bops as well as Marco di Maggio then moved to Austin in 1996 where he played with Shaun Young and the Horton Brothers when they were still called the Fender Benders. He returned to Italy but was back for good in 2001where he played with Nick Curran (though he never recorded with him he can be seen on a semi-bootleg dvd that I highly recommend, if you can put your hand on a copy), Shaun Young and the Texas Blue Dots, Barbara Lynn. He then crossed path with Colton, Zane and Jake. According to Colton Turner they met when "The three of us saw a man with a Vespa (actually a Lambretta – ed.) take a nasty fall around a turn. We went to see if he was O.K. and began talking, he was alright and it just so happened he played drums." Alberto's version is more prosaic "I meet the Turner gang during SXSW, I saw them play on trio without drum, on one show case. They sounded really good. So we start to talk, and they ask me if I was interested to play a gig with them" Anyway the trio was now a quartet.
Recording at Fort Horton
It didn't take long for them to be ready to record and they soon got in touch with Billy Horton of the famous Fort Horton studio where were recorded albums by High Noon, Dave Stuckey, Nick Curran, the Bellfuries, Cave Catt Sammy, Nikki Hill and of course the Horton brothers. "We came in contact with Billy Horton after seeing him play live a few times around town." says Colton "We were unaware that Fort Horton studios existed prior to our move to Austin but we are certainly glad it does." Alberto pursues "I pushed for recording at Billy studio, but just a little bit, because I know Colton would be perfect for the quality of Forth Horton recording." And he was right. Fort Horton sure was the right place and Billy Horton managed to capture the band's energy on tape using vintage material (two 1954/1955 Ampex 350 reel to reel, 1/4″ mono.) with the band recording live (" if you don't want any mistake in the recording, don't make them" says Billy Horton)
All involved really enjoyed the session. For Colton "The recording of our first record was an all day affair but we managed to record the entire thing in one session. Fort Horton is a fantastic studio and we always enjoy our time while we are there." Yari agrees "It was awesome! Billy really knows what he's doing and has a very good sense of capturing the best of each band he records."
Their self released debut album came like a breath of fresh air on the rockin' scene. As I wrote earlier in my review, it made me feel like the late 80's/early 90's again, when bands like High Noon, Big Sandy, Go Cat Go were appearing.

The Rockabilly Rave
It wasn't long before the promoters heard of the band and soon Colton, Zane, Yari and Alberto were playing the 2018 edition of the Rockabilly Rave. " The Rockabilly Rave was our first time over seas and it was fantastic! Aside from hearing all the great music we really enjoyed seeing new places and most importantly meeting great people and making new friends!" remembers the singer. For Yari it was "absolutley incredble! I have never experienced such appreciation for newer rockabilly music ever. The people were very friendly and all of the bands that played were amazing. I enjoyed every moment of that trip and hope to play again in 2019! (since this interview took place the band annouced that they were booked for 2019 – ed.) I never would have imagined playing all the way in London!"
The newest album
Before playing the Rockabilly Rave, Colton Turner and his band had recorded a second album, still at Fort Horton. The same ingredients that made the success of their first are still here with the addition of a lap steel played by Bobby Horton of a couple of tracks thus expanding the sound of the album. Once again all songs are originals " My song writing varies a lot and I enjoy writing in different styles. I listen to all genres of music from country and rock 'n' roll to doo wop and swing so all the different moods of the album come naturally." He cites Buddy Holly, Chuck Berry, Elvis Presley but also Frank Sinatra and country artist like Jim Reeves.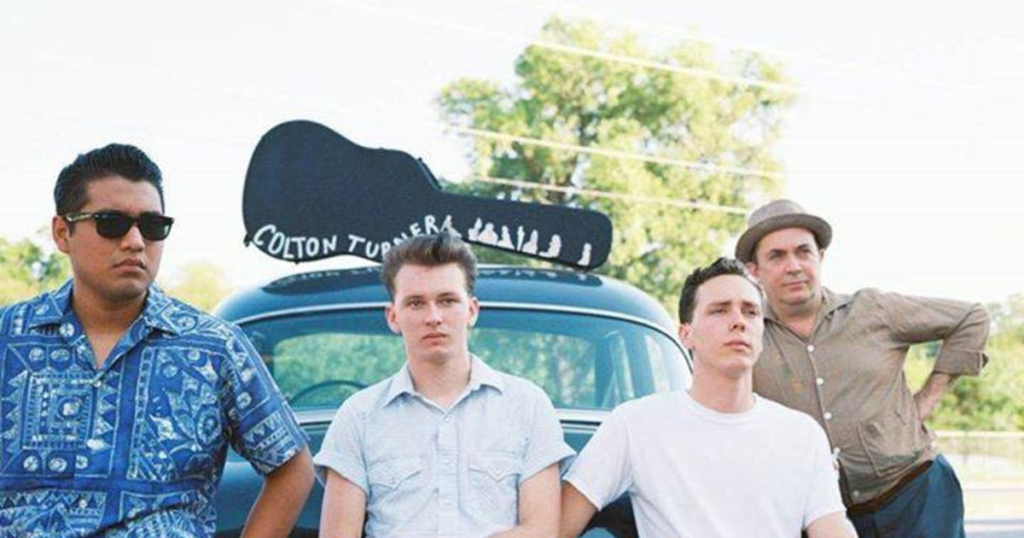 Asked about how the band works on the songs, Alberto explains "Most of the time Colton has already develop the song in his mind, he has 90% of the song already lay down, we add rhythm and embellishment." Yari completes "Colton usually has it all planned out in his head already. He will play the songs then we slowly start joining in. Its a very straight forward process since he pretty much knows what direction he wants to go. From there we play the song until it feels like its right."
The result in an excellent album mixing soft rockabilly/rock'n'roll reminiscent of Ricky Nelson or Buddy Knox with hillbilly boogie, some Diddley beat, straight rockabilly and mean rock'n'roll. It's available on El Toro's website or directly from the band.

Now I'm sure that Colton Turner will confirm in the future all the good things that his first two albums and his recent stage appearences announced and that this is only the first chapter of a long story.
Fred "Virgil" Turgis
Thanks to Colton Turner, Yari Bolanos and Alberto Tello for their help and their time.