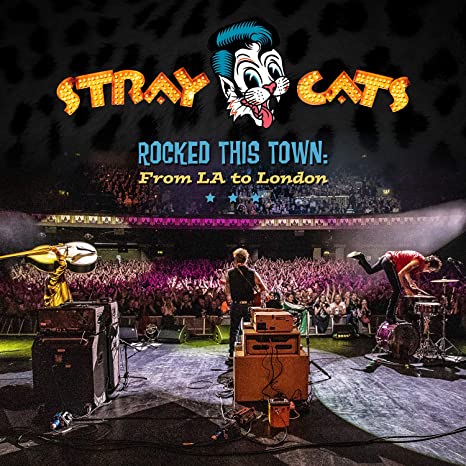 Stray Cats – Stray Cats
Arista [1981]
Runaway boys – Fishnet stockings – Ubangi stomp – Jeanie jeanie jeanie – Storm the embassy – Rock this town – Rumble in Brighton – Stray cat strut – Crawl up and die – Double talkin baby – My one desire – Wild saxaphone
In the late 70's, a trio of three young Rockabilly cats dug in their parents records collection and without any complex and a good dose of naivety took a 25 year old music and made it sound fresh again (which led to a certain animosity from the purists.) Sure they liked Cochran, Vincent and Burnette but they also grew up in New York during the heydays of Punk music.
The construction and the progression of the album itself are faultless. A-side opens with the hypnotic beat of "Runaway Boys" and ends with the rockin' hymn "Rock This Town". In between, two covers get the Stray Cats treatment (Warren Smith's "Ubangi Stomp" and Cochran's "Jeanie, Jeanie, Jeanie") and two original songs. Of course "Fishnet Stockings" is very similar to Lew Williams' "Bop Bop Ba Doo Bop". That's obvious. "Storm The Embassy" is a solid rocker but have nothing to do with rockabilly (actually Setzer played it in his previous band "The Bloodless Pharaohs" under the name "Boys Having Babies" and with different lyrics). The song is kinda political and refers to the Iranian crisis and American hostages in the late 70's. With a song so closely linked to the actuality, it didn't allow them to perform it on stage long after 1981, which is bad because musically speaking it rocks (listen to the live bootlegs issued from this period).
The B-side is more or less built on the same structure. The wild (also with a hypnotic riff) "Rumble In Brighton" opens the show. Depending of the pressing one can hear Setzer yell "Ein, Swei, Drei, Vier" at the beginning but you have to listen closely.
The origins of "Stray Cat Strut", their signature song were subject to questions. Of course it's the same chord progression than"Hit The Road Jack" and some advanced "Icky Poo" an instrumental by the Nomads or "Lonely Travelin'" by Lonesome Lee as possible sources. But these are rather obscure songs, especially in the late 70's and it neglects the fact that Setzer grew up in New York and as we said was a Punk fan in his youth. That's the reason why I believe that the origin of Stray Cat Strut is to be found in Richard Hell's Blank Generation (a band that often had as a support act the Bloodless Pharaohs). Listen to the guitar solo from Robert Quineand the "Woo-Woo" in the middle, it's all here. Anyway the band put enough of them to make it a great number and one of the highlight of their shows.
"Crawl Up And Die" is a variation on Bill Allen's "Please Gimme Something" and shows another side of Setzer's voice, the torrid one. The covers on this side are Ricky Nelson's "My One Desire" (sounds like the band used to listen to a lot of Imperial Records), Vincent's Double Talkin' Baby and Roy Montrell's "Mellow Saxophone" renamed here "Wild Saxophone" with Jim providing a solid beat and Gary Barnacle on sax. Brilliant.
---
Stray Cats – Gonna Ball
Arista [1981]
Baby Blue Eyes – Little Miss Prissy – Wasn't That – Good Cryin' Shame – (She'll Stay) Just One More Day – You Don't Believe Me – Gonna Ball – Wicked Whisky – Rev It Up and Go – Lonely Summer Nights – Crazy Mixed Up Kid
Following the huge success of their debut album, at least in Europe, the Stray Cats took a break in their heavy touring schedule and in August 81 they flew to Air Recording Studios in Montserrat in the East Indies to record their second album. This time the band took over the production duties with the help of sound engineer Heinz Hoven. The trio, augmented by the presence of prestigious guests including veteran Lee Allen (Little Richard, Fats Domino, Smiley Lewis and later The Blasters) on sax and Ian Stewart (Rolling Stones) on keyboard played a blusier form of rock'n'roll rather than the modern rockabilly they were known for.
Half of the album is made of blues or blues influenced songs: "Rev It Up and Go" and in a lesser extent "Little Miss Prissy" are obviously influenced by the great Chuck Berry. "You Don't Believe Me" shows the influence of Elmore James with Setzer on slide and "Wasn't That Good" proves that they are more than able to deliver a good jump blues (which they'll later confirm with "Look At That Cadillac" and Lucky Charms") and "Cryin' Shame" features a fine harmonica part. Only "(She'll Stay Just) One More Day" sung by Lee sounds weak and artificial. Though it features a nice organ part, the song is not great and Lee at that time wasn't the singer he is nowadays.
Of course, Rockabilly is never very far with Johnny Burnette's Baby Blue Eyes, the raw Gonna Ball (actually a remake of the Wheels' Let's Have A Ball) and the instrumental "Wicked Whisky" also cut as a vocal track under the name "Cross That Bridge" as a b-side and on Japan pressings. "Lonely Summer Night" proves that Setzer can top the greatest ballads of the 50's and "Crazy Mixed up Kids" ends this album at a frantic pace.
This blues orientation confused the fans and the "Gonna Ball" was only a semi-success if you compare to "Stray Cats".
---
Stray Cats – Built For Speed
EMI [1982]
Rock This Town –  Built For Speed –  Rev It Up & Go – Stray Cat Strut –  Little Miss Prissy – Rumble In Brighton –  Runaway Boys –  Lonely Summer Nights – Double Talkin' Baby – You Don't Believe Me – Jeannie, Jeannie, Jeannie – Baby Blue Eyes
By 1982, the Stray Cats finally achieved success in their own country which led EMI to release this compilation featuring 6 tracks from their debut album, five from Gonna Ball and one new song, the title track, a great country-rockabilly.
---
Stray Cats – Look at that Cadillac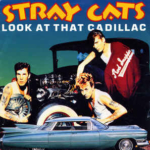 Look At That Cadillac / Lucky Charm [1983]
Arista 106-271
This is the 7″ that started it all for me. I still clearly remember the day I bought it with my older brother back in 1983 (I was 10, man how time flies). The A-side is a classic jump blues with saxes and piano. Good song if not very original, with Setzer talking about how hard he needs a Cadillac. "Look At That Cadillac" pleased me for sure, but the real jewel was on the B side. "Lucky Charm (oh Wee Suzie)" was – and still is – one of the best songs the Stray Cats ever wrote. Setzer's voice is perfect. It looks like the curse of the great guitar player, as sometimes no one pays attention to their vocals. Back to the song, it was probably recorded during the same session, as the saxes and piano are still here. This one is more a swingin'/rockin' tune with every musician taking a hot solo each, especially a very inspired boogie-woogie one by Geraint Watkins (Crazy Cavan, Shakin Pyramids, and many others) and at the end a short slap bass break. And at this moment I thought "Woah! That's what I want to hear!!!". And now more than 20 years later I still listen to this single with great joy. I guess this is the power of the 45.
Fred "Virgil" Turgis
---
Stray Cats – Ran't & Rave
Arista / EMI [1983]
Rebels Rules – Too Hip Gotta Go – Look At That Cadillac – Something's Wrong With My Radio – 18 Miles To Memphis – Sexy & 17 – Dig Dirty Doggie – I Won't Stand In Your Way – Hot Rod Gang – How Long Do You Wanna Live Anyway
Following the success of Built For Speed, the Stray Cats reunited with Welshman Dave Edmunds in 1983 to record "Rant & Rave" in London. They opted to return to what made their success and went back to their rockabilly roots (with an exception or two) after the blues inspired "Gonna Ball".
"Rebels Rule" is a good choice to start the selection. With a strong Diddley Beat, Slim Jim playing like a madman on his toms, and Setzer yelling "Rock'n'Roll is never too loud!" the pace is quickly set. The Stray Cats are back!
The next one, "Too Hip Gotta Go" is a good rockabilly and shows Setzer ability on the strings. A fun one to play (see the time Setzer takes to explain it on his instructional video) it'll remain in their live set list for a very long time. "Look At That Cadillac" is a fine jump blues with juicy saxes and piano. Though it's more a "sax" tune, Setzer plays a very interesting rhythmic pattern in the background.
"Something's Wrong With My Radio" is a wild rockabilly and the first side (or the first half for you cd's addicts) ends with "18 Miles To Memphis" a superb country tune with another brilliant guitar solo by Mr Setzer, followed by another brilliant solo this time on steel guitar (still by Mr Setzer) and a galloping rhythm provided by Jim & Lee.
"Sexy & 17" opens the b-side. It's a good song with a solid solo and it'll make its niche in the charts. Inspired by Roy hall's Diggin' the Boogie, "Dig Dirty Doggie" is one of their most rockabilly effort with a huge slap bass.
The style changes with "I Won't Stand In Your Way" a delicious ballad with a doo-woop arrangement. For this song the band is joined by the vocal group 14 Karat Soul. An accapela version exists too.
"Hot Rod Gang" was undoubtedly written with Gene Vincent in mind feature a fine Cliff Gallup influenced solo. The album ends with "How Long You Wanna Live Anyway?" the closest thing to Psychobilly the Stray Cats ever played with heavy guitar and pounding drums.
With 10 songs and not a weak track, the Stray Cats star was rising high. Sadly one year after the release of Rant & Rave the band disbanded and though they made different come-back with some solid songs and albums this is the end of the golden age of the Stray Cats.
---
Stray Cats – Rock Therapy
EMI [1986]
Rock Therapy – Reckless – Race With The Devil – Looking For Someone To Love – I Wanna Cry – I'm A Rocker – Beautiful Delilah – One Hand Loose – Broken Man – Change Of Heart
By 1986 each member of The Stray Cats was deeply involved in his solo stuff. Setzer had released his first solo album "The Knife Feels Like Justice" in a John Cougar vein at the beginning of the year and Lee and Jim teamed with David Bowie's guitarist Earl Slick in Phantom, Rocker and Slick for two albums if far to be exceptional contain some interesting things if you're curious or nostalgic of the 80's (and dig crazy hairdos). But the three of them were tied to EMI with, according to Setzer, a bad contract. The best way to solve it was to record this album.
So from the start it wasn't really a "new" Stray Cats album. One can suppose that each of them logically wanted to keep their best material for their solo career. This also explains why half of the songs are covers. But this album has its good moment and even a half-successful Stray Cats album is better than 90% of the rest. The 5 covers are very well done the best being Gene Vincent's Race With The Devil. But it's true that, with the exception of Charlie Feathers' One Hand Loose, the band is in well known territory with the likes Johnny Burnette, Buddy Holly, Gene Vincent and Chuck Berry ("Beautiful Delilah" was often played on stage around 1982).
When it come to the band's songs things are a bit different. Setzer's own "Reckless" shows the influence of his solo stuff and announces with an advance of 5 years how the Stray Cats would sound on Let's go Faster. "Broken Man" is far better with its banjo. Setzer had already toyed with the banjo on stage playing tunes like "Foggy Mountain Breakdown" which can be heard in the solo part. Phantom and Rocker provide "I Wanna Cry", sung by Lee, that owes more to their solo stuff than the Stray Cats. And when I listen to the guitar solo (a crappy heavy metal mush) I wouldn't swear that Setzer plays on it but blame Earl Slick for it. Finally the three of them join forces to write "I'm A Rocker". Nothing original here just a solid rocker with a strong train rhythm and two wild guitar solos but that's enough. "Change Of Heart" is something different from what the Stray Cats ever released, more pop, but eventually very pleasant. After this session they returned to their respective solo career but quickly reformed the Stray Cats, this time for good, in late 1988.
---
Stray Cats – Blast Off
EMI [1989]
Blast off – Gina – Everybody needs rock n roll – Gene and Eddie – Rockabilly rules – Bring it back again – Slip slip slippin in – Rockabilly world – Rockin' all over the place – Nine lives
In 1988, after respective solo careers not entirely convincing – to say the least – Setzer, Phantom and Rocker reunited and went back to what they do the best : rockabilly. Even the fourth Stray Cat (like George Martin could be the fifth Beatle) Dave Edmunds was back in the producer's seat. Slim Jim Phantom said "It's probably our most rockabilly effort" and he's right. Rockabilly with a modern edge and a 90's sound but the backbone is here. They cover Eddie Bond's "Slip, Slip Slippin' In", and half of the songs borrow to 50's rockabilly tunes. "Gina" is a Buddy Holly influenced song with Phantom adding a floor tom to get the Jerry Allison pattern, "Blast Off" sounds like "Jungle Rock" on speed but has good enough lyrics to be original, "Everybody Needs Rock'n' Roll" bears more than one common point with Glen Glenn's Everybody's Movin and of course "Gene And Eddie", Setzer's tribute to these two pioneers is very effective if not very original (the song is made of various verses from Vincent and Cochran songs). "Rockabilly Rules, Ok" – the title says it all – and "Rockabilly World" reinforce the rockabilly orientation and you also have a clear attempt to chart with the more commercial "Bring It Back Again" lifted as a potential single (sadly it'll fail to climb very high). The best track is "Nine Lives" a jazzy variation around "Stray Cats Strut", with clever lyrics, outstanding guitar solo and vocal from Setzer. Indeed this album marks a turning point in Setzer's vocal. He seems more confident in his talent as singer and his voice has gone deeper and more mature. This album may suffer the lack of powerful hits (like Stray Cats Strut, Rock This Town or Runaway Boys) and originality (four songs out of ten with the word rock in the title might sound a bit cliché). Nevertheless it's a solid rock album, very well produced and most of all, the listener can feel the fun and the joy to play together. The gigs to promote this one were good, energetic and fans had big hopes for the next album. Alas, a big disappointment was waiting for them.
---
Stray cats – Let's Go faster
Liberation records D30519 (AUS) [1990]
Toshiba-EMI TOCP 6520 (JAP)
Cross of love – Town without pity – Shotgun baby – Struck by lighting twice – Thing about you- Baby don't drag me down – Tight black leather – Give it to me – Let's go faster – Keep on running – Runaway train – Gonna be your rock (Japan only)
"We wanted to try something new", is what Setzer said in 1991 about this album. Probably disillusioned by the lack of success of "Blast Off", the Stray Cats hired producer Nile Rodgers (Chic, David Bowie, Madonna…). On the paper this association sounded quite weird, in reality it was even worse. At best the result sounds like Setzer solo stuff (and some songs come from his solo period: Cross Of Love, Thing About You) and at worse you have bad and already out of fashion 80's new wave. Very little can be saved from this wreck : "Let's Go Faster" (nothing original but a solid rock song with a riff ala Eddie Cochran), "Give It To Me" another one written with Buddy Holly in mind and on the contemporary side "Keep On Running". The remaining songs are mostly weak and the production is weaker. Looking for a modern (and a chart appealing) sound the band has lost its identity and its specificity. The result is the absence of the slap bass (replaced by an electric bass) a key element of their sound the same way the Gretsch and the stand-up snare are. Probably disappointed by the result the band issued "Let's go Faster" only in Japan and Australia. Later a bootleg album appeared with the demos. The lame songs stayed lame, but at least the good ones weren't wasted by the production.
The Japanese edition has a bonus track called "Gonna Be Your Rock" which is, in my own opinion, in good place for the title of "Worst Stray Cats song ever".
---
Stray Cats – Choo Choo Hot Fish
Pump Records – 50286 [1992]
Elvis On Velvet – Cry Baby – Please Don't Touch – Sleepwalk – Lust'n'Love – Cross Of Love – Beautiful Blues – Can't Go Back To Memphis – Jade Idol – My Heart Is A Liar – Let's Go Faster – Mystery Train
"Choo Choo Hot Fish" can be seen as the successful version of "Let's Go Faster". It is innovative yet still with a feet in the tradition and is their most ambitious effort to date. It also sees the return of Dave Edmunds behind the glass.
The opening track is representative of that mood, pumping sound, modern drums mixed with rockabilly elements for a tribute to Elvis. Next is "Cry Baby", a non retro melodic rockabilly tune. It is an instant Stray Cats classic and has that timeless sound that makes the trio so special. And with Edmunds on second guitar and on duet vocal it reminds the good old days of "The Race Is On".
Johnny Kidd's Please Don't Touch rocks like hell in Setzer and Rocker setlist in their respective solo careers. Santo and Johnny's "Sleepwalk" appears here for the first time, long before the orchestra and the Grammy Award. Though I grew rapidly tired of the heavy orchestra version, this one still sounds fresh today.
Both "Lust'n'Love" and "Can't Go Back To Memphis" harden the sound with heavy guitar and Jim hittin' the drums as hard as he can. "Lust'n' Love" keeps the backbone of rockabilly while "Can't Go Back…" is not that far from ZZ Top and it's very interesting to listen to this album today and compare it with Setzer's most recent albums ("Nitro Burnin' Funny Daddy" and "13"). Many elements were already presents 15 years earlier. In the same vein is "Cross of Love". I suppose that Setzer saw a lot of potential in this one as he recorded it twice before this album (once on "Let's Go Faster" and once during his first solo stint between 86-88).
The best song to appear on "Choo Choo Hot Fish" is "Beautiful Blues" co-written with Larson Paine. It's a splendid jazzy song with rich gipsy chords, astounding solo and superb brushwork from Slim Jim. Don't be fooled by the apparent simplicity of his drumkit this guy can really play. "Jade Idol" proves it too. This is a stunning atmospheric instrumental that would fit a James Bond movie to perfection. My definition for this kind of tune is "Music to drink Martini with…". "My Heart Is A Liar" is a fine acoustic ballad in the vein of Chris Isaak with once again a rich assortment of percussion. The last two numbers are solid rockers.
A new version of "Let's Go Faster" far better and richer than the previous one (courtesy of Dave Edmunds and his good sound) and a "Hey we have 5 minutes left in the studio how about doing a Elvis song?" version of Mystery Train. They clearly recorded this one live and it perfectly captures the feel and the excitement of the band. It also features a yodel part from Mr Setzer. Funny to see an album opening on Elvis On Velvet and ending on Mystery Train.
Sadly, "Choo Choo Hot Fish didn't touch a large audience.
---
Stray cats – Original Cool
Toshiba [1993]
Somethin' Else – Oh Boy – 20 Flight Rock – I Fought The Law – Lonesome Tears – Your True Love – Be-Bop-A-Lula – Blue Jean Bop – Can't Help Falling In Love – Flying Saucers Rock 'n Roll – Train Kept A Rollin' – Stood Up – Let It Rock – Trying To Get To You – Chet Ditty (Hidden Charms)
The Stray Cats last studio album was a bit of a disappointment. Of course Setzer gives some of his best vocal performance (listen to Ricky Nelson's Stood Up) and the band is on top form (with Jeffrey Baxter guesting on steel guitar). Even the production, though a bit slick is not that bad. But why, at this point of their career release an all cover album, especially of songs that one has heard a zillion times. This great band really deserved a better career ending than this "not-good-nor-bad" album.
---
Stray Cats – Live in Europe
Surfdog Records 44045 to 44059 [2004]
Neo-rockabilly kings the Stray Cats produced some mighty fine records, but were mainly known for their wild and furious Rockabilly live shows. Strangely, they never issued an official live album, letting the door opened to a bunch of bootleggers. When they reformed in summer 2004 for an European tour the Stray Cats must have thought that this time they won't let bootleggers make money on their back. The result is here, 17 gigs and 15 cd's. Don't look for booklets, photos of the show etc. The covers design is the same for all, except the colour. Musically, the sound is not top quality, they manufactured them very quickly and they didn't take time to produce 'em. I know many bootlegs that sound better than that. So depending on the records, you can't hear the drums, have too much bass etc. Why they didn't put the whole shows on the cd's (only 17 songs, no more no less) is the first question one will ask? But the answer seems evident when you realize that the songs that are not on Paris are on Bruxelles and so on… It really looks like an economic choice as they know that many fans will buy a maximum records to have all the songs. In other hand it's good to hear tunes the Stray Cats rarely performed live (18 Miles to Memphis, Rev it up and Go), a few covers never played on album (Unchained Melody, in french for Paris ; That's All Right, Blue Moon Of Kentucky celebrating the 50 years of rock'n'roll; Red Hot). But I think this records concern mostly those who attended the shows. But if you weren't there and want to buy one, I'd recommend the second part of the tour as the band is getting better and better (too bad that I went to Paris, the opening show of the tour).
---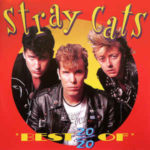 Stray Cats – 20\20
Arista – 74321131172
Runaway Boys – Rock This Town – Can't Hurry Love – Rumble In Brighton – Stray Cat Strut – Double Talkin' Baby – Cross That Bridge – Baby Blue Eyes – Built For Speed – (She's) Sexy + 17 – Lookin' Better Every Beer – Cruisin' – Lucky Charm (Ooh Wee Suzy) – I Won't Stand In Your Way (a cappella) – Look At That Cadillac – Rebels Rule – Looking Out My Backdoor- Drink That Bottle Down -Sweet Love On My Mind -Something Else
20/20 is probably one of the best (if not the best) Stray Cats compilation or best-of ever released. Not only it contains the well-known and best songs from the first three albums (the Arista years) but what makes the difference with the other releases is that it also contains the b-sides and some rarities most of them being unavailable on cd before.
It includes covers of Creedence Clearwater Revival, the Supremes, Gene Vincent but also originals like the excellent jump blues « Lucky Charm » (b-side of Look At That Cadilac), the a Cappella version of « I Won't Stand In Your Way », the country tinged « Looking Better Every Beer », and « Built For Speed » the original that gave its name to the compilation album gathering Stray Cats and Gonna Ball for the American market.
Fred "Virgil" Turgis
---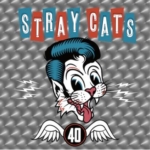 Stray Cats – 40
Surfdog / Mascot M75895
Cat Fight (Over A Dog Like Me) – Rock It Off – I've Got Love If You Want It – Cry Danger – I Attract Trouble – Three Time's A Charm – That's Messed Up – When Nothing's Going Right – Desperado – Mean Pickin' Mama – I'll Be Looking Out For You – Devil Train – Cry Baby (Live) (Bonus Track – Deluxe CD only) – Double Talkin' Baby (Live) (Bonus Track – Deluxe CD only)
The first three Stray Cats albums blew me away. Maybe Gonna Ball had some fillers but these initial trilogy was perfect. After that, and the 1984 split, their albums were either good (Blast Off, Choo Choo Hot Fish thanks to the Edmunds touch), forgettable (Original Cool, Rock Therapy) or simply plain bad (Let's Go Faster.)
However, on stage, they were still one of the best rockin' band on the planet. So when the trio announced that they would record a brand new album full of original material, though I tried not to be too excited, the teenager inside me was smiling from one ear to another.
The name of Peter Collins to produce the forthcoming album surprised me. Even if he produced Setzer's Dirty Boogie and Rockabilly Riot, Peter Collins was notorious for his work with Bon Jovi, Rush and Nick Kershaw to name but three. Nothing to make me feel that he was the ideal guy to replace Dave Edmunds. Most of all he was the producer who sabotaged the Stargazers' Ain't Nobody But Here but us Chickens.
The cover design also came like a warning. Here came guys who didn't release anything for 25 years and to celebrate that they used the laziest design and ugliest cover possible. Hum…
I carefully changed my mind little by little and came to the conclusion that I would be happy with a basic Rockabilly album.
Then Cat Fight the first song was released. Nothing too original. A rock'n'roll song like you've heard a thousand times before. At that moment I was kinda resigned, this is not gonna be great, maybe good, at least average. But both Rock It Off, a rip off of Eddie Cochran's My Way and Cry Danger a recycling of the riff of Aztec on Setzer's debut solo album almost sealed the fate of that album for me: don't expect anything.
I finally received the album and my fears were soon confirmed. It's a shame that a band that returns with a new record after such a long hiatus didn't put more work in it. The compositions are at best average (Mean Pickin' Mama which is at least a Rockabilly number) but most of the time the term 'lazy' pops to mind. From the boogie blues riff of the aptly named That's messed up that you've heard a zillion times to Three Time's A Charm which is nothing but a variation of Setzer's Hot Rod Girl, or I've Got Love that borrows its intro to Ubangi Stomp and its melody to You're Humbuggin' Me (Lefty Frizzell, Fabulous Thunderbirds…) and Desperado an instrumental which is a carbon copy of the Shadows' Apache, it's hard to believe Setzer when he says in mumerous interviews that he started writing these songs one year ago. Actually many songs sound like an embarassing caricature of Setzer's Live Nude Guitar or Let's Go Faster when trio tries to venture into unfamiliar territories (I Attract Trouble with what a surprise a quote of Pipeline).
It's kinda weird to have Lee Rocker say "We are the best band that has ever played this music." and find so few Rockabilly (even with a wide definition of it) on '40'.
And the production doesn't help either. The drums sound buried and muddy and the fans of Lee Rocker will be surprised to find barely no slap on that album.
A couple of years ago I regretted that the Stray Cats ended their recording career with the uninspired Original Cool, but listening to this poorly written and badly produced effort, it was not that bad, after all.
PS – Don't expect the so called "deluxe" version (two live tracks, two stickers, two coasters and a postcard) to save things.
---
Stray Cats – Rocked This Town From La To London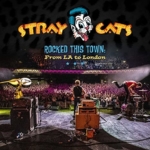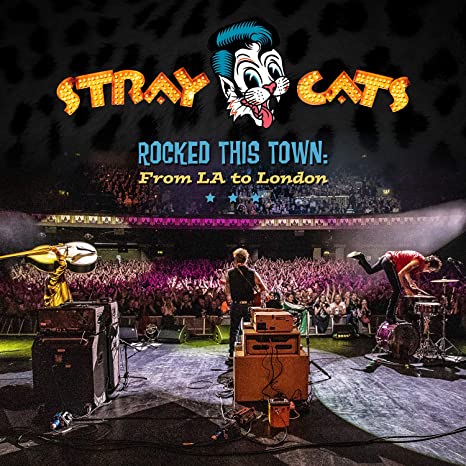 Surfdog records 85968-2 [2020]
Cat Fight (Over a Dog Like Me) – Runaway Boys – Too Hip, Gotta Go -Double Talkin' Baby -Three Time's a Charm – Stray Cat Strut -Mean Pickin' Mama -Gene & Eddie -Cry Baby -I Won't Stand in Your Way -Cannonball Rag – Misirlou – When Nothing's Going Right – (She's) Sexy + 17 -Bring It Back Again -My One Desire -Lust 'n' Love -Fishnet Stockings -Rock This Town -Rock It Off -Built for Speed -Rumble in Brighton
Despite what its title may suggest, "Rocked this town, from LA to London" is not a testimony of the Stray Cats' latest international tour to promote 40. Setzer Rocker and Phantom recorded it in various US cities (but not in LA), and some of the songs were even recorded during the 2018 tour.
That said, it's an excellent live album. It's very well recorded, and the band is in fine form (way better than the 2004 tour). Moreover, it features five songs from 40. Not only they sound way better than the poorly produced studio versions, but it adds some diversity to the usual setlists of the band that turned to be quite repetitive over the years. It also features two instrumentals (Cannonball Rag and Misirlou.) Besides these two tunes and Double Talkin' Baby and My One Desire on the vinyl version, the set focuses on the band's songs rather than covers, thus allowing some place for a song like Lust' n'Love. I was a bit sad to find no songs from Gonna Ball but with only 23 songs, I suppose that you have to made choices.
After all these years, the Stray Cats, especially on stage, still remain the kings of modern Rockabilly, and this live album is here to confirm that.
Fred "Virgil" Turgis