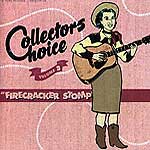 Vol 1 – Texas Fever
El Toro ETCD-CH101
1. Ken Marvin – Uh Uh Honey – 2. Fred Crawford – I Learned Something From You – 3. Leon Tassin with Charlie Stuckey's Westerners – Get A Move On, – 4. Hub Sutter and The Hub Cats – Gone Golsing – 5. Jacoby Brothers – Who Ye Primpin Fer? – 6. Al Urban – Run Away – 7. Alden Holloway and His Prairie Riders – Woodpecker Love – 8. Lucky Hill – I'm Checkin' Out – 9. Perry Washburn and The Rocky Mountain Canary Boys- Pocahontas Baby – 10. Earney Vandagriff – Where You Been – 1. Jimmie Walton – High As A Georgia Pine – 12. Stoney Calhoun and The Night Owls – Hot 'N' Cold – 13. Johnny Maxwell and The Rhythmmasters- Ole Satan's Mother-In-Law – 4. Ken Marvin – Two Tone Ten Ton – 15. Jack Cardwell – Walking Away My Blues -16. Walter Scott – I'm Walking – 17. Chuck Ray and His Gang- I May Not Be Able But I'm Willing To Try – 18. Unknown Artist Acetate – Texas Fever – 19. King Sterling and His Blue Grass Melody Boys – Too Many Taverns – 20. Sammie Lee – Olahoma Blond Headed Gal

Vol 2 – Campus Boogie
El Toro ETCD-CH102
1. Jimmy Collie – I'm Not Giving Up That Easy – 2. Slim Williams – Out Running Around – 3. The Hooper Twins – You're Always The Last To Know – 4. Leonard Sipes And The Rythmn Oakies – Smooth Sailing – 5. Ed Camp – Tie A String Around Your Finger – 6. Chuck Kyles With Excel Country Music Makers – You'll Like Count – 7. Terry Fell And The Fellers- Smoking Cornsilks – 8. Al Runyon With The Gateway All-Stars – My Baby Left Me – 9. Betty Coral With Raymond Mccollister And His Orchestra – Chili D – 10. Jack Derrick – Rainbow Of Love – 11. Gene O'quin – You're Gonna Be Sorry -12. Frank Evans And His Top Notchers – Barrell Of Heartaches – 13. Joyce Lowrance And Earney Vandagriff – Hush Money – 14. Don Johnson And The Mountain Wizards – Flying Low – 15. T. Texas Tyler And His Oklahoma Melody Boys – Black Jack David – 16. Al Brumley And The Brumley Brothers – You've Been Tellin' Lies – 17. Hank Crowe – Love Love Love – 18. Tiny Adams – Long Gone Daddy – 19. R.D. Hendon And His Western Jamboree Cowboys – Ain't Got A Lick – 20. Leonard Sipes And The Rythmn Oakies- Campus Boogie
"Collector's Choice" a perfect name for this great and exciting serie launched by El Toro Records from Spain. It gathers a majority of unknown and rare recording from the 50's that were until now only available on scarce 45's and 78's.
Volume 1 focuses on the Lone Star state artists. Home of musical legends, it was also full of lesser known but talented guys. The result is a 20 songs compilation filled with Hillbilly Bop (Ken Marvin, Alden Holloway, Stoney Calhoun), Hank Williams' brand of country tunes( Jack Cardwell, Fred Crawford, Sammie Lee and Perry Washburn), talking blues (Leon Tassin's Get A Move On Baby) proto rockabilly (Johnny Maxwell, King Sterling, Lucky Hill and Jimmmie Walton, both very close to Charlie Feathers' vocal on tunes like Peepin' Eyes), straight hillbilly (Jacoby Brothers), rock'n'roll (Hub Sutter's Gone Golsing produced by Sonny Fisher). It comes with a 8 page booklet full of info including pictures of the original labels.
Volume 2 is equally good, the sole difference is that this time you find artist from the whole States. Though names like Gene O'Quinn, Terry Fell, Leonard Sipes/Tommy Collins and T Texas Tyler may be familiar you still have plenty of obscure and rare stuff. So if you're ready for good dose of uptempo hillbilly with raw steel guitar and fiddles, don't look no further. Like the previous one you can hear the influences of "big names" on local artists: Hank Williams is almost everywhere but also Ernest Tubb (just listen to Jimmie Collie) and Elvis Presley (Al Runyon's cover of My Baby Left Me).
It's also fine to hear some ladies on this selection wether it's solo (Betty Coral) or duet (Joyce Lawrence and Earney Vandagriff). Volume 2 comes with a 12 page booklet.
Buy both, you won't regret it, believe me.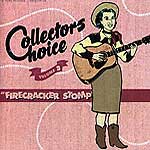 Vol 3 – Firecracker Stomp
El Toro ETCD-CH103
1 Firecracker Stomp  – Jimmy Lane – 2 That Done It – Opal Jean – 3 Hillbilly Wedding – Shorty Long & Dolly Dimple – 4 Wild Oats – Lonzo & Oscar – 5 I'm Movin' On – Jeanne Gayle – 6 I'm Your Man – Myrna Lorrie & Buddy de Val – 7 A Gambler's Love – Marty Roberts – 8 I'm Gonna Comb You Outta My Hair – Bobby Roberts – 9 Store Bought – The Andrews Brothers – 10 Jack & Jill – Bill Taylor – 11 Tennessee Courtin' Time – Opal Jean – 12 One-Two-Three Skidoo – Pete Lane – 13 Oh, I Like It! – Carolyn Bradshaw – 14 Standing In The Station – Shorty Long – 15 Cry, Cry, Cry – Texas Bill Strength – 16 Freight Train Blues – Jimmy Dean – 17 Love Me, Love Me – Eddy Star – 18 Hawk-Eye – Bobby Lord – 19 Rock Love – Elaine Gay – 20 Dig These Blues – The Rhythm Rockers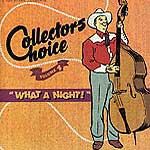 Vol 4 – What A Night
El Toro ETCD-CH104
1 Ponytail – Muvva "Guitar" Hubbard – 2 Hoebe Snow – Benny Martin – 3 It's A Long Road  – Nancy Dawn & The Hi-Fi Guys – 4 I Want Her Blues  – Bob Gallion – 5 Crash Out  – Jaycee Hill – 6 Blue Moon Of Kentucky – Roberta Sherwood – 7 My Honey – Jimmy Edwards – 8 Lonely Man – Jack Tucker – 9 Woody's Rock – Jimmy Woodall – 10 Don't You Realise? – Eddy Dugosh & The Ah-Ha Playboys – 11 One Of These Days – Tracy Pendarvis – 12 Eskimo Boogie Betty Jo & Johnny Starr – 13 What A Night! – Lee Emerson – 14 The Stop, Look & Listen Song  – Ernie Chaffin – 15 Open Up Your Door, Baby – Eddie Dean & Joanie Hall – 16 Uncle Sam's Call – Jimmy Woodall – 17 Next – Billy Brown – 18 The Fire Of Love – Bobby Lord – 19 One Mile – Eddy Dugosh & The Red Tops – 20 Swingin' The Gate  – Gatemouth Brown
The third and fourth volume of this excellent serie gather stuff from the collection of Dave Penny. Like volume one and two, the material compiled is mostly rare and comes from obscure artists though the names of Ernie Chaffin, Lonzo and Oscar, Gatemouth Brown and Jean Chapel are surely familiar to our readers. But once again this is lesser known recordings that appear here.
"Firecracker Stomp" focuses on the hillbilly side of things. It kicks off with a Arthur "Guitar Boogie" Smith kind of instrumental from Jimmie Lane. The rest of the selection is made of classic honky tonk, country duets (I'm Your Man by Myrna Lorrie and Buddy De Val will make the pleasure of Ginny Wright/Tom Tall fans), hillbilly comedy act (Lonzo & Oscar), muscled hillbily that just demands to mutate into rockabilly (I'm Movin' On), hillbilly bop (Pete Lane)… The influence of Hank Williams van be vividly heard on Bobby Roberts' I'm Gonna Comb You Outta My Hair and Eddy Star Love Me, Love Me. Also included is Carolyn Bradshaw, who's in addition of being talented, shows that Chess record actually release some country flavored tunes too. Another of my fave here is Jimmy Dean's rockin' hillbilly blues version of Freight Train Blues. This song is sure to appeal fans of Ray Condo and His Hardrock Goners. The closer is a great cowboy jazz instrumental from the Rhythm Rockers, actually Nashville session musicians led by Chet Atkins.
"What A Night" is about Rock'n'roll under its different forms: instros (the strange "Ponytail" and the jazz blues of Gatemouth Brown), Rockabilly (Ernie Chaffin with a non Sun single not available on the Bear cd), Hillbilly Boogie (Eskimo Rock), Blues and Rhythm'n'Blues.
Both records come with detailed liner notes and photos.


Volume 5 – Boogie Woogie Fever
El Toro ETCD CH105
1. Coal Miners Boogie – The Singing Miner (George Davis) – 2. Black Berry Boogie – Outpost Scotty and his Ramblers – 3. Dallas Boogie – Freddy Dawson – 4. Drop In Boogie – Bob Presley – 5. Boogie Woogie Square Dance – Jim Boyd and his Men from theWest – 6. Pisto Boogie – Dude Martin – 7. Steamboat Boogie – Ricky Riddle – 8. Ghost Town Boogie – Orville Newby and the Saddle Serenades – 9. Blue Hen Boogie – Tex Daniels and his Lazy Ranch Boys – 10. Hot Rod Boogie – Dorse Lewis "The Scared Coal Miner" and the Shadow Mountain Boys – 11. Mule Boogie – Jack Shook – 12. The Shot Gun Boogie – Outpost Scotty and his Bar-X-Boys – 13. Billy Goat Boogie – Red Sovine – 14. Food Plan Boogie – Jacoby Brothers – 15. Houn' Dog Boogie – Sheldon Gibbs and the Arizona Ranch Boys – 16. Nail Drivin' Boogie – Curley Smith and Blue Mt. Boys – 17. Hart's Boogie – Curley Hickson and Band – 18. Straw Brown Boogie – Dick Spain with the Boogie Valley Boys – 19. Highall Boogie – Richard Prine and his All Stars – 20. Eskimo Boogie – Betty Jo & Johnny Starr
The new volume of this collection is entirely devoted to Boogie Woogie. It seems that, at one time, everybody and his cousins recorded boogie woogie following the path of Tennessee Ernie Ford (whom 2 covers are included here). Maybe 20 country boogie in a row would sound too much but the selection is well done and avoids as possible repetitions. Okay it follows more or less the same pattern but the instrumentations are varied (steel, guitar, fiddle, accordion, piano you name it…) as well as the tempos.
It goes from the raw sound of George Davis the Singing Miner to the more polished arrangement ala Spade Cooley of Jim Boyd, brother of western swing bandleader Bill Boyd and one time member of Roy Newman's band and he Light Crust Doughboys.
A good overview of a major subgenre of hillbilly music, that comes with an informative booklet.

Volume 6 – Boppin' Hit Parade
El Toro ETCD CH106
1. Kaw-Liga – Delbert Barker – 2. Weary Blues – Delbert Barker – 3. Go, Boy, Go – Bob Sandy & The Rhythm Rangers – 4. Hep Cat Baby – Rusty Howard& The Rhythm Rangers – 5. Hearts Of Stone – Delbert Barker – 6. Live Fast – Love Hard – Die Young – Marlon Raimey With The Country All-Stars – 7. I Forgot To Remember To Forget – Bob Sandy & The Rhythm Rangers – 8. Cry, Cry, Cry – Bob Sandy & The Rhythm Rangers – 9. Folsom Prison Blues – Bob Sandy & The Rhythm Rangers – 10. Blue Suede Shoes – Hank Smith & The Nashville Playboys (Leon Payne) – 11. There You Go – Arkie Small – 12. Honky Tonk Man – Charlie Chain With The Gateway All-Stars – 13. I'm A One Woman Man – Jack Williams & The Nashville Playboys (Leon Payne) – 14. Uncle Pen – Al Runyon With The Gateway All-Stars – 15. 20 Feet Of Muddy Water – Dixie 508 -Uncredited Artist (Leon Payne Or Eddie Noack) – 16. My Baby Left Me – Rusty Howard& The Rhythm Rangers – 17. Geisha Girl – Dixie 526 – Uncredited Artist (Country Johnny Mathis) – 18. Invitation To The Blues – Dixie 536 Uncredited Artist (Eddie Noack) – 19. Gonna Give Myself A Party – Dixie 536 Uncredited Artist (Eddie Noack) – 20. Alone With You – Dixie 537 Uncredited Artist (Eddie Noack)
The 6th volume of this serie is a collection of top hits cut by obscure artist for budget label. The evidence forces to say that most, if not all, suffer from the comparison with the original (in a way it sounds suicidal to cover Hank Williams) but some deliver a certain charm that belongs to weird and even amateurish things (like B-movies if you want). Others are terrible failure but none the less fascinating (the musical equivalent to Ed Wood if you want to stick with the movie metaphor). Hank Smith (aka Leon Payne) plays Blue Suede Shoes with a rather unrehearsed band that doesn't seem to know where the breaks are, Bob Sandy has a very personnal conception of tempo, too bad his band doesn't share his view and My Baby Left Me by Rusty Howard is totally insane (but would almost make the Legendary Stardust Cowboy jealous).
It may not be the best of the serie in term of musicianship but it's probably one of the most interesting.