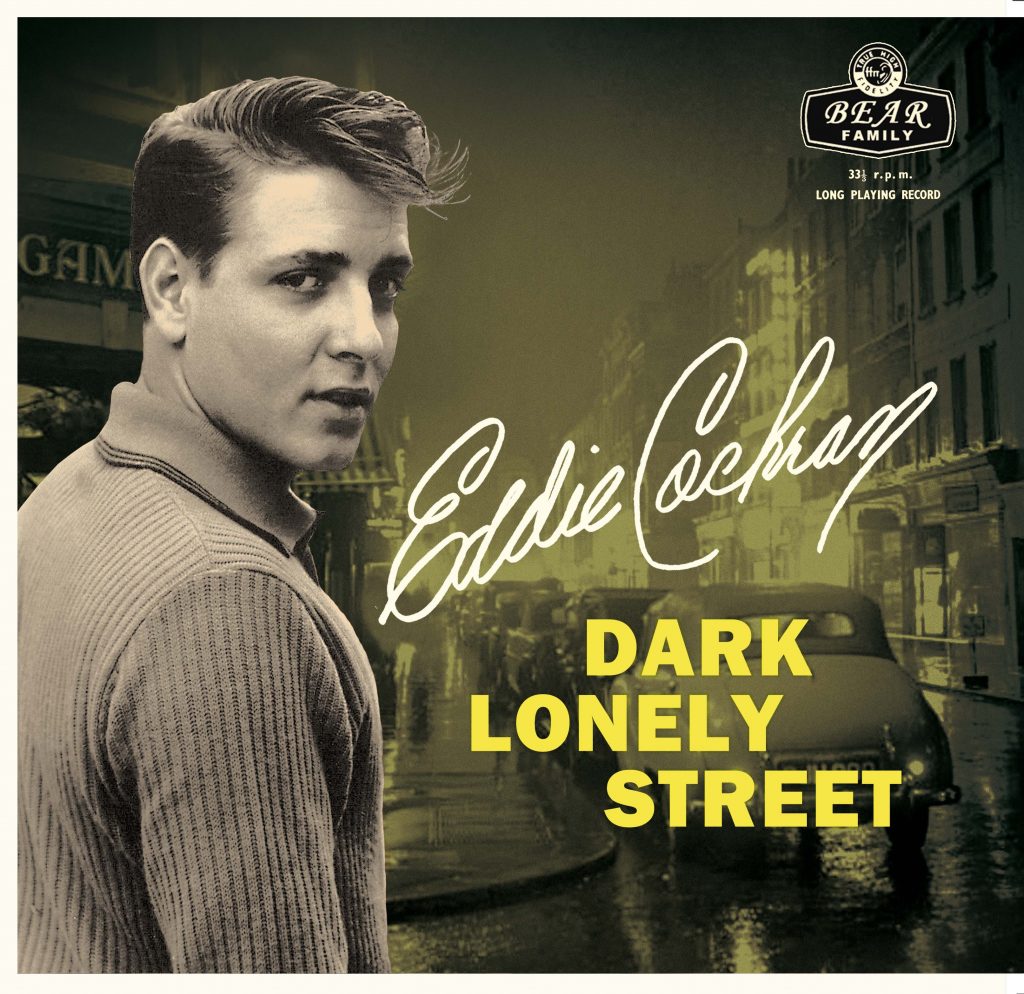 Eddie Cochran – Dark Lonely Street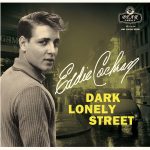 Bear Family – BAF 14009 [2020]
Dark Lonely Street – One Kiss – Stockin'n'Shoes – Teresa – Pretty Girl – Summertime Blues / C'mon Everybody – I Remember – Teenage Heaven – Little Angel – My Way – Strollin' Guitar
+ 28-track cd
Eddie Cochran had the whole package. He managed to do alone what Elvis did with the best songwriters, session musicians, sound engineers and producers. And he was like both characters of Cut Across Shorty: like Dan, he had the look, but like Shorty, he had something that can't be found in books: class.
This beautiful 10", released for the 60th anniversary of his death, pays tribute to his vast talent.
The twelve songs included on the vinyl demonstrate Cochran's versatility. This young man, who passed away at 21, penned tunes that influenced countless musicians and singers, an influence that goes far beyond the strict rocking scene. His music contains the germs, in a complementary way with Buddy Holly, of all the sixties and even the premices of Punk Rock.
He was a top songwriter (Summertime Blues), a musician's musician (as shown by the instrumental version of My Way) and a singer that could be mean or poignant (Teresa, One Kiss, Dark lonely Street). And, of course, he was a rocker (Teenage Heaven).
The accompanying CD widens the scope with more Cochran songs like the premice of Heavy Rock that are Nervous Breakdown, and Something Else. One will also find the first version of C'mon Everybody, titled Let's Get Together. There's also a wild rendition of Chuck Berry's Sweet Little Sixteen and an interview.
You'll also find Cochran guesting on Troyce Key's Baby Please Don't Go, a blues tune, the superb Rockabilly tune Guitar Picker sung by Bob Luman and Baker Knight's Just Relax.
The CD concludes with Heinz's Just Like Eddie, produced by Joe Meek. If not great, it's a sincere tribute to an immense artist.
It features a beautiful and richly illustrated booklet.
Fred "Virgil" Turgis
---

The Cochran Brothers – Latch On with The Cochran Brothers
ALP 10502 RV
Side 1: Mr. Fiddle – Two Blue Singin' Stars – Your Tomorrow Never Comes – Guilty Conscience – Latch On (Version 1)
Side 2: Latch On (Version 2) – Tired And Sleepy –Fool's Paradise – Slow Down – Open The Door
If you're a fan of Eddie Cochran you probably already own this sides. They are available on the superb Bear family box set released a couple of years ago or on the Rockstar CD titled "Mighty Mean". But this limited ten 10 inch records that comes in a gatefold sleeve is a superb object that is sure to make you want to buy it even if you
If you're new to the music of Cochran and only know his big hits like Twenty Flight Rock, Something Else, Summertime Blues and so on, this album is the perfect introduction to Eddie's early years as a country and rockabilly singer and the team he made with Hank Cochran (no relation) under the name of the Cochran Brothers.
Side one focuses on their country sides, with harmony vocals reminiscent of the "brothers group" of the era, with some occasional steel and fiddle. The success of Elvis Presley will have an impact on the duo and they will quickly start to record in a more rockin' vein, as shown on side two. It's easy to compare the two versions of Latch On to see the evolution of the band in a very short time.
---
Eddie Cochran – Eddie Rocks
Bear Family BCD 17136
Pink Peg Slacks – Blue Suede Shoes – Long Tall Sally – Twenty Flight Rock – Completely Sweet – Pink Peg Slacks – Mighty Mean – Skinny Jim – One Kiss – Mean When I'm Mad – Am I Blue – Twenty Flight Rock – Completely Sweet – Stockings And Shoes – Cradle Baby – Sweetie Pie – Pretty Girl – Jeannie Jeannie Jeannie – Teenage Cutie – Little Lou – Cruisin' The Drive-In – Nervous Breakdown – Summertime Blues – Ah Pretty Girl – Nervous Breakdown – Let's Get Together – Teenage Heaven – C'mon Everybody – My Way – Teenage Heaven – Weekend – Somethin' Else – Jelly Bean – Don't Bye Bye Baby Me – Cut Across Shorty
If someone would come to me asking "What is Rock'n'roll?", the best answer I could give would be "Listen to Eddie rocks… on Bear Family".Though I consider Bill Haley as the true father of Rock'n'roll, I believe that Eddie Cochran, who died at only 21 in 1960, inspired more musicians. Songs like Something Else, C'mon Everybody and Summertime Blues have been played one day or another by the Who, the Sex Pistols, T-Rex, Led Zeppelin, The Rolling Stones, Bruce Springsteen and many more. Only Chuck Berry can claim the same score.
This collection focuses on Eddie Cochran's solo releases (no Cochran brothers here) and rockers only (no ballad, no instrumentals, no hillbilly). You won't be disapointed and BearFamily being the perfectionnists we all know couldn't help but include a rarity even on a "best-of" collection, namely the original version of Cut Across Shorty at the correct speed the song having been speeded up for its release.
Fred "Virgil" Turgis