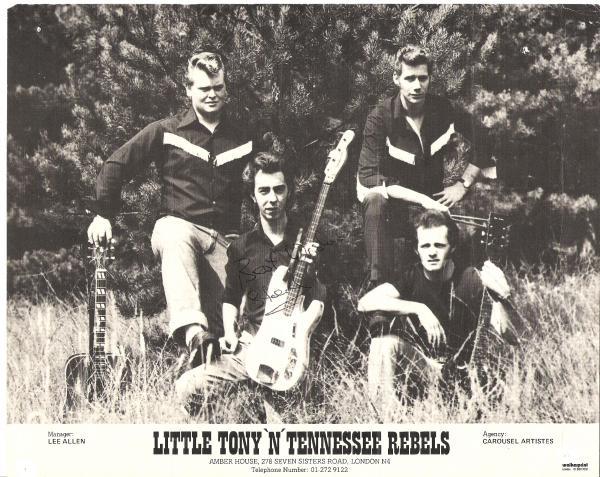 Little Tony and the Tennessee Rebels
A rockabilly band formed in the late 70's. They wanted to call themselves the Spur Dogs or Spur Dog Run, but their London agent opted for the more traditionnal name of Tony and the Tennessee Rebels much to the band distress.
There were two line-ups. The first consisted of Clint Bradley on vocals and guitar, Steve Noyce on electric bass, Danny Kelly drums, and Gus Guthrie on guitar.
In 1979 Mitch Caws and Bruce Hobbs replaced Noyce and Guthrie.
They recorded one ep in January 1980 (under the name of Tony and the Tennesse Rebels) featuring three original songs penned by Bradley (Slap That Bass, Rock The Barn, Roll On Baby) and one cover (Ten Little Women). Then, in late 1980 (around November) Clint Bradley and Mitch Caws replaced Dave Phillips in the Blue Cat Trio which became the Blue Cats.
More recordings, mostly demos, were later released by Nervous on the album "The Blue Cats – the Early Days".
Discography
EP [1980]
Red Hot! Records – REP 1004
The Blue Cats – The Early Days
[1983 – reis. 1992]
Nervous 010 (14 songs)