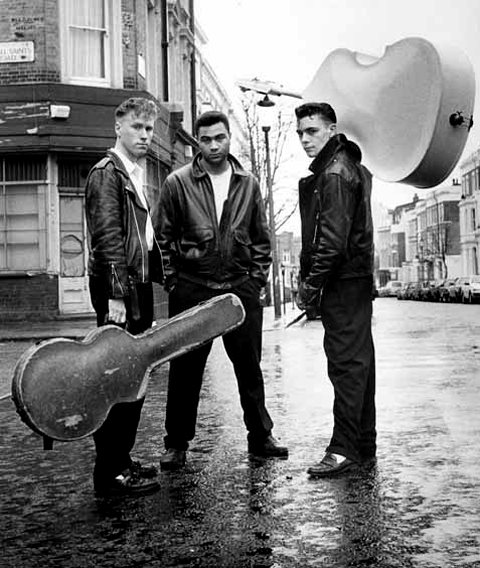 The Nitros
Early Years
The Nitros story begins in 1984 when Mark Swain (double bass) and his cousin Jon Attril (drums) recruit John O'Malley "I met the band when I answered an advert in Melody Maker. Mark & Jon had advertised for a Rockabilly guitarist so I went along to the audition. It was at Mark's house in Tottenham, North London. I'd been in bands since about the age of 12 but this was my first Rockabilly band with a proper stand up bass, I was about 15 at the time".
O'Malley gets the place and the band begins to rehearse with its singer Gary Pudney. For the first time on stage together, they open for The Guana Batz but after a few gigs Pudney quits the band. He'll resurface in The Griswalds, still as a lead singer. "I didn't think he was right for the sound we were trying to get. He probably suited more of the Psychobilly sound when we wanted to be like Restless or the Blue Cats." remembers O'Malley.
The remaining trio doesn't look for a new singer and decides to carry on with O'Malley taking over the vocals duties. They record "Destruction Road" for Fury Records and "Taxi Cab" and "Echoes Of Love" for Katz Keep Rocking. In 1988 the band releases "Nightshades" their debut mini-lp on Link in the "Chuck Flintstone presents" collection. Mixing fast rockabilly tunes with O'Malley's inventive and jazzy riffs and a bit of blues, this album is a true masterpiece. The ability of each of them to write originals gives this 8 songs lp plenty of diversity to please the listener like the bluesy "Well Now Baby", the darker "Misery" and of course plenty of neo-rockabilly, all wrapped up with O'Malley's inventive and impressive riffs, this album is a true masterpiece.
Sadly this line up doesn't last long and this first incarnation of the Nitros splits in the late 80's. "Jon wanted to leave as he had a few personal problems and Mark was losing interest so things just went down hill." explains the singer "It was good while it lasted and we did quite few good gigs and released Nightshades so it wasn't all in vain." Mark will later form the pornabilly (sic) band "The Shocking Truth where he can still be found today.
Second line-up
That doesn't stop O'Malley who keeps the name and the band going, this time with Gary "Gaz" Day on double bass formerly of The Mysterons and The Frantic Flintstones. They tried two or three drummers that didn't fit the band, so Gaz called Rich Taylor "It went well so I got the job" . "When I got together with Gary and Rich it was like a whole fresh approach to what we were doing, they were more into the scene and the atmosphere in the band was better, it was more fun. Gary was and still is a great bass player and very enthusiastic towards what we were doing so the sound just got better" recalls O'Malley. The new Nitros secured a contract with the Sun records of modern Rockabilly, Roy Williams' Nervous Records and go to the studio to record their second album, "Stompin' Beat", in 1990. This one features some great moments like "Devil's Ship" or "Swingsville" a jazzy instrumental that shows O'Malley's rich influences "I've always liked Brian Setzer, he's great. I started off liking all the usual rock'n'roll guitarist like Cliff Gallup, Franny Beecher, Danny Cedrone and Scotty Moore, they still sound good today. As I've gotten older my tastes have widened and yes, I listen to a lot of Django , Oscar Moore and Danny Gatton to try to take some of there style. But my all time hero is Jimmy Bryant, he was so fast and clean, absolutely amazing without a doubt." In his capable hands this mix is… well, explosive.
The choice of the covers is also particularly judicious with songs from The Polecats, The Beatles and Queen. And if "Stompin' Beat" doesn't have the freshness and the exuberance of "Nightshades" it benefits from a tighter rhythm section. But to achieve such a great result hasn't been easy "Stomping Beat was especially a bit of a nightmare, the engineer was always stoned and couldn't get anything done, in the end we had to get Pete Gage to take over and mix it, he kind of saved it." Taylor completes "He was always looking for drugs, so we ended up trying to mix the L.p ourselves. Roy was not happy and we got Pete Gage to mix it."
Around the end of 1991, John O'Malley was also a member of "Rabbit Action" featuring Phil Connor from the psychobilly band Skitzo on vocals, Mickey Wigfall on bass, and Paul Moxon on drums. "I'd known Phil from the early days of the Nitros, we used to be on the same bill together a lot and we became good friends. Phil is a great guy and I'd love to run into him again." The band stayed together for a short while "but it just fizzled out". In 1990 Gary went back to The Frantic Flintstones and brought Rich with him. Together they played on "Cuttin A Fine Line" (Rumble Records) and later "Jamboree" (Anagram). During this sessions, produced by Alan Wilson, Day suggested to reform The Sharks. He was drafted in on bass and recorded "Recreationnal Killer" in 1993. He also debuted his partnership with famous popstar Morrissey.
Colbert Hamilton
Still in 1993 the Nitros released its third LP on Day's short lived label Rockout : "Something's Gotta Give". Another very good one, with Boz Boorer (Polecats and many others) in the producer's seat. Mostly self written with the exception of Wayne Walker's All I Can Do Is Cry and Bobby Roberts'Big Sandy this one goes from wild rockabilly to the jazzy "Midnight Special". A guest singer is also present on four songs "Chris Harvey was with the band for about six months. A great singer but didn't seem to fit in with our sense of humour. I haven't seen him since he left the band, maybe he went back to Scotland.".
The same year they backed Colbert Hamilton, the Black Elvis, on "Still Taggin' Along". "We met Colbert when he used to work in Kensington market. We had seen him perform before and thought he was great. We approached him and found out he wasn't with any band at the time so we got him in and it went from there. Colbert is an amazing singer and front man, he really knows how to put on a show. The two CDs we did together were cool, he had a load of his old songs he'd never recorded and I'd written a bunch of songs so we put them all together and out came the 2 CDs". O'Malley has very fond memories of the Japan tour backing Hamilton "It was great and we were treated really well, the crowds were just so into what we were doing, I remember me and Rich walking down the town and young Rockabilly kids stopping us to sign pictures and take our photo… Cool."
In 1994, the band and Hamilton returned to Nervous to release Hamilton's third lp "Wild At Heart" produced by Alan Wilson (The Sharks) and featuring covers of The Reverend Horton Heat and Thin Lizzy.(Hamilton collaborated with Phil Lynott). For Taylor and O'Malley "Wild at heart is the best one, I wouldn't change a thing about that one"

The Nitros never officially disbanded but each of them got involved in other projects. Taylor played with Paul Ansell's N°9, The Caravans, The Playboys and The Crazy Crocodiles. He also had a project with Dibbs Preston (The Rockats) called The Leopardmen. Day was busy with his own band The Gazmen, The Caravans and of course as bassist with Morrissey.
O'Malley joined the heavy touring band "Good Rockin' Tonight". They released numerous albums and his sparkling guitar can still be heard with them today. He also formed The Poker Dots in Spring 2002 with Zac Zdravkovic and Spencer Lingwood, a band inspired by The Platters, The Crew Cuts with a bit of Nat King Cole here and there.
When he thinks about his days in The Nitros, O'Malley says : "It was good fun and I'm glad I was a part of it. "
"Something Gotta Give" is now out of print (sadly) but Nigthshades and Stompin' Beat have been released on the same cd in 2009 by Cherry Red /Anagram. With three bonus tracks and a booklet full of rare photos, this is a must have.
If mp3's are more your thing, Stompin' Beat, Wild At Heart (with Colbert Halmiton) and the songs from Outrage vol 1 and 2 are available.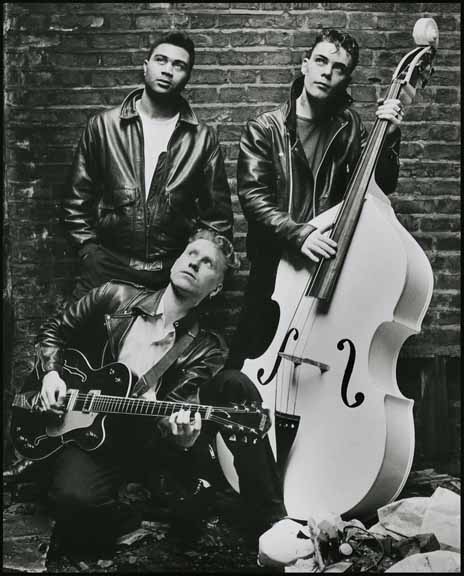 Albums
Nightshades – Link MLP 062
Stompin' Beat – Nervous Nerd049
Something's Gotta Give – Rockout Nit001
Nightshades/Stompin' Beat CDM Psycho 78
with Colbert Hamilton
Cadillac Baby– Vinyl Japan JRT02
Still Taggin' Along – Vinyl Japan JRCD05
Wild At Heart– Nervous Nerd076
Compilation albums
One track (Destruction Road) on I Love My Car – Fury Records
One track (Echoes Of Love) on Katz Keep Rocking Vol.1– Link
One track (Taxi Cab) on Katz Keep Rocking Vol.2– Link
One track (Big Sandy) on Twenty Blasters From Blighty– NV Comp1
One track (Running Out Of Time) on Outrage Vol.1– Rage 104
Two tracks (Midnight Special, All I Can Do Is Cry) on Outrage Vol.2– Rage 105
Three tracks (I'll Get Mine, Teenager's Mother, Something's Gotta Give) on Five Inches Of Pleasure–
© Fred "Virgil" Turgis
Thanks to John O'Malley and Rich Taylor.